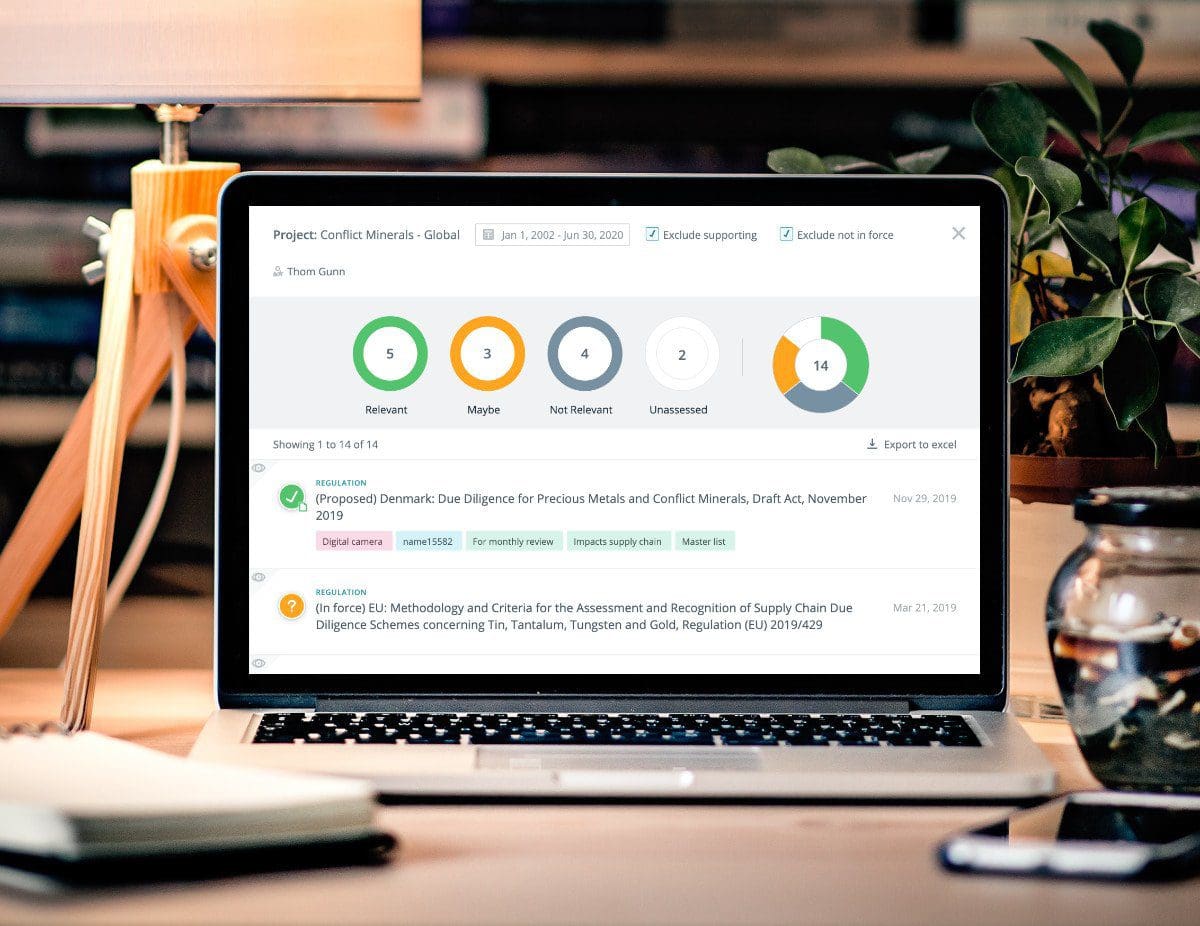 C2P Product Spotlight: June 20
Welcome to our C2P Product Spotlight!
Our latest C2P update brings some exciting enhancements to our assessment reports, as well as our Requirements and Standards modules.
Dashboard – Assessment Reports
Determining the Regulations and Standards that impact your organization is an essential part of the regulatory process. But when faced with large volumes, this can become overwhelming.
To combat this challenge, we have introduced new features to help manage your assessment process:
Assess relevance from the assessment report: As you are examining the assessment report, you can now assess on the spot by clicking on a given project. You will see how the numbers dynamically change as you go.
Drill down smoothly all the way to summary and back: If you need to drill down to the document summary, just click through. And come back up just as easily.
View relevance notes when they exist: If a relevance note is included, you can hover over it and reveal the text.
See unassessed relevance in charts: We now give you the "bigger picture" by showing you the Regulations/Standards that you have yet to assess.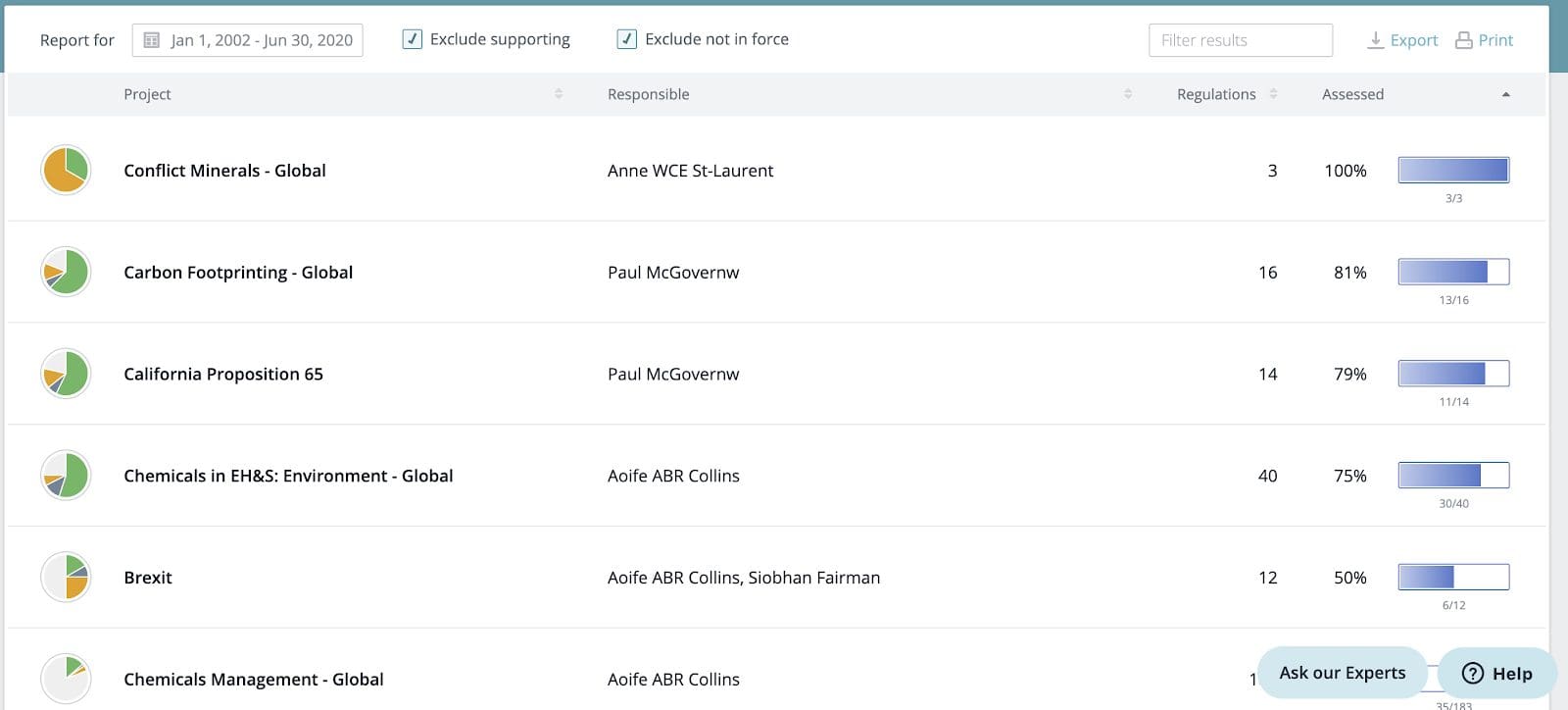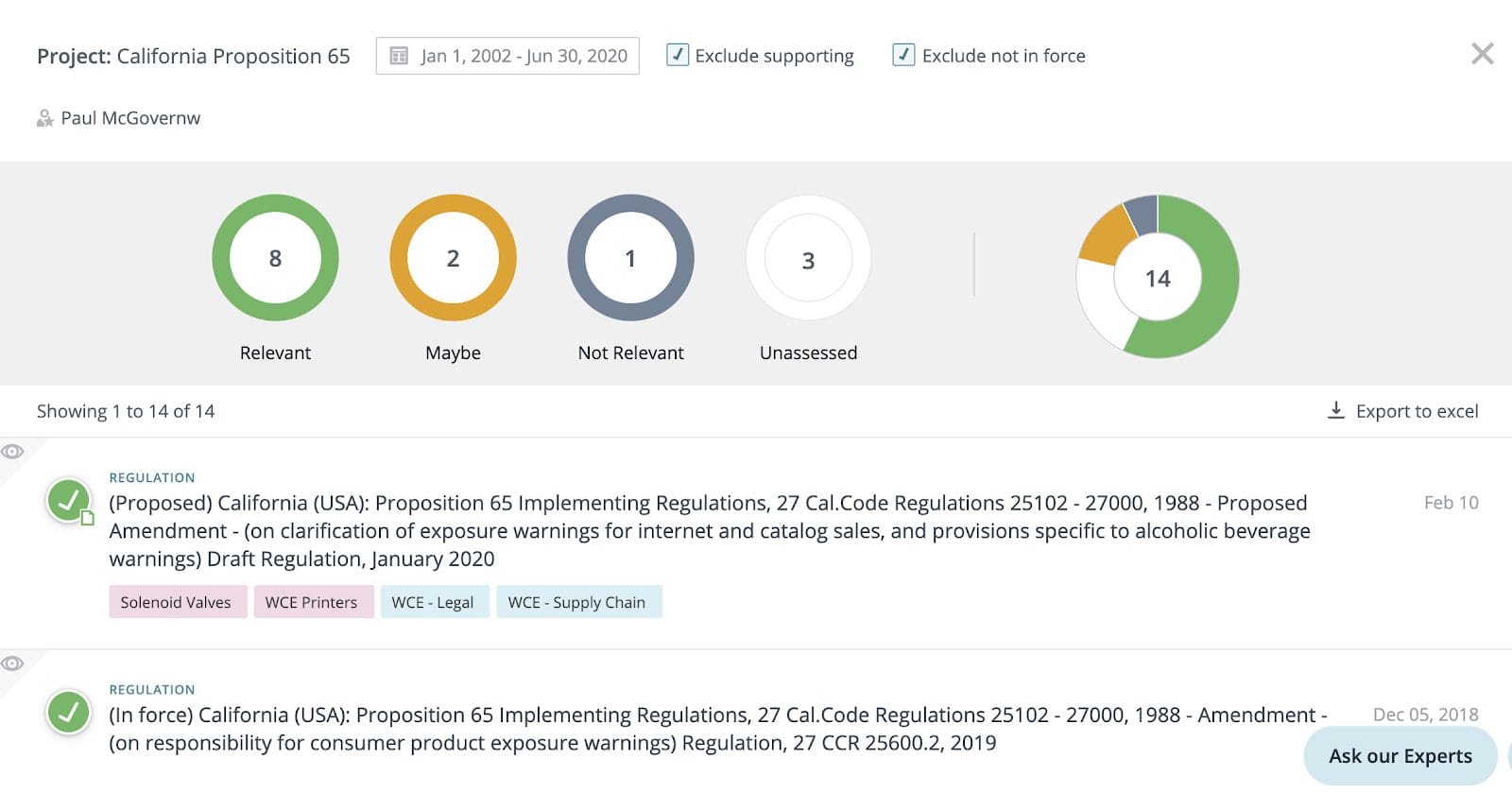 Requirements
Our Requirements Module is where your team captures and manages all Requirements that impact your products for all your commercial regions. Recently, we have made some great enhancements to this module, including the ability to view the activity around each of your Requirements, and the ability to create a template to standardize your Requirement input.
Requirement activity stream with 'update notes': We now offer you an audit trail so that you can see the changes that are being made to any of your Requirements. And by using the 'update notes' you will be able to keep all watchers informed.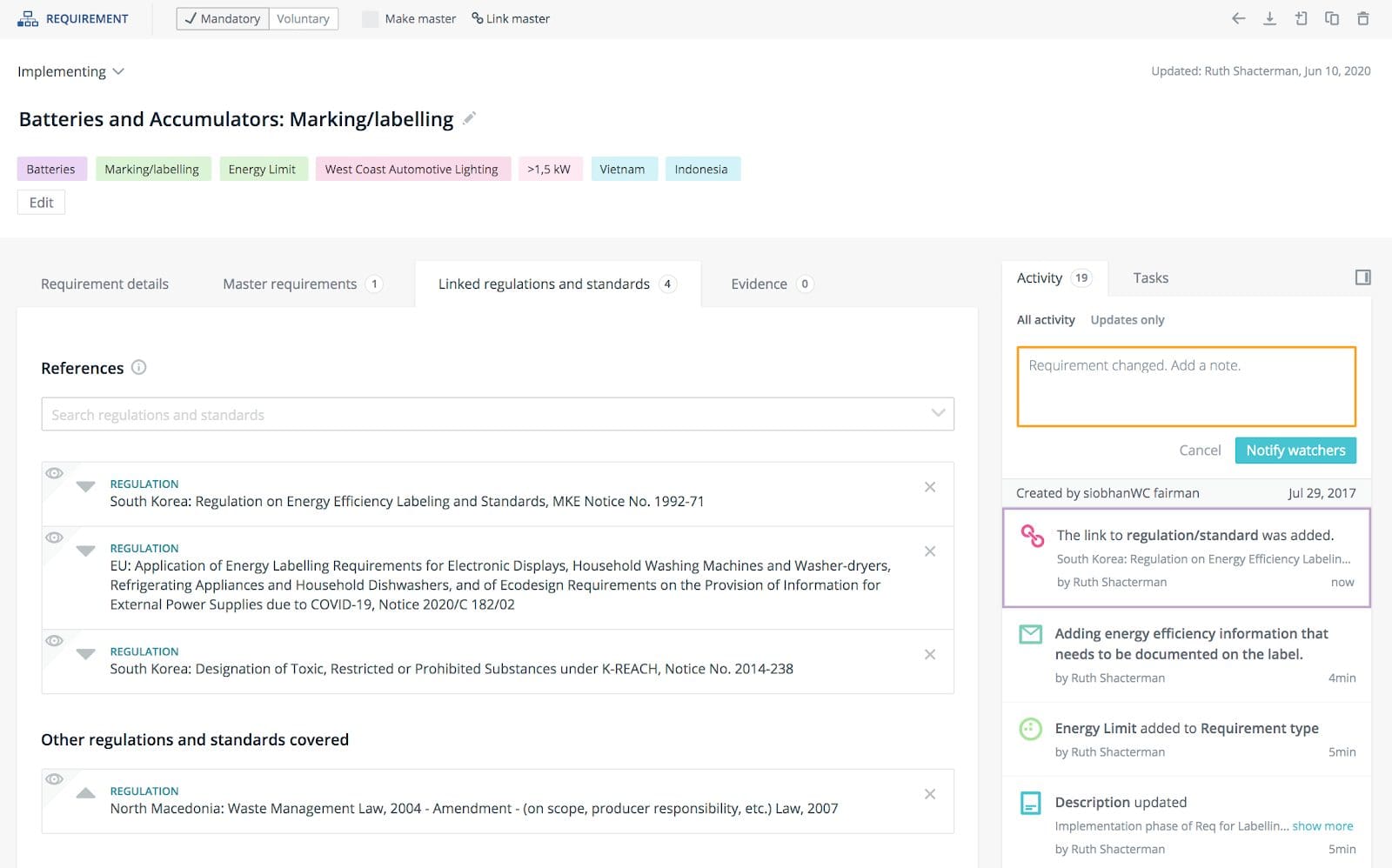 Include your own customized fields in the Requirement page: Is there specific information that you need to capture for your Requirements? You can now configure your Requirements with your own custom fields, and export to Excel and PDF.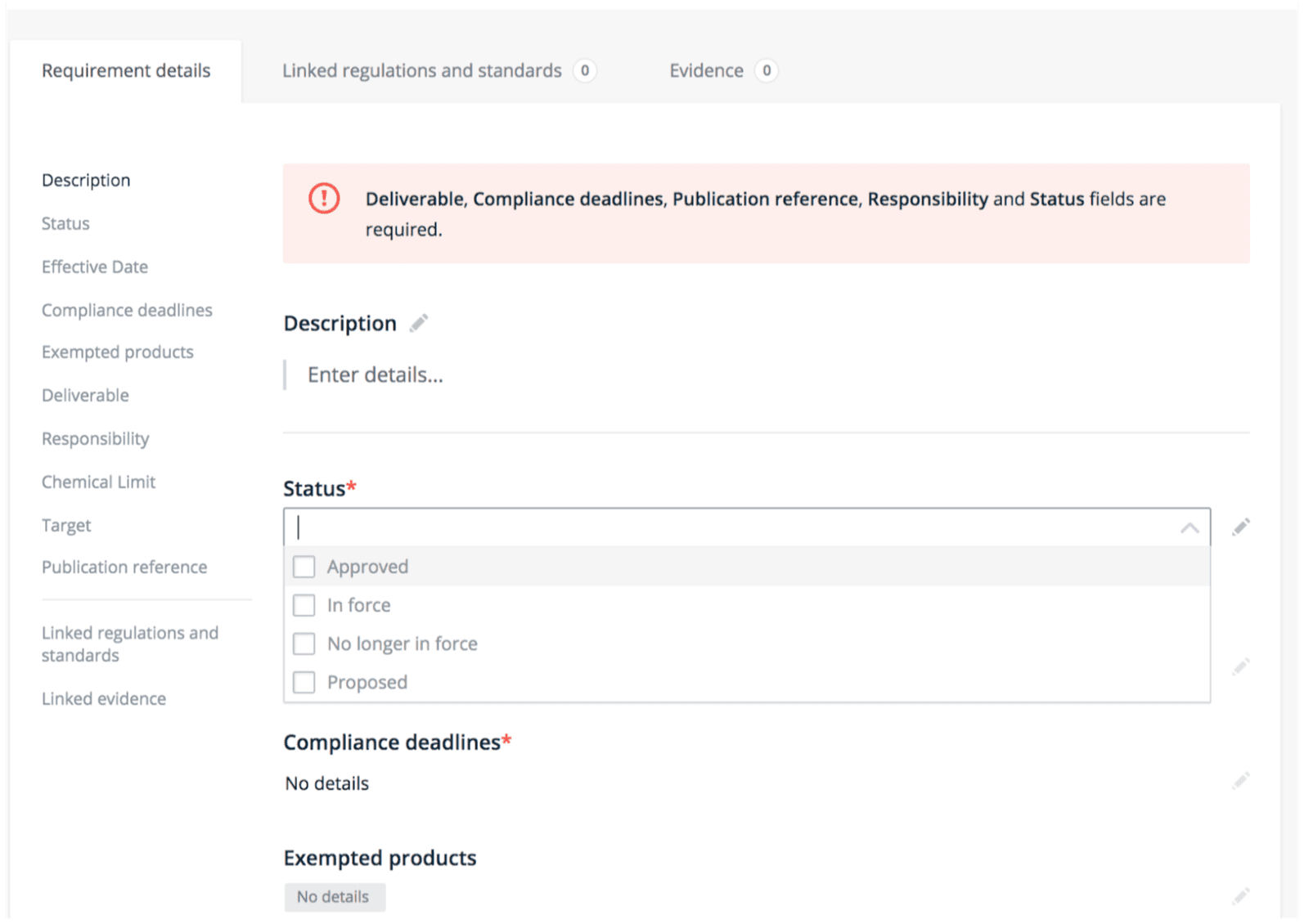 Standards
Our Standards collection continues to grow and improve: We have been carefully curating thousands of Standards and linking them to Regulations, Products, Geographies and other Standards. This combination of Regulations and Standards offers the full context you need to assess your compliance.
Features & functionalities: You can now operate with Standards in the same way you have always done for Regulations: You can search Standards, filter the library by Standards, view referenced Regulations on Standards, and link Requirements to Standards. You can also find a path to purchase full-text Standards.
If you would like to find out more about our Standards module, book time with our team today!