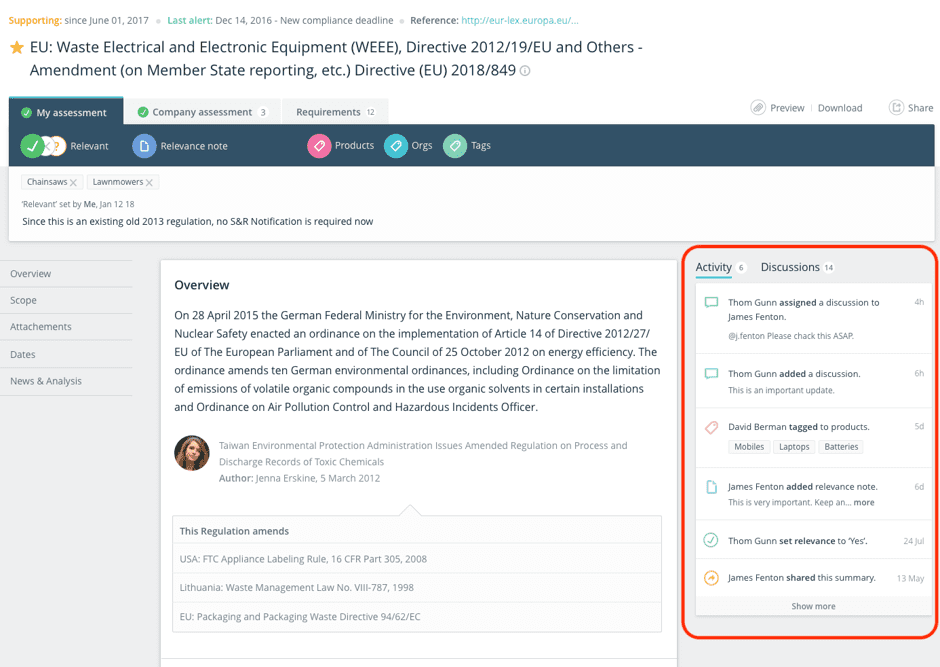 C2P Product Spotlight: March 20
Welcome to our C2P Product Spotlight!
We are excited to share some new additions to C2P. We have recently launched Regulations Activity that shows all changes and activity made to a regulation, made enhancements to our dashboard charts, added a drill-down view to your Assessment Reports, and made adjustments to the geographical hierarchy on account of Brexit. We have also launched our cybersecurity topic!
C2P Regulations Activity
C2P now shows you the activity carried out by all users on an individual regulation, promoting collaboration and providing confidence that all changes made are tracked and there is a clear audit trail of decisions.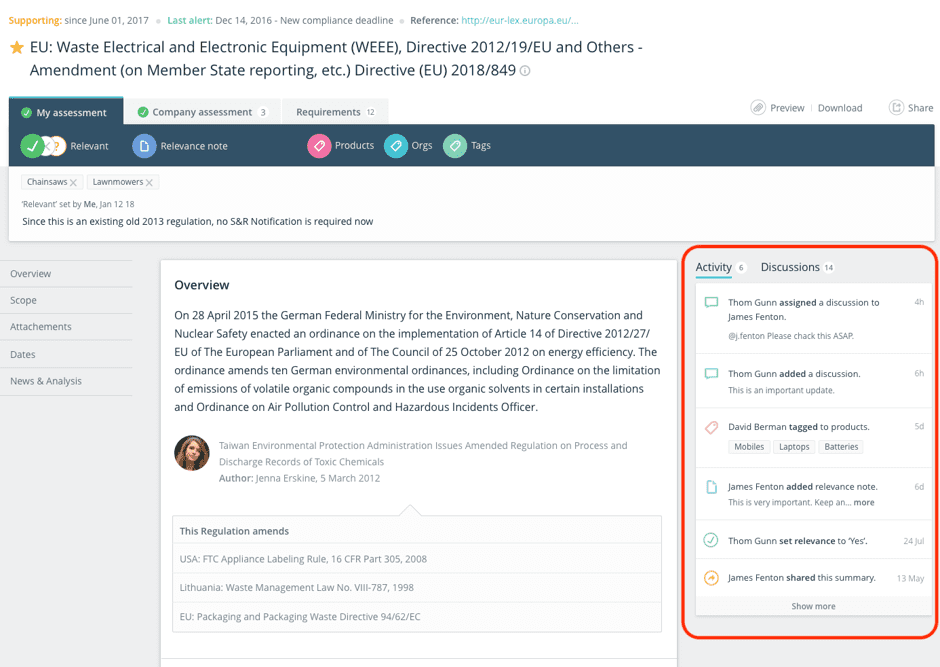 The activity section tracks all changes made to a regulation including;
Assessment decisions
Assessment notes
Tags
Linked requirements
Tasks/Discussions
Sharing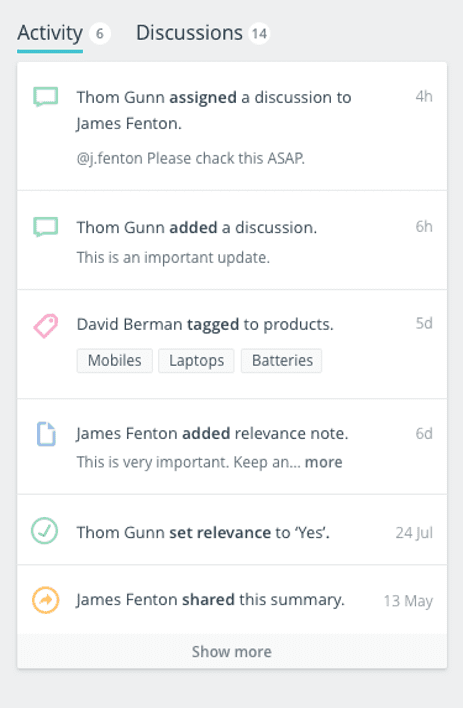 New Topic Launch: Cybersecurity
In today's increasingly connected world, we are seeing a sharp surge in IoT (Internet of Things) cybersecurity threats. As a result, countries are laying down framework regulations establishing rules to protect consumers, society and governments from cyber vulnerabilities. Our cybersecurity regulatory coverage allows you to track global developments in this area.
Regulatory & supporting measures on this topic will focus on the following themes:
Cybersecurity for connected devices and IoT infrastructure
Cybersecurity certification for ICT equipment
National cybersecurity strategies

You can search for the Cybersecurity Topic Sheet in C2P for more detail.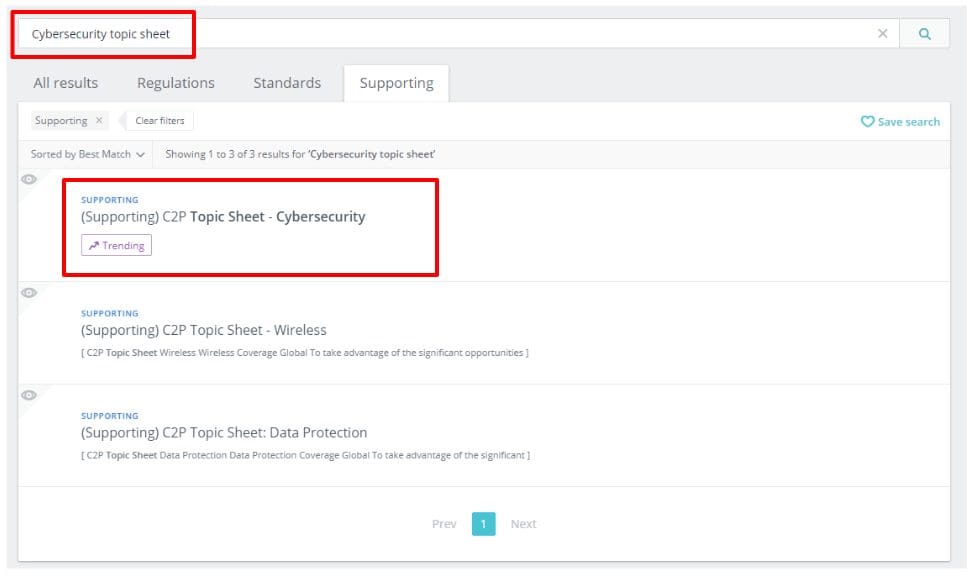 Dashboard Enhancements
We continuously enhance C2P based on your feedback, and we have recently added some highly requested features to our Trends dashboards. These features will continue to help you generate insight into current regulatory trends, and help your business better plan for the future.
You can now exclude supporting sources from both the 'Regulations by Region' and 'Regulations by Topic' charts. Applying this filter will provide you with a better reflection of the regulation trends across multiple regions and topics.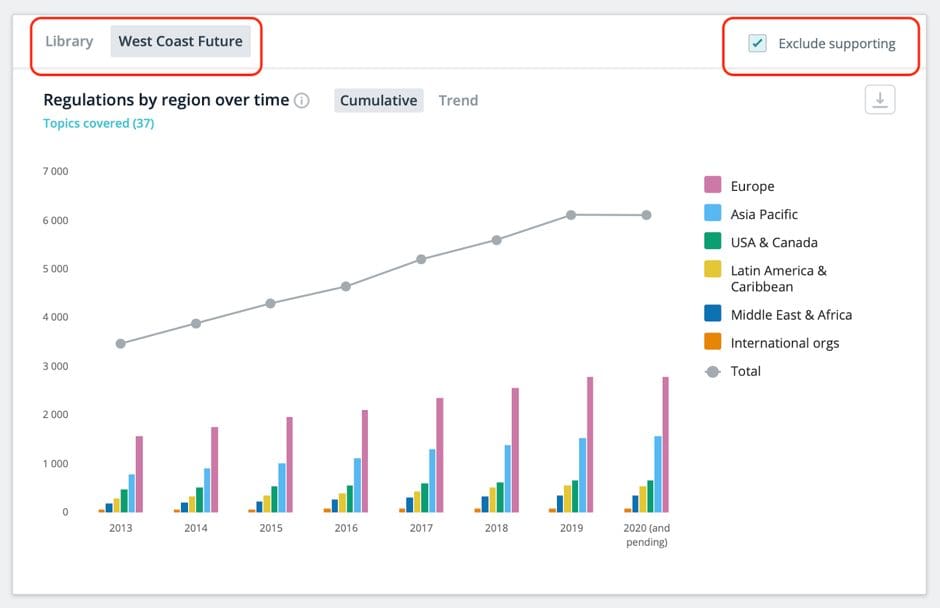 You now also have the ability to filter regulatory topics by all topics in the C2P library, or just the topics under your company subscription. This will provide you with the ability to stay up-to-date on the overall regulatory environment while also giving you the trends that matter most to your company.
Lastly, you can now export all of our Trends charts as an image, allowing you to take regulatory insights from C2P and share them across your company.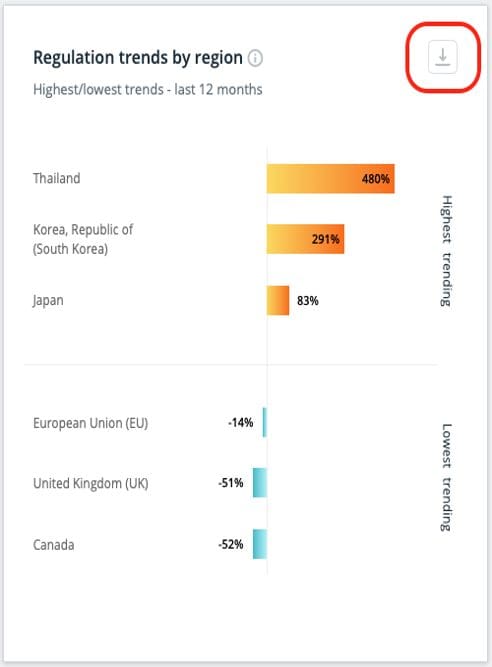 Assessment Report Drill-down
The C2P Assessment Report has been redesigned to include new visuals and the ability to drill-down from a list of your projects to the documents contained in each.
The most notable visual change to the Assessment Report is the addition of a pie chart overview of the assessments completed per project.

Hovering over this pie chart displays the number of assessments completed as well as the number of assessments still to be completed ('unassessed'). This provides at-a-glance insight into the work completed to date per project and any work outstanding.

Each line of the Assessment report represents one of your projects. On clicking on one of your projects, you will see a list of the documents contained as well as the assessment outcome of each document according to the responsible SME in your organization.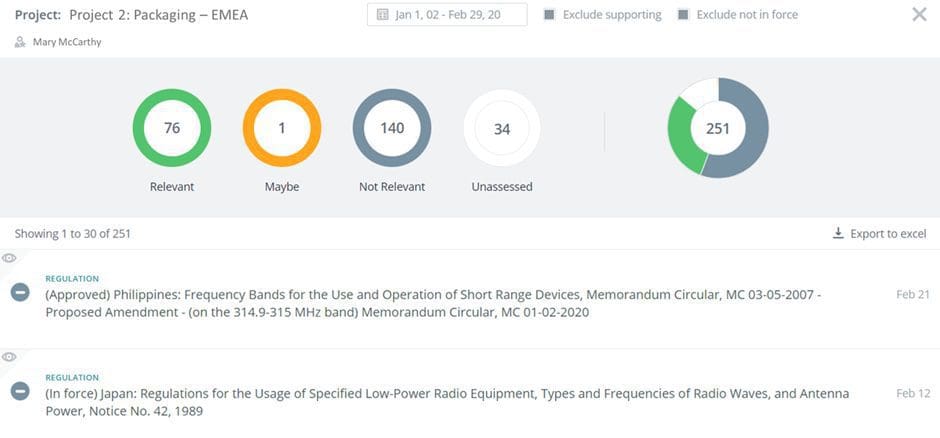 In addition to the date range selection, the list can be filtered by assessment outcome, including 'unassessed', and provides the option to exclude supporting documentation and documents which are no longer in force. This allows you to tailor the assessment report to portray an accurate view of work which has been completed, or work that is still outstanding in line with your workflow preferences.
C2P and Brexit
As the UK is no longer a member of the EU, we have extracted the UK from the EU and EEA geographical hierarchy in C2P. This will not affect your alerts as we have taken measures to ensure you continue receiving the right information. However you will need to take this into consideration when reporting using the geographical hierarchy in the Library.
**It will be important to remember that UK regulations are no longer included when you filter by the EU, and that EU regulations are no longer included when you filter by the UK. **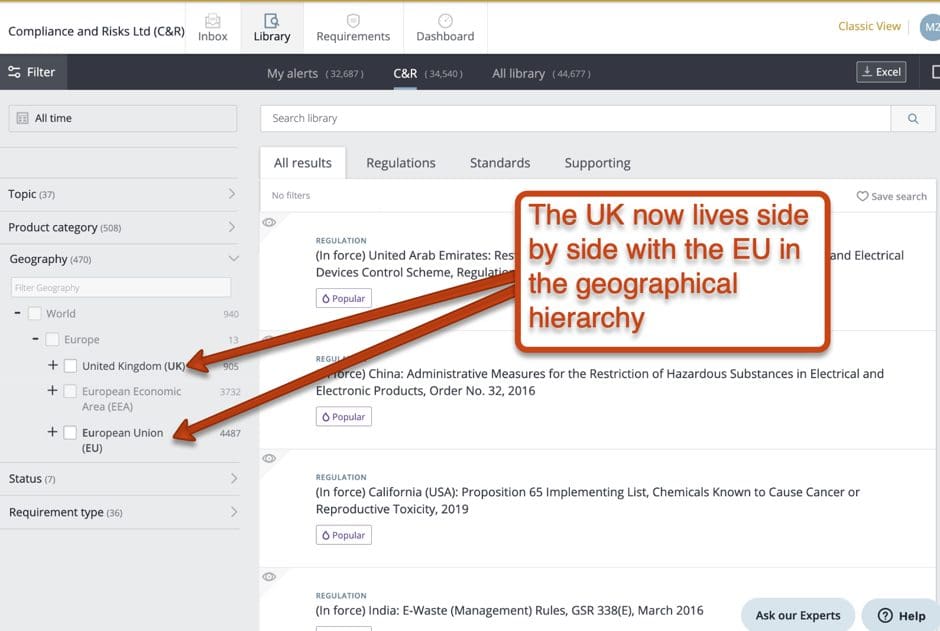 You can email our support team at support@complianceandrisks.com if you would like to find out more, or have any questions on the new features listed above.