Regulatory Trends in Consumer Electronics: a 12-18 Month Outlook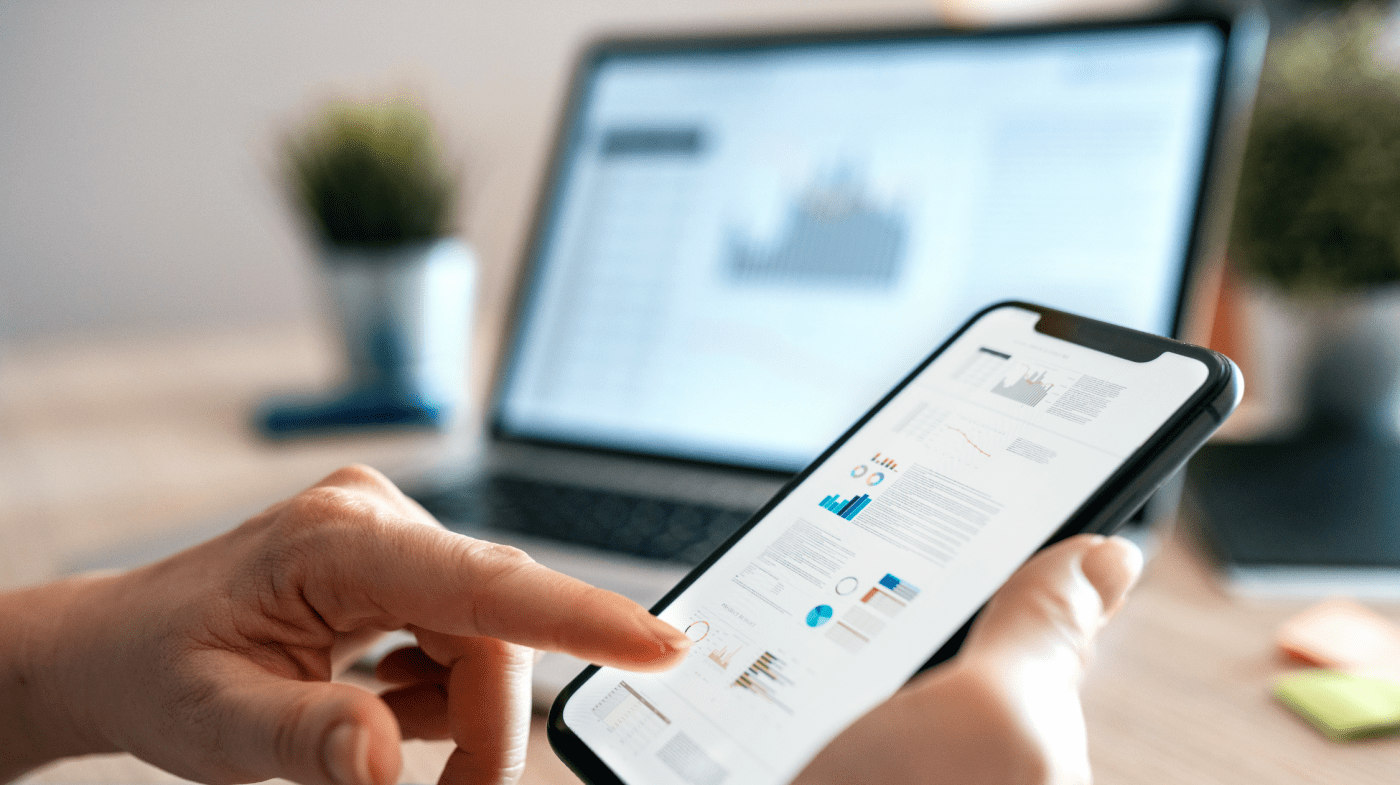 A 12-18 month outlook for regulatory trends in consumer electronics
The world of consumer electronics is changing, reflected by consumer and legislative demands for more sustainable practices and products.
More importance is being placed on climate neutral, resource-efficient economies, resulting in increased regulation everywhere.
The added complexity of connected devices, challenging traditional concepts of product safety, is resulting in even greater regulation of cybersecurity, data protection & artificial intelligence.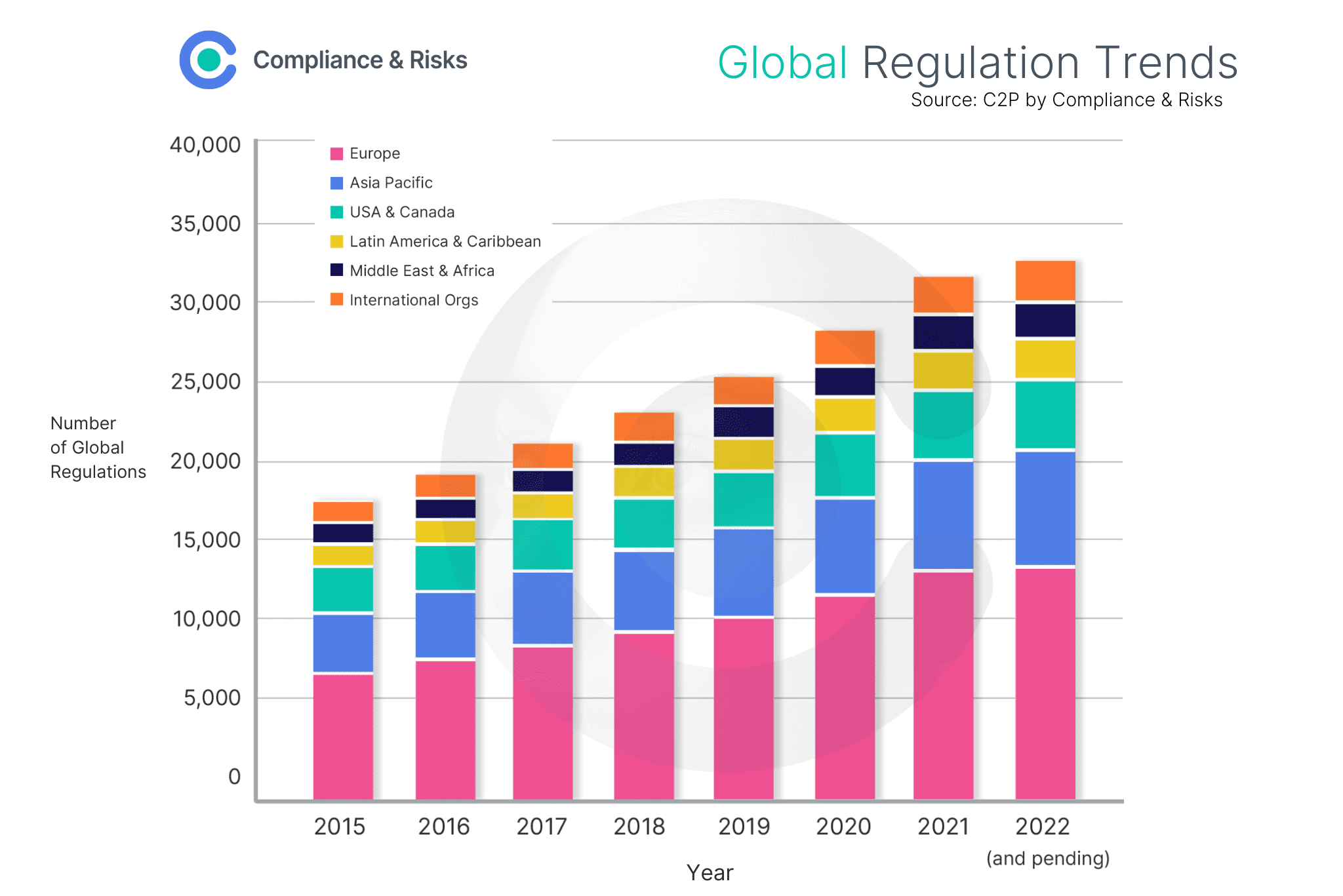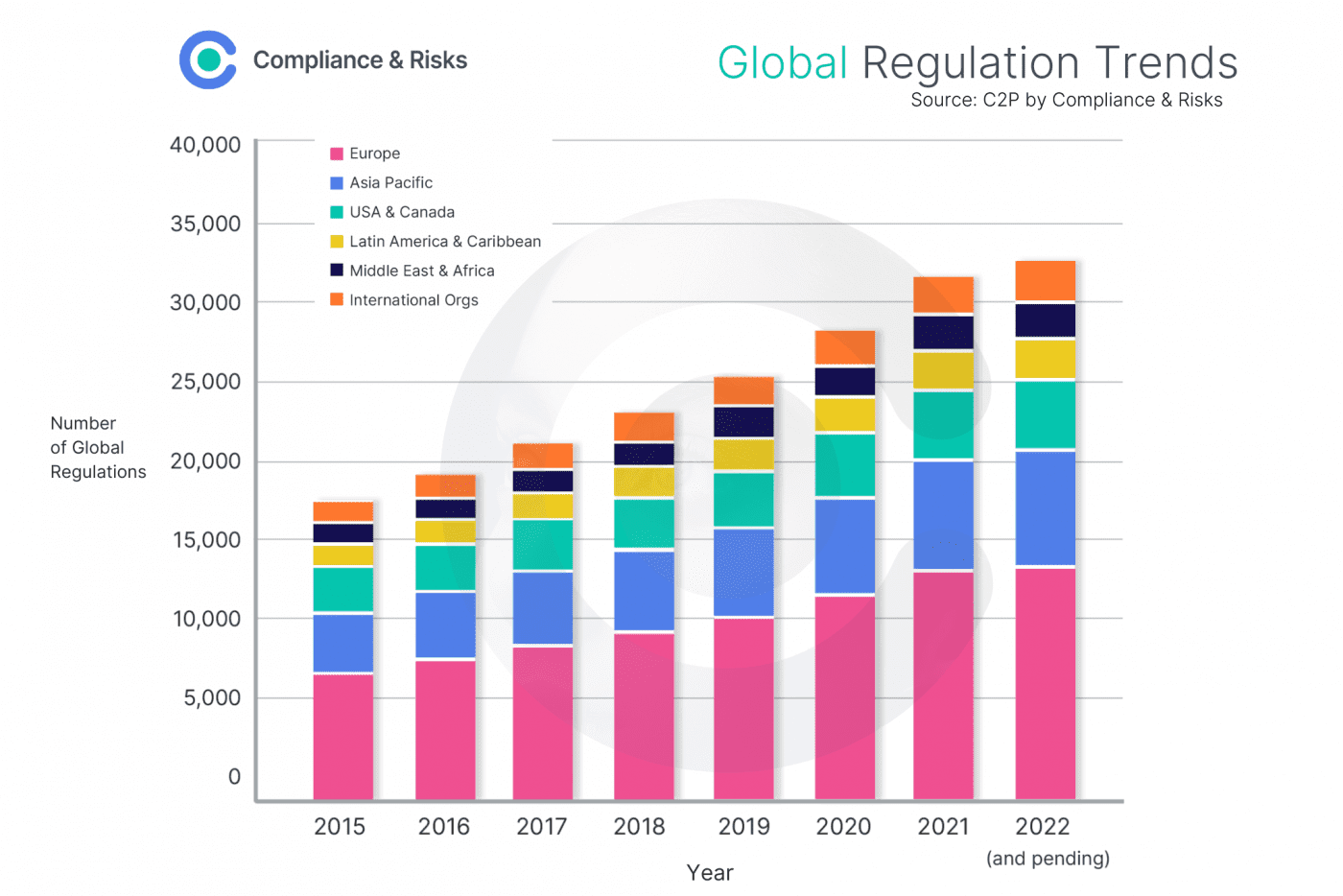 (Source: C2P by Compliance & Risks)
Figure 1 shows a 60% increase in Regulations for Consumer Electronics manufacturers since 2015, with 24,996 Regulations in place by 2022.
Hot Topics
Listed below are the key regulations that will be impacting your business over the next 12-18 months:
Sustainable Products in the Limelight
Never before has the need to protect our environment been more to the forefront of the world's consciousness. Regulators are fast responding enacting measures focused on minimising the environmental impacts of products.
The net result is even more regulation to contend with.
As recently noted by the EU Commission "Products use up massive amounts of materials, energy and other resources and cause significant environmental impacts throughout their lifecycle, from the extraction of raw materials, to manufacture, transport, use and end of life. Half of global greenhouse gases and 90% of biodiversity loss are caused by extracting and processing primary raw materials."
(Source: C2P by Compliance & Risks)
Top Trending Regulations
Listed below are the key regulations that will be impacting your business over the next 12-18 months:
EU: Proposed Framework for Setting Ecodesign Requirements for Sustainable Products, Draft Regulation, March 2022
USA: Fair Repair Requirements for Manufacturers of Digital Electronic Equipment, House Bill 4006, 2021
France: Procedure for Registering Producers and Issuing Their Unique Identifier Within the Framework of Extended Producer Responsibility, Order, March 2022
Colorado (USA): Measures to Increase Protections from Perfluoroalkyl and Polyfluoroalkyl (PFAS) Chemicals, House Bill 22-1345, 2022
Argentina: Rationalisation of the Use of Plastic Products, Bill No. 0175, March 2022
EU: Ecodesign and Energy Labelling Working Plan 2022-2024, Communication, March 2022
UK: Plastic Packaging Tax (Description of Products), Regulations, SI 2021/1417
EU: Corporate Sustainability Due Diligence, Draft Directive, February 2022
New Jersey (USA): Concerning the Recyclability of Certain Products, Assembly Bill 1554, 2022
Italy: Postponement of Packaging Labelling Obligations, Law No. 15/2022
New York (USA): Product Stewardship and Product Labelling, Regulations, 6 NYCRR Part 368, 2022
UK: Restriction of Use of Certain Hazardous Substances in Electrical and Electronic Equipment Regulations, SI 2012/3032
US: Plastics Pact Roadmap to 2025, June 2021
EAEU: Procedure for the Import of Products Subject to Mandatory Conformity Assessment, Decision No. 130, 2021
Stay Up To Date With Global Regulatory Trends In Consumer Electronics
Catch up on our on-demand webinar covering Regulatory Trends In Product Compliance & What To Expect In 2023
Book Time With Our Team
Learn how C2P can help you stay ahead of global Consumer Electronics regulatory changes and achieve uninterrupted market access.