Compliance & Risks Wins Best Flexible Working Strategy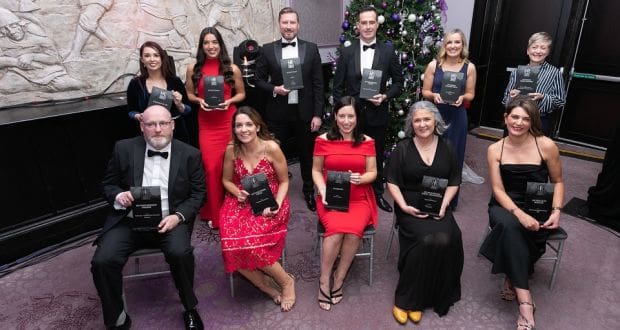 Winners at the HR Awards 2021, credit: Business River
Great to see The Irish Times covering our win at the HR Leadership and Management Awards 2021 for Best Flexible Working Strategy.
Adapting to "the new normal" and developing a Connected Workplace Strategy was key to the growth and success of Compliance & Risks. Our HR team recognized the need to have a flexible working strategy involving working from anywhere in a style and pattern that suits both the employee and the business, while enhancing the human experience at work.
Sandra Coombes, Head of HR spoke about the success behind the new strategy; "Our Connected Workplace Policy supports our business in terms of inclusiveness, connectedness, collaboration and communication. We work across different countries and time zones but no matter where you work, our aim is to make everyone feel part of the team."
The HR Leadership & Management Awards celebrates excellence in Human Resources across Ireland. The awards promote innovation and achievement in HR and recognize the role of HR in the Irish economy. We would like to thank them and each judge for recognizing our best-in-class flexible work options and positive work-life balance!
After a challenging year, it was great to see so many global HR teams being celebrated together along with the work of each nominated company.
Compliance & Risks values work-life balance by encouraging a sustainable pace of work, flexible working hours, and setting enough time aside to take care of employees' physical and emotional well-being. As a global and diverse organization, we're proud to have teams working in many countries across the world, with 25 languages spoken.
If you are looking to join a truly global, talent-based and performance-driven organization, check out our career vacancies: