Six Key Takeaways from the Companies versus Climate Change Conference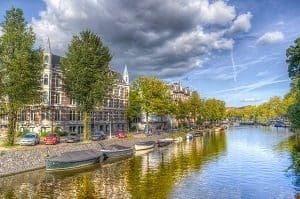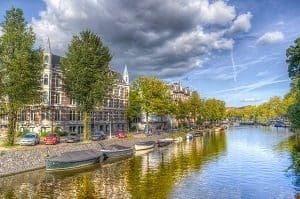 In a week that saw the publication of the IPCC special report on global warming and the upholding by a Dutch court of appeal of a historic ruling that requires the government of that country to reduce emissions, it was timely that I found myself at the Companies versus Climate Change (CvCC) conference at ING Bank headquarters in Amsterdam – where temperatures were an unseasonal and climate-change indicative 24°C!
CvCC, now in its second year, is dedicated to providing a forum for businesses to connect around climate change solutions and share best practices.
The Conference had an impressive line-up of speakers, many of which are customers of Compliance and Risks. Companies such as Signify and Dell lined up with representatives from Asics, Lego, Kellogg, Danone, and Mars to discuss and share measures their respective companies have adopted in order to mitigate the effects of climate change.
Some of the issues discussed, and the key takeaways raised at the conference were as follows:
The use of science based targets to limit and reduce CO2 emissions in order to address climate change and other sustainability challenges was a prominent theme. Science-based targets provide companies with a clear pathway to future-proof growth by specifying how much and how quickly they need to reduce their greenhouse gas emissions. Corporate targets adopted to reduce emissions are considered "science-based" if they are in line with the level of decarbonization required to keep global temperature increase below 2 degrees Celsius compared to pre-industrial temperatures. To date, 492 companies are taking science-based climate action whilst 141 companies have approved science-based targets.
The importance of circular economy strategies to deliver emission reductions was also discussed. The transition from a linear to a circular economy is crucial and involves redesigning the way we fulfill our societal needs and making more efficient use of what we already have, thereby significantly reducing CO2 emissions.
The challenge of engaging suppliers to reduce their carbon emissions was a key concern discussed by several speakers, particularly in light of a recent survey by CDP, a global environmental disclosure platform, concluding that emissions located in the supply chain are on average four times as high as those from direct operations. Improving supplier engagement and involvement is a first step but holding suppliers accountable is also crucial in order to ultimately reduce the negative impact of their value chain.
The emergence of 'servitization' (i.e., turning products into services) as a circular economy strategy was also discussed. This is a business model where manufacturers retain control over products throughout their life cycles and handle their maintenance and recovery, rather than burdening customers with those responsibilities. Selling products as a service ultimately transforms the concept of ownership and encourages people to rethink how a "thing" is used over its lifetime. It can also help overcome the difficulties associated with certain sustainability initiatives that are often ignored due to financial budget constraints, project complexities and risks.
The development of carbon accounting from a 'nice to have' to a 'must have' also featured in discussions. Recent trends demonstrate that carbon accounting is becoming increasingly important in risk mitigation strategies implemented by companies to calculate, reduce and disclose their carbon emissions.
The future lies in collaboration! The final, and perhaps the most important lesson learned during the conference was that a joined-up approach, where companies share openly and transparently how they are tackling emissions in both their own operations, and further up or down the supply chain, is key. 'Open-source' is key here where collaboration internally between sustainability managers and the rest of the business as well as externally with competitors and suppliers is the only way forward!
The publication of the IPCC special report this week took centre stage in the climate world and gave us an indepth analysis into what it will take to avert dangerous levels of global warming worldwide. Whilst the message for governments around the world might be clear – more ambitious climate policies are urgently required- the takeaways for businesses can sometimes be blurred. Hence the importance of conferences such as CvCC in bringing the private sector together to brainstorm the way forward. "Failing forward' was a term used by several different speakers and which I believe adequately sums up what companies need to do. Starting on an emissions reduction and climate mitigation path may be daunting for many but mistakes that may arise in the initial phases can be turned into stepping stones for success.
If you would like to find out more about how you can benefit from  Climate Change regulatory updates, sign up to our newsletter here.