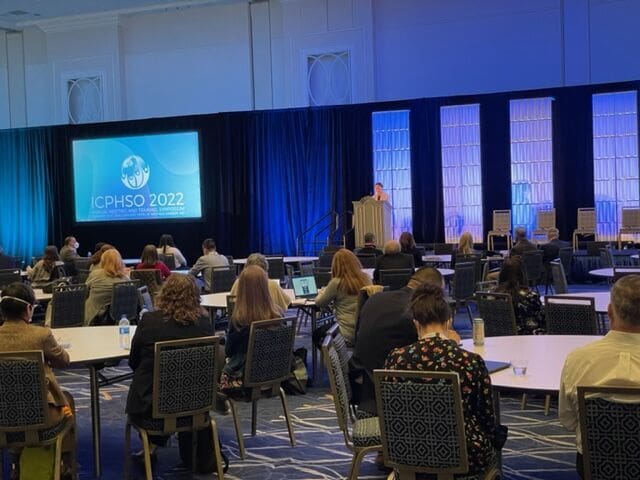 Two years after the last in-person meeting, ICPHSO, The International Consumer Product Health and Safety Organization, held its 2022 Annual Meeting & Training Symposium in person on 14-17 February 2022, in National Harbor, MD, outside Washington, DC.
And we were there! Discussing the impact of counterfeit products and what you can do to mitigate against the risks, as well as proudly supporting the ICPHSO Student Mentorship initiative as they launched their 2022 program.
Five major trends emerged at the event, attended by health and safety professionals interested in exchanging ideas, sharing information, and addressing health and safety concerns affecting consumers around the world:
1) Digital Labeling
Two sessions highlighted the increasing use of digital media – such as QR Codes, links and videos – to provide consumers with product instructions, safety information, and traceability information, to mitigate counterfeiting.
2) Sustainability
Three sessions focused specifically on sustainability, for both products and their packaging, discussing determinations about recyclability, incorporating post-consumer recycled materials, materials certification process throughout the supply chain, and environmental claims and "greenwashing."
3) Ecommerce Challenges
Speakers addressed existing and pending legislation retailers and brands must be aware of when selling products online, recall effectiveness as it pertains to products sold globally online, and the challenges of ensuring products offered on the Internet are legitimate, safe and compliant with applicable laws and standards.
4) Risk Analysis
Dr. K. Thompson reflected on 30 years as a risk analyst working across a broad range of topics, addressing the variable and uncertain risks associated with consumer products, as well as opportunities for creating safer products and promoting appropriate use.
Presenters from NASA discussed the ways they manage safety in a high-stakes, high-risk environment, while ensuring successful missions that fulfill the public's expectations of the space agency.
5) Insights from CPSC
Delegates received a "Beginners Guide to Doing Business with CPSC," as presented by CPSC's Small Business Ombudsman and staff from the Office of the General Counsel, Office of Communications and Office of International Programs. CPSC Senior Staff answered retailers' and manufacturers' questions about Section 15b reporting and CPSC's plans to "fast-track" the process.
Alexander Hoehn-Saric, Chair of the CPSC, gave a Keynote address, addressing the agency's focus on consumer products' potential impact on marginalized consumers, such as Black Americans and the elderly and infirm.
Compliance & Risks works with over 300 global brands helping to monitor the regulatory landscape, assess the impact on their business and prove their compliance with our enterprise platform, C2P.
We have the most comprehensive global database of regulatory content in the world covering 20+ industries and over 40+ topics and policy areas.
If you want to know more, or would like to start a conversation on your compliance needs, just get in touch