Compliance & Risks Presenting At MedTech Summit 2022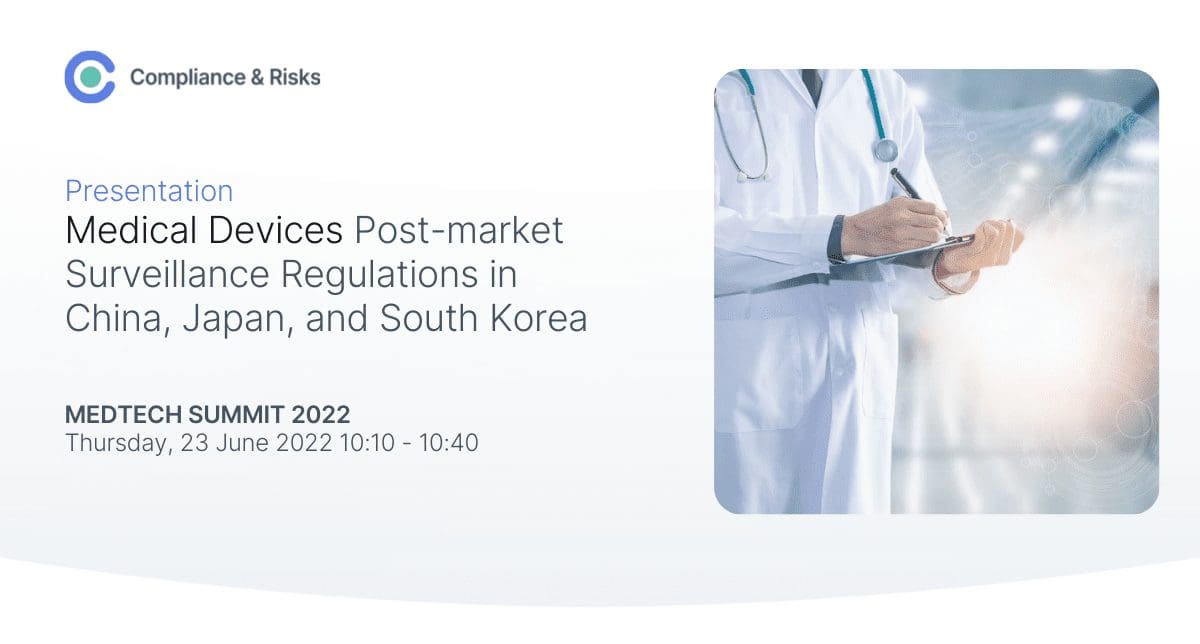 We're delighted to sponsor the MedTech Summit 2022 taking place in the Clayton Hotel, Burlington Road, Dublin from 20-24 June.
The flagship regulatory event of the year, MedTech Summit will bring together EU Commission, Competent Authority, Notified Body and industry experts to discuss the evolving global regulatory landscape.
Meet The Team:
Our team will be onsite discussing key regulatory challenges facing medical device manufacturers, and showcasing the market-leading technology behind some of the world's leading brands' compliance solutions.
Drop by our stand in the main exhibition hall to find out how we can help simplify your product compliance.
Stand #23 [Wed 22nd June] and stand #29 [Thurs 23rd June]
Post Market Surveillance Regulations
We will deliver a presentation on Medical Devices Post-market Surveillance Regulations in China, Japan, and South Korea, which will give an expert overview of regulatory developments in each region and a comparison across jurisdictions.
Presenter: Amy Chen, Market Access & Regulatory Consultant, Compliance & Risks
When: Thurs 23rd June 2022
Time: 10:10am-10:40am
Track: Regulatory Affairs in Global Markets
Where: Ulster Suite
If you haven't already registered, click here and avail of a 10% discount
We hope to see you there.

Stay Updated On Medical Device Regulations
Check out our recent whitepaper on Medical Device Cybersecurity in the USA, or watch our recent on-demand webinar to learn more about Regulatory Developments in China for Medical Devices
To stay on top of the latest news and developments on Medical Devices and other regulations from across the globe speak with our team today
Book Time With Our Team
Learn how C2P can help you stay ahead of medical device regulatory changes and achieve uninterrupted market access.