The Weekly Pulse: 29th August – 2nd September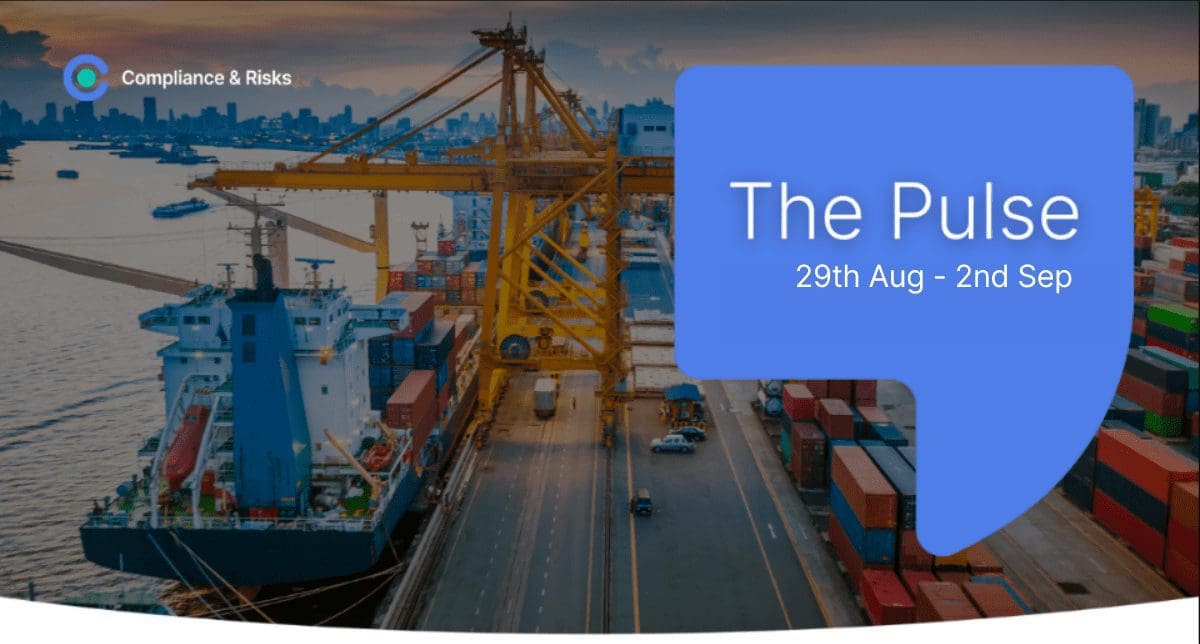 What's HOT in our Regulatory World at the moment?
What are our clients looking at?
This week's trending sources in C2P
India: Battery Waste Management Rules, S.O. 3984(E), 2022
California (USA): Registration of Perfluoroalkyl and Polyfluoroalkyl Substances (PFAS) in Products and Components, Assembly Bill 2247, 2022
France: Instructions Manual for the Calculation of the Repairability Index of Electrical and Electronic Equipment, Guidance Document, June 2022
What are our Content Team talking about?
UN report highlights for companies operating China to conduct due diligence – Joanne O'Donnell
On 31 August, UN High Commissioner for Human Rights, Michelle Bachelet, succeeded in publishing the OHCHR report on Assessment of Human Rights Concerns in the Xinjiang Uyghur Autonomous Region of China just before midnight on her last day in office.
The report highlights the importance for businesses operating in or with China (and not just Xinjiang region) to conduct adequate due diligence to ensure they do not benefit indirectly from human rights abuses occurring in this region.
In the US, all imports from Xinjiang Province are prohibited as of 21 June under the the Uyghur Forced Labor Protection Act.
The Act contains a rebuttable presumption that all products coming from that region are manufactured using forced labor unless documentation or other proof is submitted to demonstrate otherwise.
What are our Knowledge Partners talking about?
State of California adopts single-use plastics extended producer responsibility law – Rina
At the end of June, the State of California adopted a new law requiring that certain single-use packaging and single-use plastic food service ware ("covered material") offered for sale, distributed, or else imported into California is either recyclable or eligible for being labelled "compostable" by 1 January 2032.
Covered material must also meet specified recycling rates by defined times, namely:
At least 30% recycled by 1 January 2028;
At least 40% recycled by 1 January 2030; and
At least 65% recycled by 1 January 2032.
In addition, the new law will prohibit a packaging producer from selling, offering for sale, importing, or distributing covered materials in the State of California unless the producer complies with the law individually or is approved to participate in the "product responsibility plan" of a producer responsibility organisation (PRO) for source reduction, collection, processing, and recycling of a covered material.
Various requirements will be imposed on PROs and producers, including registration, reporting, record-keeping, auditing requirements, and preparing a budget and annual report.
PROs will also be required to establish charges for their participant producers. These are to be sufficient to ensure the requirements of the law are met by each PRO.
The new law is the Plastic Pollution Prevention and Packaging Producer Responsibility Act and came into effect through the signing of Senate Bill No. 54 on 30 June 2022.
What are our clients asking about?
What is the status of India Reach implementation? – Answer by Siddhant Shahane
India: Chemicals (Management and Safety) Draft Rules, March 2020 (India Reach) are currently in draft form, there is speculation that they will be approved in 2022 but this has not yet been confirmed by the Indian Authorities.
Stay Updated On Global Regulations
This information is based on the most viewed regulations on C2P this month. If you would like to find out more about how you can stay on top of global regulations, why don't you Book a Demo with our team today?
Book Time With Our Team
Learn how C2P can help you stay ahead of regulatory changes and achieve uninterrupted market access.