Get Ready For The Deforestation-Free Products Regulation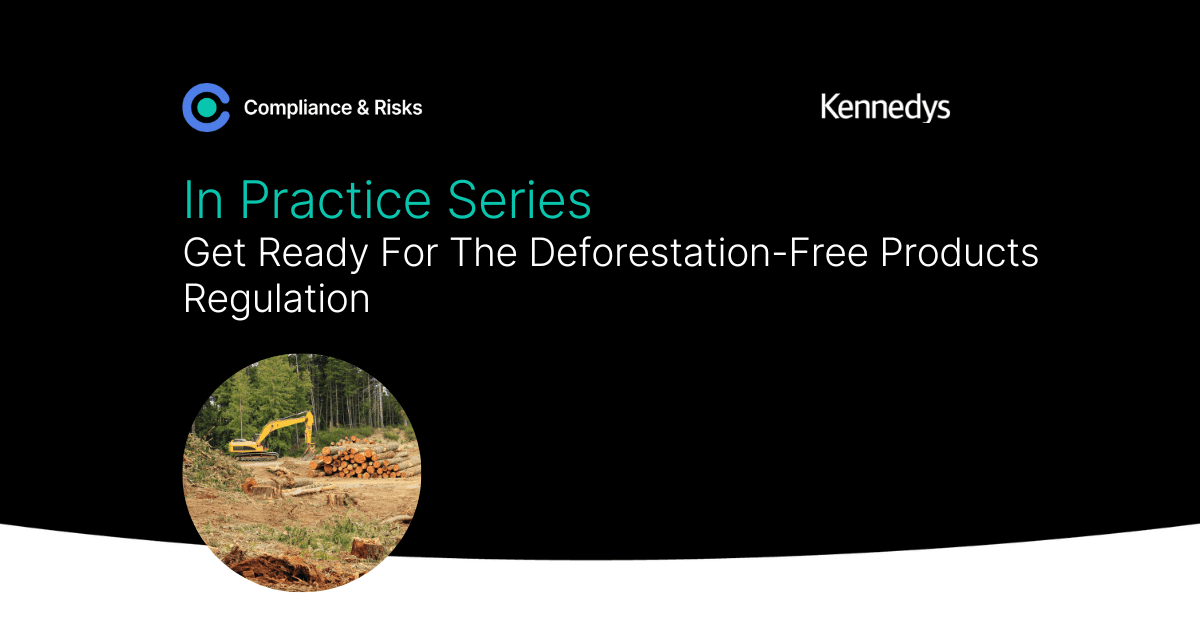 OUR MONTHLY "IN PRACTICE SERIES" IS BROUGHT TO YOU IN PARTNERSHIP WITH KENNEDYS LAW LLP
TO HELP ENSURE YOU HAVE ACCESS TO PRACTICAL INSIGHTS BACKED BY OUR COMPREHENSIVE, IN-DEPTH REGULATORY EXPERTISE.
AUTHORED BY: SARAH-JANE DOBSON, PARTNER, Miran Bahra; ASSOCIATE AND TEGAN JOHNSON; SOLICITOR APPRENTICE KENNEDYS LAW LLP
The Legal Issue:
The Food and Agriculture Organisation of the United Nations has estimated that 420 million hectares of forest has been lost between 1990 and 2020 – equating to approximately 10% of the world's remaining forests.
Deforestation and forest degradation has significant impact on the environment, as a driver of global warming and a direct cause of biodiversity loss. This is not a new concern, and the EU has seen this as an area of focus since the 1990s. However since then, the European Commission ("EC") continues to bolster both policy and regulatory initiatives to help tackle deforestation and forest degradation across the world.
Such recent overarching initiatives, amongst others, include as follows:
'Stepping up EU Action to Protect and Restore the World's Forests' published on 23 July 2019 – this seeks to further build upon the 2013 EU Forest Strategy and sets an overall aims to protect and grow the world's forest cover through five priorities, including:
– Priority 1: Reduce the EU consumption footprint on land and encourage the consumption of products from deforestation-free supply chains in the EU.
– Priority 2: Work in partnership with producing countries to reduce pressures on forests and to 'deforest–proof' EU development cooperation.
– Priority 3: Strengthen international cooperation to halt deforestation and forest degradation and encourage forest restoration.
– Priority 4: Redirect finance to support more sustainable land-use practices.
– Priority 5: Support the availability of, quality of, and access to information on forests and commodity supply chains.
'EU Biodiversity Strategy for 2030' published on 20 May 2020 – a long-term plan to protect nature and reverse the degradation of ecosystems. This strategy provides a long-term plan to protect nature, reverse the degradation of ecosystems and aims to build resilience to future threats such as the impacts of climate change, food insecurity, disease outbreaks and forest fires.
'New EU Forest Strategy for 2030' published on 14 July 2021 – one of the flagship initiatives of the European Green Deal and further builds on the EU Biodiversity Strategy for 2030 which is set out above. This strategy sets a vision and actions to improve the quantity and quality of EU forest and strengthen their protection, restoration, and resilience.
In tandem with the above, on 30 September 2020, the EC published an open public consultation to contribute to an impact assessment that would investigate the suitability of a range of different demand-side measures to address deforestation and forest degradation associated with EU consumption. As an immediate consequence, the EU Regulation on Deforestation-Free Products came into force on 29 June 2023.
The Legal Framework:
The mainstay regulatory framework includes:
EU Timber Regulation 2010
The EU Timber Regulation 2010, which was adopted on 20 October 2010, outlines the obligations of operators who place timber and timber products on the EU market (both imported and domestically produced), as well as additional obligations of traders who buy or sell timber or timber products already placed on the EU market. It covers a wide range of timber products, including solid wood products, flooring, plywood, pulp and paper.

The main objectives of the EU Timber Regulation 2020 are as follows:
– Prohibition for operators to place illegally harvested timber or timber products derived from such timber on the EU market;
– Operators shall exercise due diligence when placing timber or timber products on the market, including implementing a "due diligence system" which comprises understanding the nature and source of the product and its production, assessing the risk level of its supply, and measures to minimise that risk; and
– Traders need to identify the operators or traders who have supplied and/or to whom they have supplied the timber or timber products throughout the supply chain and retain that information.

The EU Timber Regulation 2010 will be repealed and replaced by the Regulation on Deforestation-Free Products once implemented from 30 December 2024.
EU Regulation on Deforestation-Free Products
Definitions:
– Relevant Commodities: cattle, cocoa, coffee, oil palm, rubber, soya and wood.
– Relevant Products: the products listed in Annex I of the EU Regulation on Deforestation-Free Products that contain, have been fed with or have been made using relevant commodities.
– Operator: any natural or legal person who, in the course of a commercial activity, places Relevant Products on the market or exports them.
– Negligible Risk: the level of risk that applies … where, on the basis of a full assessment of product-specific and general information, and, where necessary, of the application of the appropriate mitigation measures, those commodities or products show no cause for concern as being not in compliance with Article 3 (a) or (b).

Scope:
The EU Regulation on Deforestation-Free Products lays down the rules for placing and making available on the EU market or exporting from the EU market, the Relevant Products that contain, have been fed with or have been made using the Relevant Commodities, in order to:
– Minimise the EU's contribution to deforestation and forest degradation worldwide, and thereby contributing to a reduction in global deforestation;
– Reducing the EU's contribution to greenhouse gas emissions and global biodiversity loss.

Prohibition:
Relevant Commodities and Relevant Products should not be placed or made available on the market or exported unless the following conditions are fulfilled:
– They are deforestation-free;
– They have been produced in accordance with the relevant legislation of the country of production; and
– They are covered by a due diligence statement.

Due Diligence And Risk Assessments:
Placing on the market requires a due diligence statement to have been submitted in advance by the Operator seeking to place Relevant Products/Relevant Commodities on the market to the competent authorities.
The due diligence statement certifies that due diligence has been carried out, and that no risk was found or only a negligible risk. Due diligence must comprise of:
a.) Collecting information and documents to evidence compliance which is "adequately conclusive and verifiable", as well as details relating to the products and supply chain;
b.) Risk assessments carried out considering 14 criterion from validity of the documents sourced, to presence and cooperation with indigenous peoples in the country of source, and complexity of the supply chain; and
c.) Unless no risk is found, or only a negligible risk, Operators are required to adopt risk mitigation procedures such as independent audits or sourcing further documentation to achieve this no/negligible risk status.

There is an exception to this procedure: Operators will only have to carry out strand (a) of the above where all Relevant Products/Relevant Commodities have been produced solely in select listed low risk countries.

If there is a greater than negligible risk, or the Operator is unable to carry out the due diligence, the certificate cannot be completed and the product cannot be placed on the market.

Article 12 of the Regulation requires Operators to make publicly available their due diligence system, at least annually.

Threshold For Compliance:
The threshold for being prevented from placing a given product on the market is a more than negligible risk – negligible risk is any level of risk which shows no cause for concern as not in compliance with Article 3(a) and (b), which set out the requirements for a product to be deforestation-free and produced in accordance with the legislation of the country of production.

Future Expansion:
In time, the Relevant Commodities, Relevant Products and ecosystems covered are to be reviewed, and it is expected, expanded. It is important to note that while the EU Regulation on Deforestation-Free Products entered into force on 29 June 2023, the key obligations allow for an implementation period up until 30 December 2024.
The Regulatory Trend
C2P Regulatory Growth Chart illustrating the substantial rise in Illegal Logging Regulations since 2016.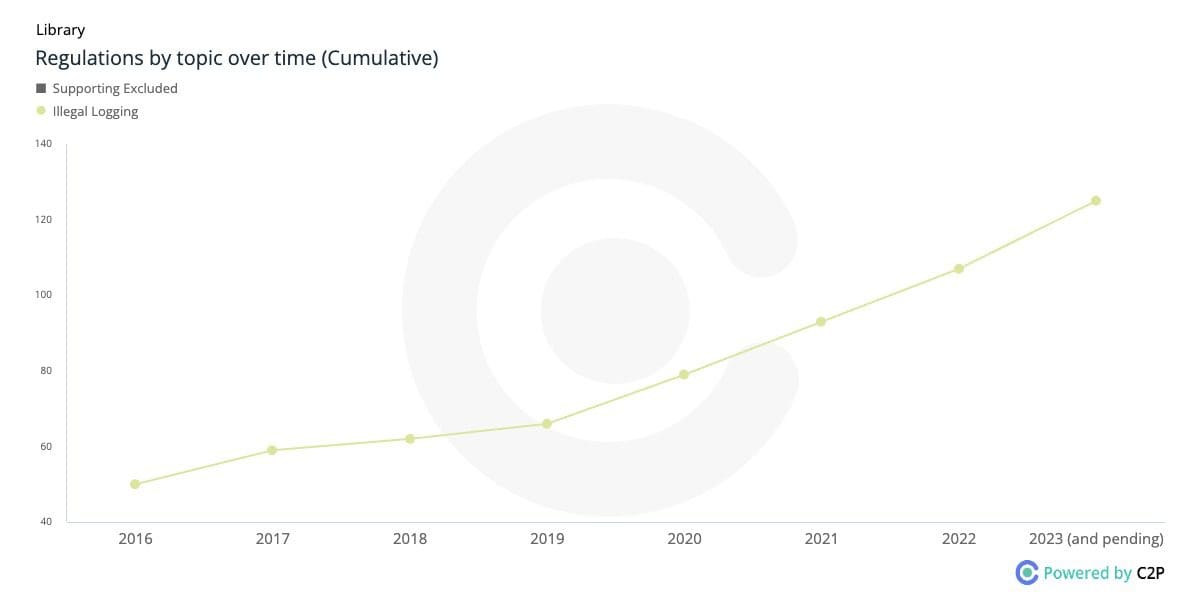 The Consequences:
The consequences of non-compliance can include:
Consequences
Commentary
Corrective Actions
Under the Regulation on Deforestation-Free Products, the competent authority is empowered to:
– Rectifying any formal non-compliance;
– Preventing the relevant product from being placed or made available on the market or exported;
– Withdrawing or recalling the relevant product immediately;
– Donating the relevant product to charitable or public interest purposes.
Direct And Indirect Monetary Penalties
The Regulation on Deforestation-Free Products and EU Timber Regulation 2010 align in respect of requiring penalties to be "effective, proportionate and dissuasive".
The Regulation on Deforestation-Free Products sets out, amongst other matters, that these penalties can comprise of:
– Fines proportionate to the environmental damage and the value of the relevant commodities or relevant products concerned. It should be noted that in the case of a legal person, the maximum amount of such fine shall be at least 4% of the operator's or trader's total annual EU-wide turnover.
– Confiscation of the relevant products concerned from the operator and/or trader;
– Confiscation of revenues gained by the operator and/or trader from a transaction with the relevant products concerned;
– Temporary exclusion from public procurement processes (for a maximum period of 12 months);
– Temporary prohibition from placing or making available on the market or exporting relevant commodities and relevant products in the event of a serious infringement or of repeated infringements.
Reputational Harm
One less tangible harm, but ultimately another risk, is that of damage to reputation. Media attention can be damaging in the event of non-compliance and can lead to consumers turning to companies they see as "greener".
Checklist To Improve Compliance With Ecodesign Requirements:
Businesses should always refer to the specific regulations and guidance in place in the jurisdictions they are operating in. However, the following general principles may provide some helpful pointers for businesses with these regimes in mind:
Assess the scope of the EU Regulation on Deforestation-Free Products to ascertain whether any Relevant Products or Relevant Commodities (as defined above) fall within the scope of the regime and identify any gaps in obligations that will need to be implemented.
Proactively review existing value chains to identify any potential risk of non-compliance.
Proactively develop due diligence strategies which include: (a) the collation of information, data and documents; (b) risk assessment measures to ascertain whether there is a risk that the Relevant Products intended to be placed on the market or exported are non-compliant; and (c) risk mitigation measures that are adequate to achieve no or only a negligible risk. These strategies should be reviewed on a periodic basis to ensure effectiveness.
Consider whether to include mirroring due diligence requirements within any supplier code of conduct to ensure that proper practices that align with your business are implemented throughout the supply chain.
Ensure documentation and evidence of compliance is kept up to date and periodically reviewed to ensure compliance and in the event that a competent authority carries out a check on your business.
Stay Compliant With Global Regulations
Catch up with our previous editions of our In Practice Series –
See Our ESG Solution In Action
Accelerate your ESG Compliance with our ESG Solution, a smarter way for organizations to meet mandatory ESG obligations.
Watch our bite-sized demo!