Construction Products And Sustainability – What's Expected?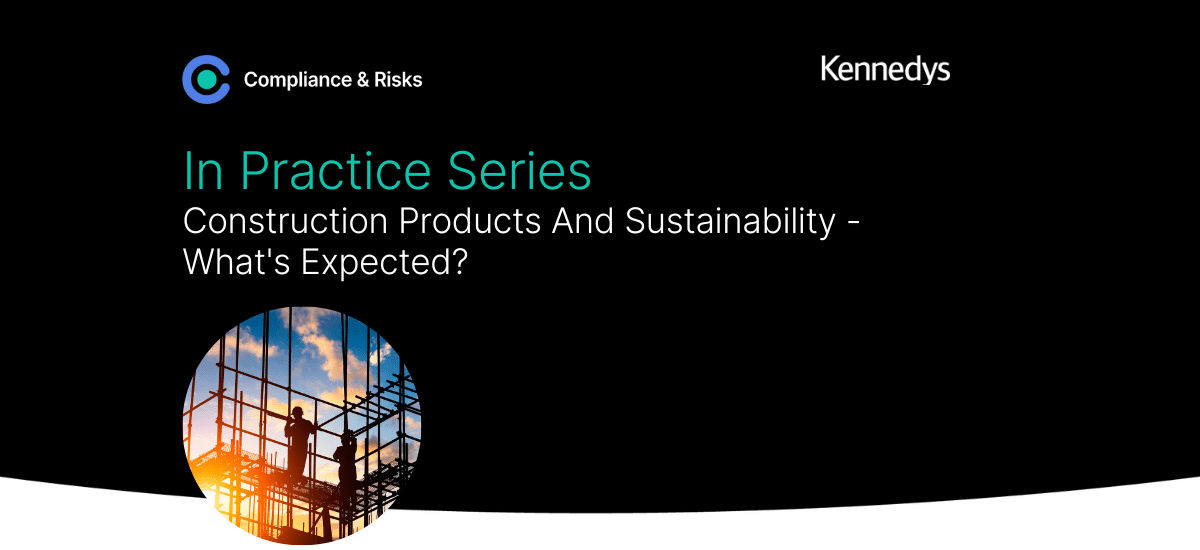 OUR MONTHLY "IN PRACTICE SERIES" IS BROUGHT TO YOU IN PARTNERSHIP WITH KENNEDYS LAW LLP
TO HELP ENSURE YOU HAVE ACCESS TO PRACTICAL INSIGHTS BACKED BY OUR COMPREHENSIVE, IN-DEPTH REGULATORY EXPERTISE.
AUTHORED BY: SARAH-JANE DOBSON, PARTNER, Thomas Panter; SENIOR ASSOCIATE AND TEGAN JOHNSON; SOLICITOR APPRENTICE KENNEDYS LAW LLP
The Legal Issue:
The European Union (EU) Green Deal was introduced on 11 December 2019 and aims to reduce greenhouse gas emissions and to minimise the use (and waste) of resources whilst achieving economic growth on an EU-wide level, including becoming climate neutral by 2050.
The Circular Economy Plan, adopted in March 2020, is a key part of the Green Deal which implements legislative and non-legislative sustainability requirements across the entire life cycle of products. It aims to target how products are designed, promotes circulate economy processes, reduce waste and ensure that resources are kept in use for as long as possible.
This growing regulatory burden, alongside increasing consumer scrutiny for businesses in respect of the actions they are (or are not) taking to tackle sustainability and ESG related issues, means that all businesses, including those in the construction industry, must consider the implications of sustainability to all areas of their business, from product development to corporate governance.
The construction industry uses a significant amount of energy and resource; while estimates differ on the exact amounts, it is widely agreed that the numbers on emissions, resource use and waste are not small by any standard. The EU estimate that some 35% of energy-related emissions in the EU in 2020 originated with the buildings sector, and that construction is responsible for over 35% of the EU's total waste generation. As the built environment lasts more than many more transient products and services, making good decisions will have positive effects decades into the future.
Those within the construction industry who haven't yet started to consider their own environmental impact and sustainability initiatives may be caught out, whilst competitors who make positive changes early will reduce their risk of non-compliance and may benefit commercially by getting ahead of these significant regulatory and societal shifts.
The Legal Framework:
The regulatory framework includes:


Construction Products Regulation
(Amended in March 2022)
Whilst building works regulation is at individual member-state level, construction products are covered by EU regulation. This is a fairly old regulation now, albeit with a recent revision adoption in March 2022. This regulation establishes a system for declaring competency of construction products across the EU.

While the present version requires the inclusion of sustainability information and digital formats, including material traceability and labelling requirements should be noted. However, in the context of the ambitious targets of the Green Deal, there is scope for legislators to push regulations further, as seen in new initiatives proposed and implemented in the consumer electronics space.

The recent proposal to replace the Ecodesign Directive 2009/125/EC highlighted the need for additional sector specific legislation on sustainability relating to construction products.
Proposed Ecodesign for Sustainable Products Regulation
(Proposal published on 30 March 2022)
This Proposed regulation replacing the original Ecodesign Directive 2009/125/EC enables setting of tougher performance requirements including energy performance, and, in particular, a greater focus on product requirements encouraging more durable, repairable and recyclable products.

This will apply to construction products but the proposal makes it clear the need for additional construction product specific legislation.
Packaging Waste Directive
Construction projects use vast amounts of materials, all of which have to be transported along supply chains as well as to the final site. Of course, that can often require significant amounts of packaging.

The Directive regulates not only what kinds of packaging can be used, but waste prevention and management; certain materials should be avoided and consumptions should ultimately be reduced wherever possible.

It is notable that the last significant amendment to this legislation was in 2018 regarding Extended Producer Responsibility. This legislation is due to be overhauled, with a draft regulation proposed last November following the trend of stricter requirements with regard to environmental impact



Proposed Corporate Sustainability Due Diligence Directive
On 23 February 2022, the EC adopted a proposal for the Corporate Sustainability Due Diligence Directive ("CSDDD"). The main driver behind the Directive was to foster sustainable and responsible corporate behaviour throughout global value chains.

As part of the CSDDD, companies will be required to identify and, where necessary, prevent, end or mitigate adverse impacts of their activities on human rights, such as child labour and exploitation of workers.

The implications are far-reaching with the obligations on companies broad and penalties potentially significant (see below). Traditionally, businesses may only have limited information or insight beyond the first layer of their value/supply chains. However, this proposal would place obligations on businesses to understand and be responsible for the entire value chain. As construction supply chains can be extensive, this may require a significant shift in culture and working practices to ensure continuing compliance.
Proposed Regulation on Deforestation-free Products
Repealing the past Timber Directive, this rule aims to ensure that products used in the EU for whatever reason do not contribute to deforestation globally. It requires strict, enhanced due diligence for the import of products including timber and rubber, among others.

As some look to timber as a more sustainable material, the supply chain will be an important consideration for those looking to diversify their material usage.
The Consequences:
The regimes noted above are subject to potentially frequent change given how quickly this area is developing. Sustainability regimes at EU-level are complex and can be overarching or product specific, so it's important to monitor what is applicable to your business and service.
The penalties of not following the requirements can be severe, and come with the added risk of heightened reputational harm. In particular, we are seeing a "green bonus" for businesses who have strong eco-credentials and a "brown tax" on those who are not as proactive in adopting similar initiatives.
However, the consequences of non-compliance of existing legislation can include:
Consequences
Commentary


Direct and Indirect Monetary Penalties
Under the CSDDD, for example, Member States are able to designate an authority to supervise and impose effective proportionate and dissuasive sanctions, including fines and compliance orders. Under the Construction Products Regulations, a similar regime allows Member States to set direct fines.

Fines aren't the only financial penalties available; some regulations allow for other measures which will affect profits. The Ecodesign for Sustainable Products Directive allows a restriction on products being made available on the market if they fail to meet set requirements.


Criminal Sanctions
As above, some regulations allow member states to set sanctions, and these can (at the more extreme end) include criminal sanctions and imprisonment for serious breaches.


Reputational Harm
Not only does infringement carry the risks set out above, but ultimately another indirect risk is that of damage to reputation. Media attention is often pointed towards the green agenda, with companies and individuals highlighted for their approaches – and unfortunately, the worst examples often get the most attention. It's not always true that all publicity is good publicity, and it can tarnish a company's reputation, with consumers often willing to stay away from such brands in favour of greener options.





Civil Liability
Under the CSDDD, Member States are empowered to ensure that victims get compensation for damages resulting from a company's failure to comply with its obligations under the directive.
Checklist To Improve Compliance With The EU's Sustainability Initiatives:
Companies should always refer to the specific regulations and guidance in place in the jurisdictions they are operating. However, the following general principles may provide some helpful pointers for staying on the right side of the law:
Understand the current and proposed legislative regimes, and how they apply to your supply chains and businesses.
Establish strategies and sustainability policies which account for the current position and likely future developments, aiming to reduce and mitigate any adverse impacts of products and services.
Review sustainability information provided to consumers and end users, from product labelling to handover files.
Consider sustainability at every stage from design of products and projects through construction and manufacture to lifetime energy consumption, longevity and embodied carbon.
Implement due diligence policies which consider supply chains from end to end and the sustainable practices involved at each stage.
Retrofit is more than a buzzword – while not always the best option, where possible, it should be considered among other options and it can hugely reduce the impact of projects.
Stay Compliant With Global Regulations
Catch up with our previous editions of our In Practice Series –
See Our ESG Solution In Action
Accelerate your ESG Compliance with our ESG Solution, a smarter way for organizations to meet mandatory ESG obligations.
Watch our bite-sized demo!