What is Product Compliance?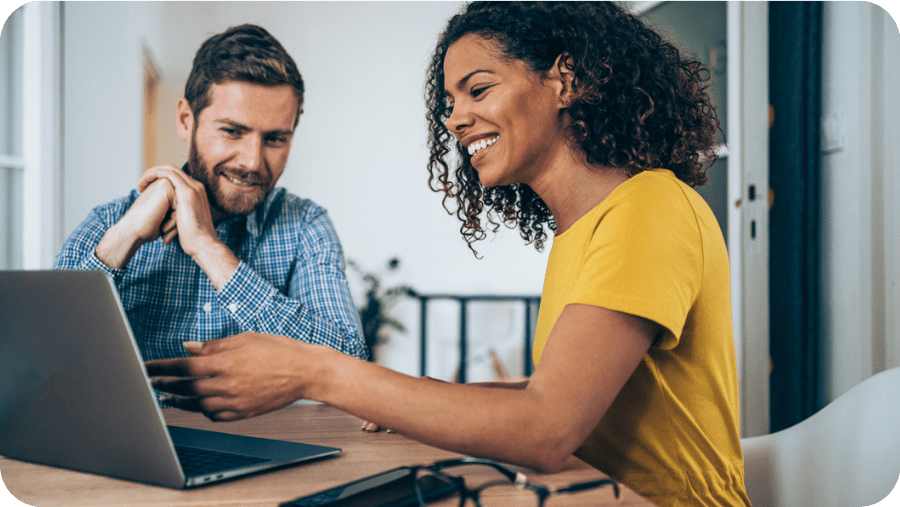 Introduction
If you're new to the world of product compliance and its ever-evolving regulatory landscape and would like a crash course in what it's all about, you're in the right place.
In this blog, you will learn about the fundamentals of Product Compliance and what it means for product manufacturers to get products to market and keep them there. Happy reading!
What is Product Compliance?
To launch a product to market, companies need to ensure their product meets all requirements set by the parliaments and regulatory bodies. This process is coined as "Product Compliance".
Governments enforce laws, governing bodies propose regulations to help abide by these laws, and various organizations release standards that act as a yardstick to help stay compliant with a set of regulations.
In short, manufacturers are responsible for ensuring their products are safe for people to use.
Having said that, it's also important to remember that product compliance isn't just about safety. It also includes labeling and packaging, as well as data security and privacy laws to name a few for those more connected products on the market.
The objective of product compliance is to make sure that consumers are safe from harm. And different legislative bodies have different rules depending on the country or region they're in.
Product Compliance Regulations
Regulations are detailed instructions on how laws are to be enforced or carried out and are sometimes referred to as rules or administrative laws. They carry the force of law – their application is mandatory.
Product compliance means there is evidence that the product meets the essential requirements in the form of directives, regulations and harmonised standards. Proper management of product compliance and the processes around it save time, reduce costs and enable companies to mitigate risks.
Read our previous blog on Why Every Compliance Team Should Link Regulations & Product Standards here.
Here are some examples of Product Compliance regulations:
The European Union (EU) Restriction of Hazardous Substances (RoHS) Directive.
The Registration, Evaluation, Authorisation and Restriction of Chemicals (REACH) Regulation.
The California Safe Drinking Water and Toxic Enforcement Act of 1986 (Proposition 65).
The EU Biocidal Products Regulation.
Conformité Européene (CE) Decision No 768/2008/EC
Children's Safe Products Act (CSPA, USA).
US Toxic Substances Control Act (TSCA)
The U.S. Defense Federal Acquisition Regulation Supplement.
The EU Waste Framework Directive (WFD).
The increasing importance of Product Compliance
With technological advances over the past 10 years, products that were previously regulated by a certain set of regulations and standards are now finding a new wave of regulations relevant to them.
For example, smart fridges or TVs are now subject to GDPR regulation and cyber security. This poses a challenge to manufacturers who need to keep pace with this increased regulatory burden.
In the past 5 years alone, there has been a 71% growth in global regulations (Figure 1: Source, C2P). Product compliance is now in the limelight more than ever.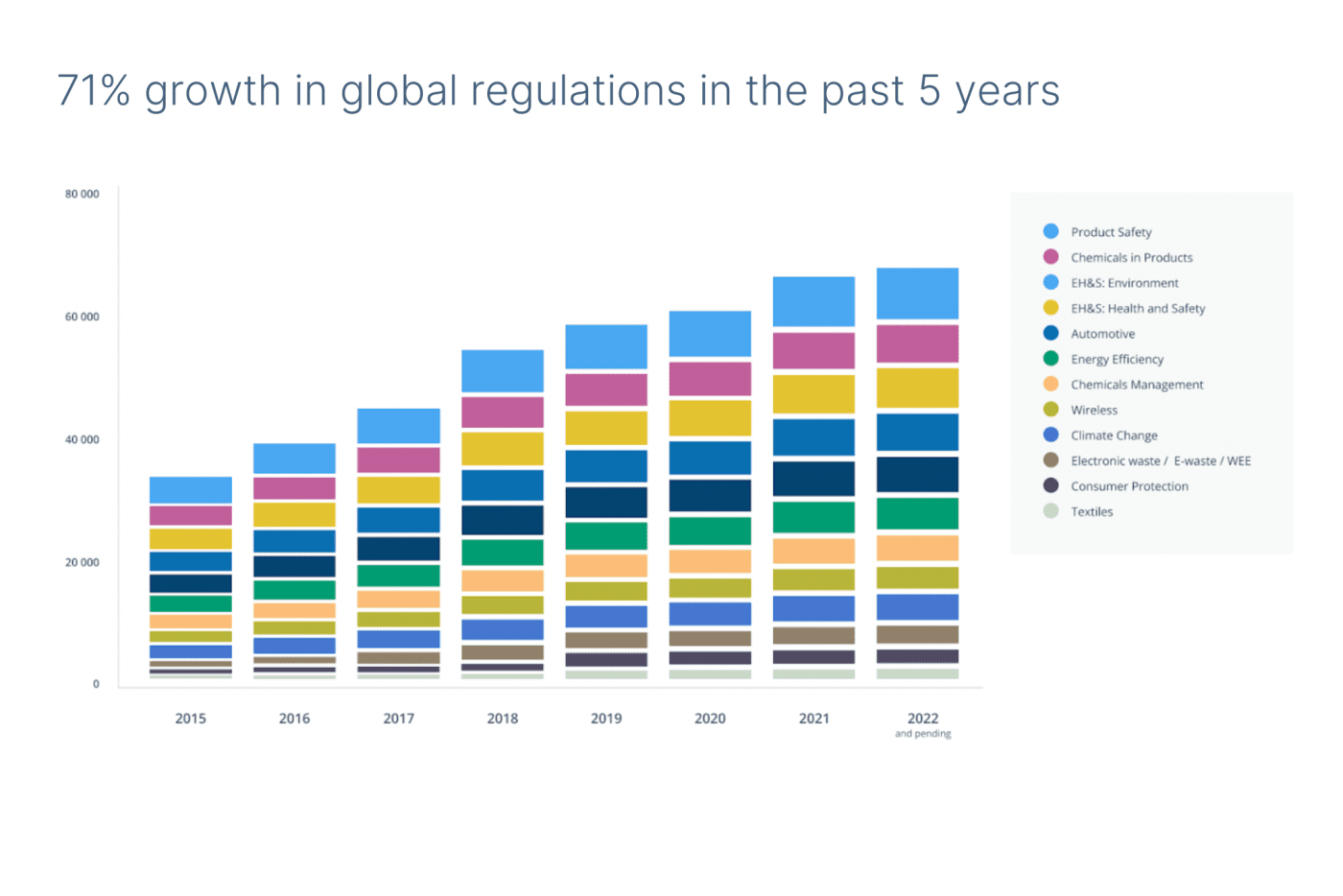 This regulatory growth and the density spread (See figure 2, Source, C2P) are the reason product manufacturers are constantly under the scrutiny of compliance authorities, and why product compliance processes need to be as robust and efficient as possible.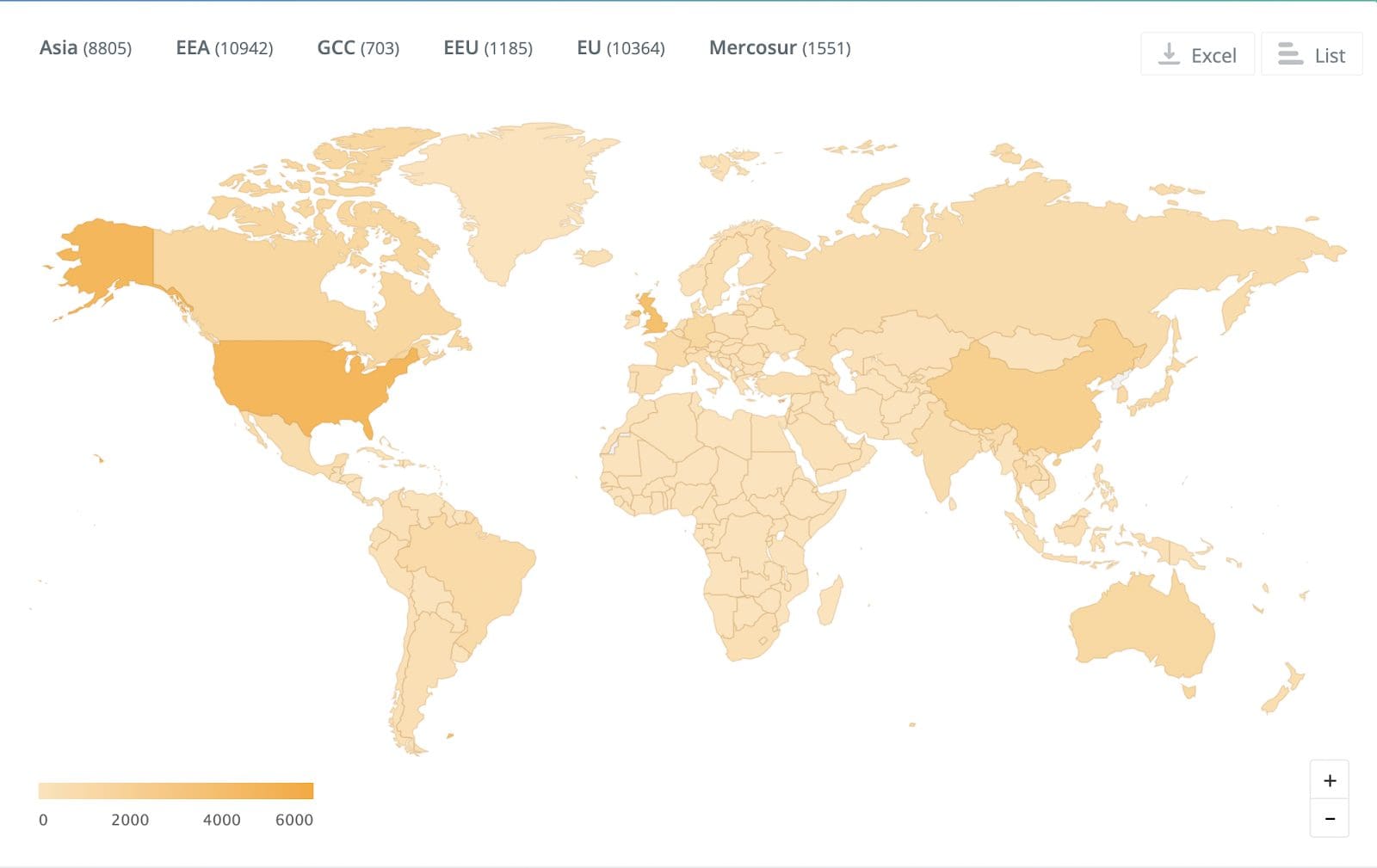 How is Product Compliance different from Regulatory Compliance?
To understand product compliance, it is essential first to understand regulatory compliance.
Regulatory compliance refers to the process of ensuring that your company and business follow all the laws and regulations set by parliaments and regulatory bodies such as the FDA or EPA. The rules can be very different depending on where your business operates, but in general, regulatory compliance is much broader than product compliance and applies to all aspects of the business e.g. safety of employees, emissions from factories, data protections etc.
Product compliance involves ensuring that your product meets all requirements set by regulatory bodies such as the FDA or EPA so that it does not cause any harm to consumers or their property.
"Regulatory compliance applies to the whole organization and its all departments, whereas product compliance represents the manufactured product and its counterparts"
Why do products need to be compliant?
Essentially, the impetus is to protect people, the environment and the community from harm which results in law enforcement.
Compliance is a Legal Requirement
Compliance with regulations is a legal requirement. If your product isn't compliant, it can't legally be sold in countries or states; you may also have to pay fines if caught selling non-compliant products. Compliance with regulations will help increase sales and revenues by ensuring that your products are safe for use by consumers and fit for the purpose they were designed for.
If you're manufacturing a product in the US, then it's likely that your item must meet certain safety regulations. For example, if you're selling toys for children, then they must comply with ASTM F963 or CPSIA standards—these are two different sets of regulations for children's products. If you're selling medical devices to hospitals or clinics, then they may have their own requirements in addition to the FDA.
Products need to be compliant because they affect people's safety—if they don't work or are unsafe for use, they can cause severe harm or even death.
For example: if you were manufacturing food packaging that didn't meet safety standards for food contact materials (FCMs), then it could contaminate the food inside and make people sick. When someone buys a car without airbags installed (which are required in some countries), then there's an increased risk of injury in case of an accident.
If you were manufacturing children's toys without the proper safety warnings, then children could choke on small parts or swallow them; if you were making medical devices that didn't include instructions for safe use, then patients might be harmed by using the device incorrectly.
What happens to companies that don't comply?
A company that sells products that violate consumer protection laws or are otherwise considered deceptive, could face fines and criminal charges. In extreme cases, the government may sue them and put them under forced recall. (see figure 3, below)
Fines/Penalties
Stop shipment
Brand/Reputational Damage
Product Recalls
Criminal charges/Imprisonment
Competitive disadvantage
Negative impact on revenue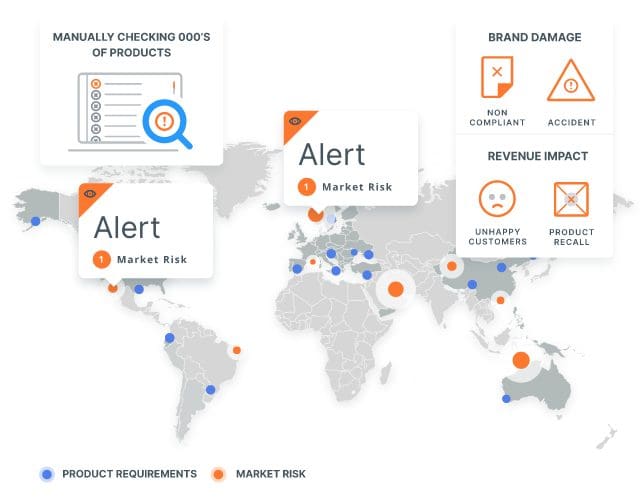 If a product doesn't meet the requirements of the law, then the consequences vary depending on the type of violation.
If there is lead found in cosmetics, the business might be fined or the owner even arrested by local authorities. If products don't comply with regulations like those from the FDA, then they may simply be seized by customs agents when they enter the country. Forced recalls are issued when products are deemed to be non-compliant and unsafe, which essentially means that you need to organize the return of all unsafe products – and offer refunds or replacements.
Here are a few scenarios when your product may be subject to recall:
Your products are reported to the relevant authorities as non-compliant and unsafe
Your product is subject to testing by market surveillance authorities and found to be non-compliant (in some countries they buy products from various online stores and send them for safety testing)
Market surveillance authorities may contact you at any time to request all mandatory product compliance documents (e.g. test reports, product certificates, and declaration of conformity). Failing to provide the required documents can result in a forced recall.
Your products are incorrectly labeled (e.g. lacking a CPSIA tracking label, country of origin label, or CE mark).
Keeping on Top of Regulatory Change
With this huge growth in regulatory change and the wide-reaching impacts of non-compliance, it's critical that large multinationals have a robust solution for effectively managing their obligations.
Whether you have 1, 100, or 1000+ products, what we have heard consistently is that it is difficult to stay on top of all the moving parts. From tracking different sources of information, to file sharing, to collaboration, to attending various events and trade shows, and being a part of multiple mailing lists and webinars.. teams are often overwhelmed. (see figure 4, below)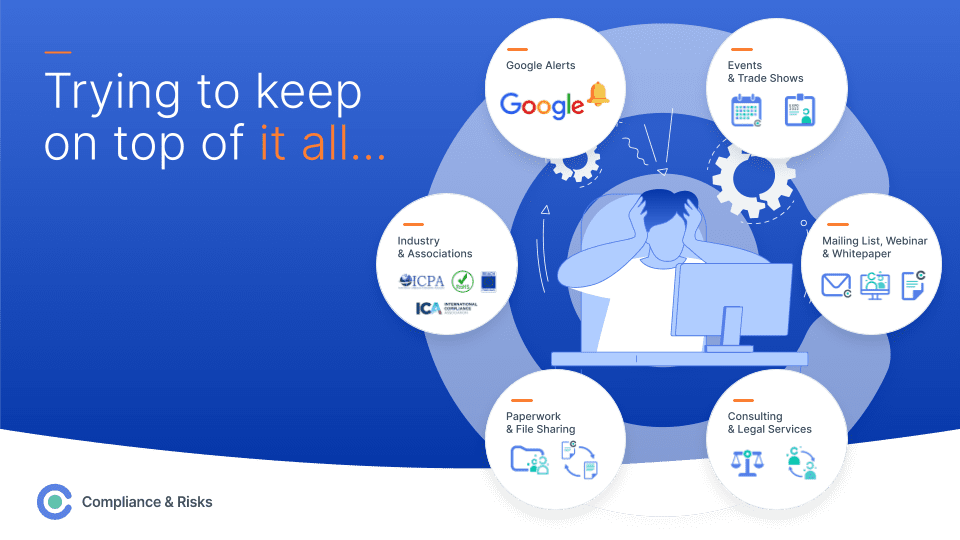 For many this requires hiring subject matter experts on different regulatory topics, but with the number of areas of regulatory requirements increasing annually this is difficult to scale and a more advanced solution is needed.
C2P Product Compliance Solution
Compliance & Risks has developed an innovative technology platform, called C2P, that helps the world's leading brands comply with global regulatory changes. C2P helps compliance teams accelerate their ability to achieve, maintain and expand market access for all their products in international markets.
C2P is purpose-built to be tailored to a company's specific needs with comprehensive capabilities that enable enterprise-wide management of regulations, standards, requirements and evidence. Add-on packages help accelerate market access through use-case-specific solutions, global regulatory content, a global team of subject matter experts and professional services.
See Figure 5 below, a screenshot from C2P Product Compliance Solution, showcasing the timeline of upcoming regulatory changes.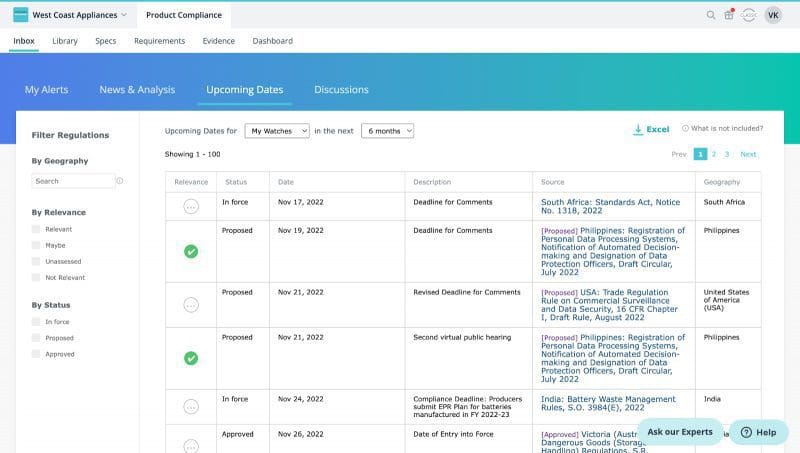 There are 5 key areas that C2P Product Compliance Solution helps companies with:
Identify relevant regulations and standards
Interpret the regulations and standards for your products
Communicate the regulatory requirements to the teams who need to implement them
Determine the evidence needed to prove compliance against each of these requirements
Monitor changing regulations and standards globally to ensure compliance at all times
C2P serves as a single source of compliance information for the teams and helps in driving a 'Zero surprises' compliance policy for the business. (See Figure 6 below, a screenshot from C2P, with live linking between regulations, standards, requirements and evidence)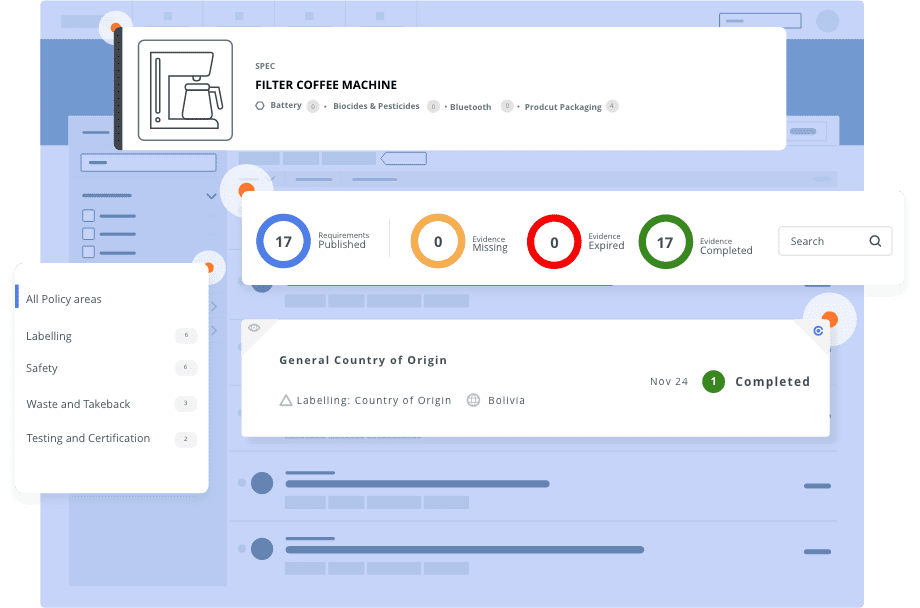 Interested in knowing more about the specific solutions that C2P has to offer for your compliance needs?
Talk to us to know more.