Regulatory Trends in ESG: a 12-18 Month Outlook
A 12-18 month outlook for regulatory trends in ESG
In today's world it is no longer sufficient to simply claim your company embraces environmental, social and governance considerations. More and more such statements are being put under the microscope from investors to customers to employees who want to know how ESG conscious a company really is.
Additionally, we are witnessing an unfolding global trend to make ESG reporting mandatory with legislation cropping up in the EU, UK, USA and further afield. This is in response to concerns that sustainability reporting throws up in relation to the quality, reliability, comprehensively and comparability of the information being reported on and the knock-on effects this may have in terms of directing finance towards greener and more sustainable investments.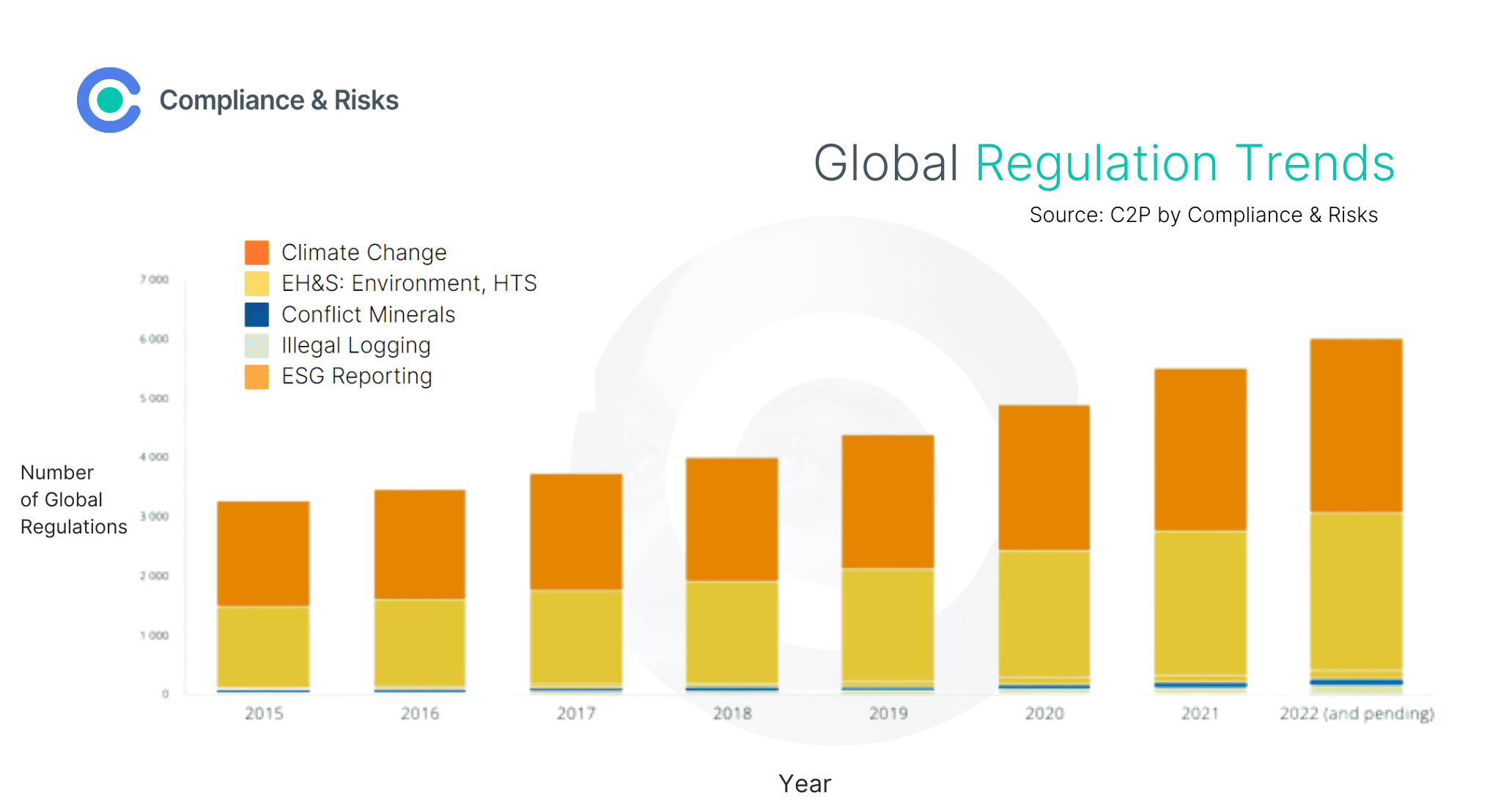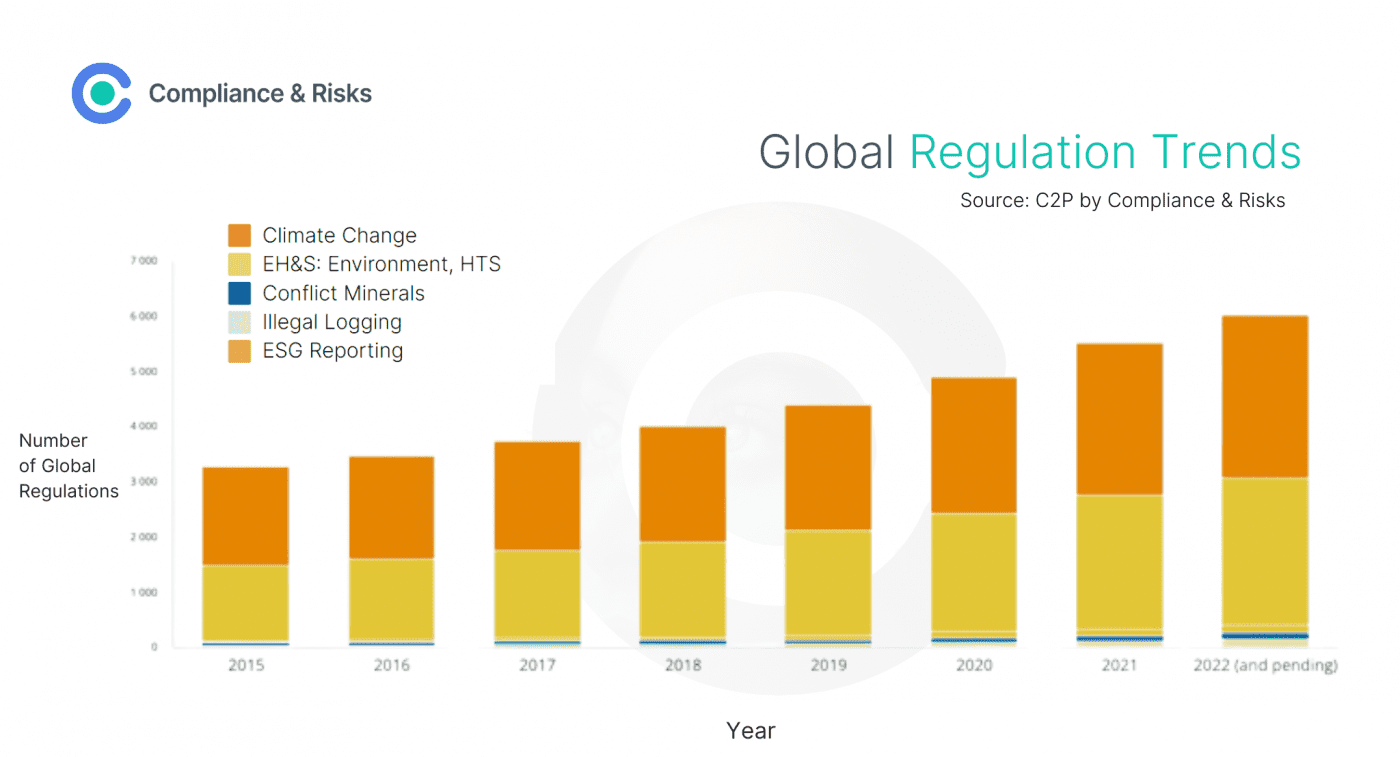 (Source: C2P by Compliance & Risks)
Figure 1 above shows the growth in ESG reporting regulations, as well as other ESG type regulations in areas such as climate change, illegal logging, human trafficking & slavery and conflict minerals. The volume of just ESG reporting regulations has grown from 23 regulations in 2021 to 150 regulations in 2023.
Hot Topics
Here's a bird's-eye view of the regulatory topics you need to be aware of to stay on top of your ESG objectives.
---
Sustainable Products In The Limelight
Never before has the need to protect our environment been more to the forefront of the world's consciousness. Regulators are fast responding enacting measures focused on minimising the environmental impacts of products.
The net result is even more regulation to contend with.
As recently noted by the EU Commission "Products use up massive amounts of materials, energy and other resources and cause significant environmental impacts throughout their lifecycle, from the extraction of raw materials, to manufacture, transport, use and end of life. Half of global greenhouse gases and 90% of biodiversity loss are caused by extracting and processing primary raw materials."
(Source: C2P by Compliance & Risks)
Top Trending Regulations
Listed below are the key regulations that will be impacting your business over the next 12-18 months:
EU: EU Corporate Sustainability Reporting Directive (EU) 2022/2464
USA: Enhancement and Standardization of Climate-Related Disclosures for Investors, Draft Rule, 87 FR 21334, March 2022
UK: Companies (Strategic Report) (Climate-related Financial Disclosure) Regulations, S.I. 2022/31
UK: Limited Liability Partnerships (Climate-related Financial Disclosure) Regulations, SI 2022/46
Canada: Disclosure of Climate-related Matters, Draft Statutory Instrument No. 51-107, October 2021
New York (USA): Manufacturers Disclosure of Environmental and Social Due Diligence, Senate Bill 7428, Assembly Bill 8352, 2021
China: Enterprise ESG Disclosure, Guidance, June 2022
Japan: Respect for Human Rights in Responsible Supply Chains, Guidance Document, August 2022
Japan: Code of Conduct for Environmental, Social, and Governance (ESG) Evaluation and Data Providers, Draft Code, July 2022
EU: Draft Sustainability Reporting Standards (x 12)
EU: Minimum Safeguards in Relation to the Taxonomy Regulation, Report, October 2022
Philippines: Encouraging Corporate Social Responsibility, House Bill No. 3627, 2022
Stay Up To Date With Global Regulatory Trends In ESG
Our new ESG solution has launched! Accelerate your ESG journey and stay a step ahead of current and upcoming regulations. Learn more about our enterprise solution, and enjoy all the ESG resources crafted by the Compliance & Risks experts.
See Our ESG Solution In Action
Accelerate your ESG Compliance with our ESG Solution, a smarter way for organizations to meet mandatory ESG obligations.
Register for our bite-sized product demo