The Weekly Pulse: 10th – 14th October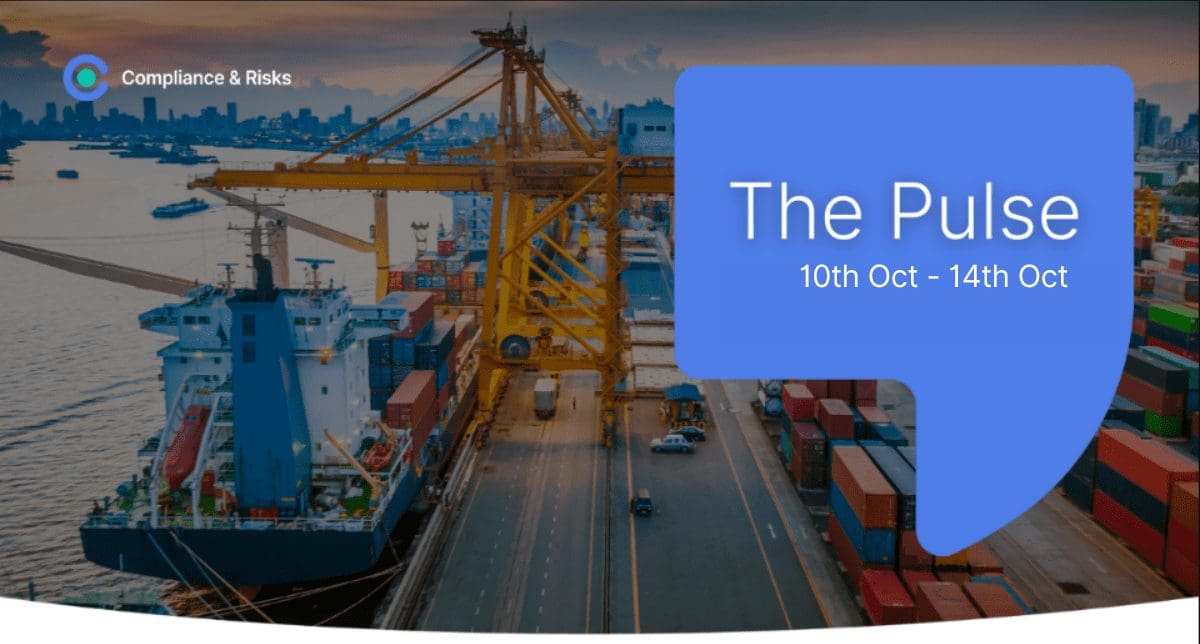 What's HOT in our Regulatory World at the moment?
What are our clients looking at?
This week's trending sources in C2P
Italy: Environment Act, Legislative Decree No. 152/2006 – Proposed Amendment – (on supplementary and corrective provisions to Legislative Decree No 116 transposing Directives (EU) 2018/851 and 2018/852) Draft Legislative Decree, September 2022
Saudi Arabia: Packaging, Draft Technical Regulation, October 2022
Belgium: Introduction of a Reparability and Durability Score and the Dissemination of Information on the Duration of Products' Software Compatibility, Draft Law, September 2022
What is our Content Team talking about?
Vietnam to Restrict Persistent Organic Pollutants in Raw Materials and Articles – Dieudonné Ymedji
On 15 September 2022, the Vietnamese Ministry of Natural Resources and Environment proposed a revised draft National Technical Regulation (NTR) on the Thresholds for Persistent Organic Pollutants (POPs) in Articles, Products, Goods and Equipment.
The draft NTR which aims to implement Vietnam's obligations under the Stockholm Convention on POPs, establishes in Table 2, the following proposed restrictions for substances or substance groups in certain products:
≤ 0.001% by weight for the use of Tetrabromodiphenyl ether (CAS No. 40088-47-9); Pentabromodiphenyl ether (CAS No. 32534-81-9) in plastic products in electronic and automotive devices, leather or plastic used in furniture, furnishings, textiles and packaging and water pipes;
≤ 0.1% by weight of Perfluorooctane sulfonic acid (PFOS, CAS No. 1763-23-1; 2795-39-3; 29457-72-5; and others), its salts and perfluorooctane sulfonyl fluorid (PFOSF) in raw materials, half finished products and components and < 1μg/m2 in textiles or plating;
≤ 0.01% by weight of hexabromocyclododecane (HBCDD) (CAS No. 25637-99-4; 3194-55-6; 134237-50-6; 134237-51-7; 134237-52-8) in plastic products in electronics, polystyrene additives, and chemical additives for built materials/construction products;
≤ 1% by weight of Short-chain chlorinated paraffins (SCCPs, CAS No. 85535-84-8; 68920-70-7; 71011-12-6; 85536-22-7; 85681-73-8; 108171-26-2 and others) in ink, additives for production of PVC, tubes for outdoor lighting or ≤ 0.15% by weight when used in raw materials;
≤1 mg/kg (0.0001% by weight) of Perfluorooctanoic acid (PFOA), its salts and PFOA-related compounds in food contact materials, textiles, firefighting foam, industrial/high voltage wires, and chemical additives in the production of pharmaceuticals, polytetrafluoroethylene (PTFE), polyvinylidene fluoride (PVDF) and fluorinated ethylene propylene (FEP); or 20mg/kg (0.002% by weight) when used as additives in the production process of fluorinated compounds with carbon chain of 6 atoms or less)
Section 3 of the draft NTR specifies the various analytical testing methods standards to be used to determine POPs in raw materials, products, goods, and equipment.
Under Section 4 of the draft NTR, prior to placing on the national market any raw material or product containing POPs, manufacturer, importer shall carry out a conformity assessment and ensure that their products are labelled. Additionally, the determination of the maximum allowable limit of POPs in raw materials, products and equipment and the environmental monitoring of POPs shall be carried out by accredited institutions.
The draft NTR is scheduled to enter into force 6 months after the date of its publication.
What are our Knowledge Partners talking about?
European Commission proposes Forced Labour Ban – Baker McKenzie
On 14 September 2022, the EU Commission published its proposal for a Regulation introducing a ban on the placing and making available on the EU market or export from the EU market of products made using forced labour (see press release here). Following on from Commission President von der Leyen's announcement of the proposed ban in her State of the Union Address last year, under the Proposed Regulation, products found to have been made using forced labour cannot be sold in, exported from or imported into the EU.
The proposal combines the EU's human rights agenda priorities of combating forced labour and promoting corporate sustainability due diligence standards.
It further adds to the series of EU measures that will impact supply chains, including new proposals for rules on foreign subsidies, corporate sustainability reporting and due diligence, carbon taxes, deforestation , and the single market emergency instrument.
Scope:
The Proposed Regulation adopts a 'non-discriminatory' approach, covering all products (including components) for which forced labour has been used in whole or in part, at any stage of the product's extraction, harvest, production or manufacture.
The prohibition will apply regardless of whether the goods are produced in the EU for domestic consumption or export, as well as to imported goods.
It does not purport to target specific countries, companies or industries.
Investigations and Enforcement
To enforce the new rules, the proposal gives National Competent Authorities ("NCAs") at Member State level powers to investigate and punish, using applicable Member State law, companies that violate the prohibition.
The burden of proof to establish that forced labour has been used at any stage of the supply chain prior to the placement of the products on the market will lie with these NCAs.
Investigations carried out by NCAs will be split into two stages. At the preliminary phase, NCAs must follow a risk-based approach and determine whether there is a 'substantiated concern' of a violation of the prohibition.
This assessment should be based on all relevant information available to them, including information requested from other relevant authorities and a database of forced labour risk areas or products maintained by the Commission (which will be built from reports from e.g. the International Labour Organization, civil society, and business organisations).
NCAs should request from the economic operators information on actions they have taken to identify, prevent, mitigate or bring to an end risks of forced labour in their operations and value chains, with respect to the products concerned. NCAs must not initiate an investigation where they consider, on the basis of their initial assessment (including the information submitted by the economic operators) that there is no substantiated concern of a violation.
In their assessment, NCAs should focus on economic operators involved in the steps of the value chain as close as possible to where the risk of forced labour is likely to occur and take into account the size and economic resources of the economic operators, the quantity of products concerned, as well as the scale of suspected forced labour.
If, within 30 working days following receipt of the information from the economic operators, the NCAs find that there is a 'substantiated concern' of forced labour, they may progress to the full investigatory phase.
During this phase, the economic operators concerned must submit to the NCAs any information that is 'relevant and necessary' for the investigations, including information identifying the relevant products, the manufacturer or producer and the suppliers.
As part of these investigations, NCAs will be empowered to request information from companies and carry out checks and inspections, including in countries outside the EU.
NCAs must then relay their findings to the customs authorities of the Member State, which are empowered to block the circulation of the relevant goods.
If the NCAs determine that forced labour was used to make the products in question, the relevant goods must be withdrawn from the EU market by the relevant companies, and subsequently disposed of.
In the event of non-compliance, relevant companies will face 'effective, proportionate and dissuasive' penalties under national law. Member State cooperation lies at the heart of the proposal, with NCA investigations to be assisted by a new EU Forced Labour Product Network to facilitate data sharing across the Union.
Furthermore, conclusions reached on products by an NCA in one Member State will be recognised and enforced by the NCAs of the other Member States.
Due Diligence Obligations and Guidance
The Commission will issue guidance for companies on forced labour due diligence and information on risk indicators of forced labour within 18 months from the entry into force of the Regulation, in order to assist companies with their due diligence obligations and practices.
These guidelines are likely to build on the Commission's guidance on due diligence to help EU companies address the risk of forced labour in their operations and supply chains, published in July 2021 (see our previous blog post here). It should also be read in the context of the Commission's proposal for a Corporate Sustainability Due Diligence Directive, published in February 2022, which seeks to establish due diligence obligations for companies to identify, prevent, mitigate and account for actual and potential adverse human rights and environmental impacts in their global supply chains.
Next Steps and Key Takeaways
The Commission's proposal will now be discussed with the European Parliament and Council, before the final text of the legislation is published.
In the meantime, in the context of increasing consumer pressure, regulatory and governmental scrutiny and developing legislation in this area (in the EU and, more broadly, across the globe), companies should continue to monitor developments and conduct regular, thorough reviews of their supply chains for human rights (including forced labour) and environmental impacts.
This also means implementing robust and effective compliance processes in line with international due diligence standards and relevant guidance, before taking adequate steps to address forced labour and other risks in their global value chains and wider business operations.
What are our Clients asking about?
Has there been any update to Oman: Restriction of the Use of Certain Hazardous Substances in Telecommunications Equipment, Draft Decree, July 2021? – Answer by Catherine Burke
It is still a draft and the final text of the decree has not yet been published, therefore there is no date of entry into force at the moment. (View in C2P)
In the meantime, I would recommend you to look at: United Arab Emirates: Restrictions on the Use of Hazardous Materials in Electronic and Electrical Devices Control Scheme, Regulation No. 10, 2017. You can find it in C2P here, which also covers Oman in this matter.
Stay Updated On Global Regulations
This information is based on the most viewed regulations on C2P this month.
Sign up to get the latest compliance news delivered to your inbox weekly, for free!
The Pulse – Weekly Newsletter
Get the latest compliance news delivered straight to your inbox