Regulatory Trends in Product Safety: a 12-18 Month Outlook
A 12-18 month outlook for Regulatory Trends in Product Safety
While product safety is a mature area of regulation, it is far from static. Product safety is on its own journey mirroring how products are evolving.
It is developing to address new concerns that modern day products throw up as a result of enhanced features from connectivity to artificial intelligence to the way in which products are sold, with online selling accelerating year on year.
Additionally, product safety regulation reaches across all products from electrical electronic equipment, batteries, toys, medical devices, textiles to motor vehicles with each product type having its own specific concerns.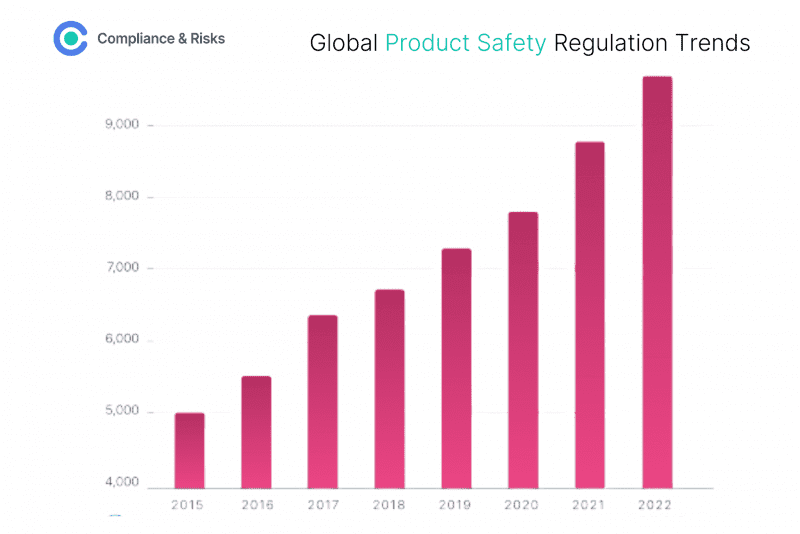 (Source: C2P by Compliance & Risks)
Figure 1 above shows the increase in product safety regulations year on year (Source: C2P by Compliance & Risks). Growth has reached unprecedented levels, almost doubling since 2015 with 9,692 Regulations in place in 2022.
Hot Topics in Product Safety
Listed below are the key regulations that will be impacting your business over the next 12-18 months:
Sustainable Products in the Limelight
Never before has the need to protect our environment been more to the forefront of the world's consciousness. Regulators are fast responding enacting measures focused on minimising the environmental impacts of products.
The net result is even more regulation to contend with.
As recently noted by the EU Commission "Products use up massive amounts of materials, energy and other resources and cause significant environmental impacts throughout their lifecycle, from the extraction of raw materials, to manufacture, transport, use and end of life. Half of global greenhouse gases and 90% of biodiversity loss are caused by extracting and processing primary raw materials."
(Source: C2P by Compliance & Risks)
Top Regulatory Trends in Product Safety
Listed below are the key regulations that will be impacting your business over the next 12-18 months:
EU: General Product Safety, Draft Regulation, June 2021
USA: Consumer Product Safety Standard for Button Cell or Coin Batteries and Products Containing Them, Public Law: 117-171, House Bill 5313, 2022
UK: Product Safety and Metrology (Amendment), Draft Regulations, September 2022
EU: Machinery Products, Draft Regulation, April 2021
USA: Consumer Product Safety Improvement Act (CPSIA), 2008, Safety Standard for Crib Mattresses, Rule, 16 CFR Parts 1112, 1130, and 1241, 87 FR 8640, February 2022
EU: Cyber Resilience Act, Draft Law, September 2022
EU: Harmonised Rules on Artificial Intelligence, Draft Regulation, April 2021
EU: Implementation of EU Product Rules – The Blue Guide, June 2022
South Korea: Safety Standards for Household Items Subject to Safety Confirmation, Notice No. 2022-303
EU: Adapting Liability Rules to the Digital Age and Circular Economy, Inception Impact Assessment, Consultation Document, October 2021
EU: Cybersecurity for Internet-Connected Radio Equipment and Wearable Radio Equipment under Radio Equipment Directive (RED), Regulation (EU) 2022/30
China: Compulsory Certification of Audio and Video Equipment, Implementation Rules CNCA-C08-01:2014 and Others – Amendment – (on the list of standards for product certification) Announcement No. 11, 2022
USA: Consumer Product Safety Act (CPSA), Safety Standard for Magnets, Final Rule, 16 CFR 1112 & 1262, 2022
Mexico: Safety Requirements for Toys- mechanical, physical, electrical and flammability, Standard, PROY-NOM-253-SE-2021
Stay Up To Date With Global Regulatory Trends In Product Safety
Catch up on our on-demand webinar covering Regulatory Trends In Product Compliance & What To Expect In 2023
Book Time With Our Team
Learn how C2P can help you stay ahead of global Product Safety regulatory changes and achieve uninterrupted market access.