Regulatory Trends in Industrial Machinery: a 12-18 Month Outlook
A 12-18 month outlook for regulatory trends in industrial machinery
The use of machines is woven into the fabric of modern day life, from the use of e-bikes to commercial washing machines to more complex, cutting edge technology such as 3D printers and to heavy duty machines like earth moving equipment.
They pervade our society, making our lives easier and leading the way in innovation to accomplish things we otherwise could not.
Safety of machinery is always of paramount importance to regulators, however with the rise in new technologies the concept of safety has been stretched and regulators find themselves having to be concerned with new concepts such as connectivity, artificial intelligence and data reliability and protection.
Consequently, manufacturers of these products are tasked with keeping abreast of regulatory developments responding to these new technologies, as well as established areas such as regulations regarding chemicals in products, electromagnetic compatibility, waste of electrical and electronic equipment.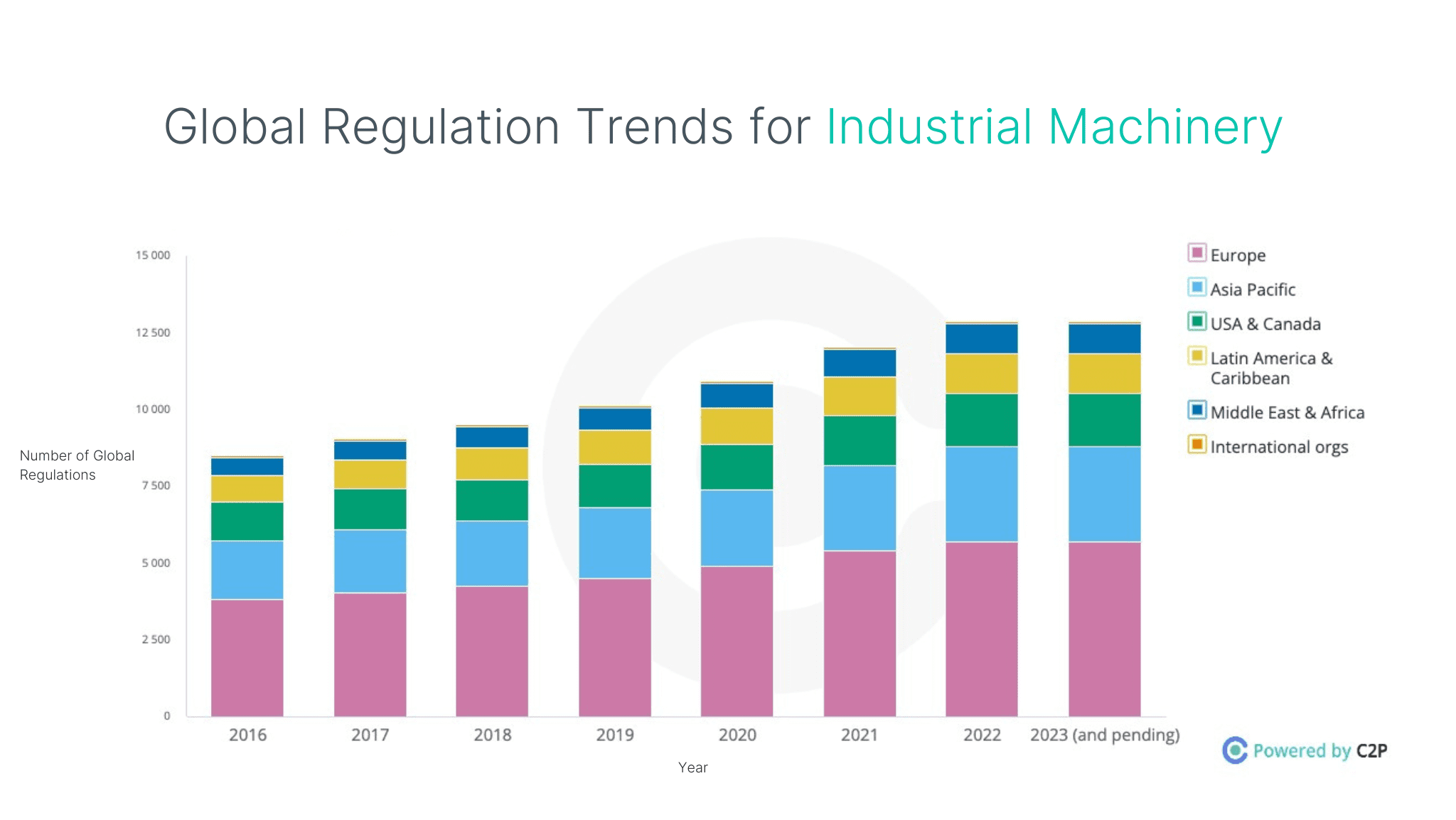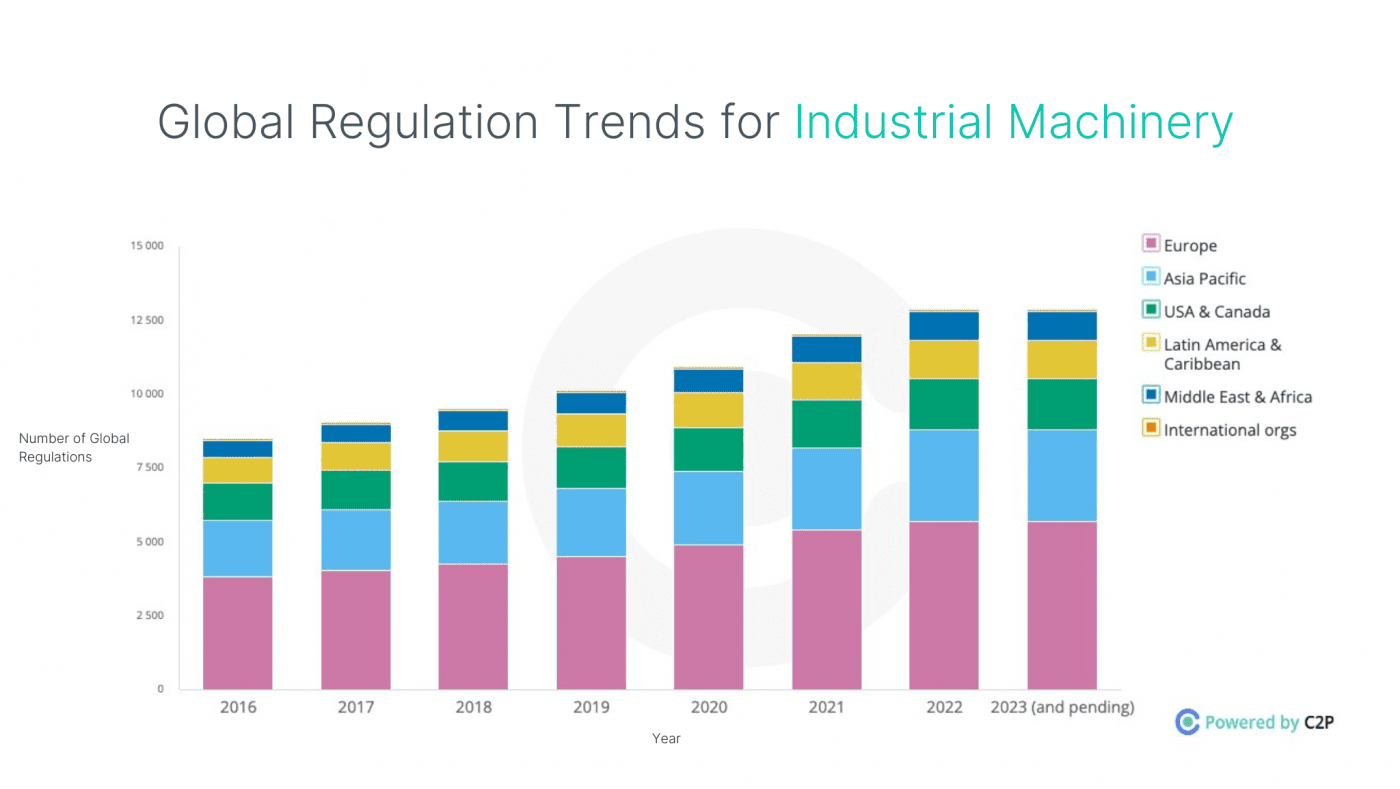 (Source: C2P by Compliance & Risks)
Figure 1 shows this growth has reached unprecedented levels with a 35% increase in regulations for industrial machinery manufacturers since 2019, with 2376 Regulations in place by 2022.
Key Areas of Concern & Hot Topics
Major changes are taking place in the regulatory landscape affecting machinery responding to developments in new technologies. Foremost among them is the proposed EU Machinery Regulation. As recently noted by Margrethe Vestager, Executive Vice-President for a Europe Fit for the Digital Age:
"The new Machinery Regulation will make sure that advanced machines, such as autonomous machines or collaborative robots can be safely placed in the EU market. Also, the regulation will boost innovation and ensure the competitiveness of machinery in which the EU industry is a world leader."
Hot Topics
Sustainable Products in the Limelight
Never before has the need to protect our environment been more to the forefront of the world's consciousness.
Regulators are fast responding enacting measures focused on minimizing the environmental impacts of products.
The net result is even more regulation to contend with. As recently noted by the EU Commission:
"Products use up massive amounts of materials, energy and other resources and cause significant environmental impacts throughout their lifecycle, from the extraction of raw materials, to manufacture, transport, use and end of life. Half of global greenhouse gases and 90% of biodiversity loss are caused by extracting and processing primary raw materials."
(Source: C2P by Compliance & Risks)
Top Trending Regulations
Listed below are the key regulations that will be impacting your business over the next 12-18 months:
EU: Machinery Products, Draft Regulation, April 2021
EU: Cyber Resilience Act, Draft Law, September 2022
Brazil: Safety at Work of Machinery and Equipment, Regulatory Standard No. 12, 2019
USA: Occupational Machinery and Machine Guarding, Rules, 29 CFR 1910.211-219
Virginia (USA): Reverse Signal Operation Safety Requirements for Motor Vehicles, Machinery and Equipment, 16VAC25-97, 2009
EU: Ensuring the Safety of Machines in the Digital Age – Revision of the Machinery Directive, Briefing, July 2022
Japan: Industrial Safety and Health Act, No. 57, 1972
California (USA): Tailgate Meeting on Lockout, Tagout and Lockout of Machinery, Fact Sheet, July 2019
EU: Machinery Directive 2006/42/EC
California (USA): Control of Hazardous Energy for the Cleaning, Repairing, Servicing, Setting-Up, and Adjusting Operations of Prime Movers, Machinery and Equipment, Including Lockout/Tagout, Regulations, 8 CCR 3314, 197
EU: IEC 60204-1 Safety of machinery – Electrical equipment of machines
EU: Equipment and Protective Systems for Use in Potentially Explosive Atmospheres, Directive 2014/34/EU
EU: Radio Equipment, Directive 2014/53/EU
US: NFPA (Fire) 70 National Electrical Code (NEC), 2020 Edition
EU: Harmonised Rules on Artificial Intelligence, Draft Regulation, April 2021
EU: Pressure Equipment Directive 2014/68/EU
EU: Electromagnetic Compatibility, Directive 2014/30/EU
Australia/New Zealand: AS/NZS 4024:2019 Series Safety of machinery, 2019
EAEU: Procedure for the Import of Products Subject to Mandatory Conformity Assessment, Decision No. 130, 2021
Stay Up To Date With Global Regulatory Trends In Industrial Machinery
Catch up on our on-demand webinar covering Regulatory Trends In Product Compliance & What To Expect In 2023
Book Time With Our Team
Learn how C2P can help you stay ahead of global Industrial Machinery regulatory changes and achieve uninterrupted market access.