Assessing the Impact of Regulations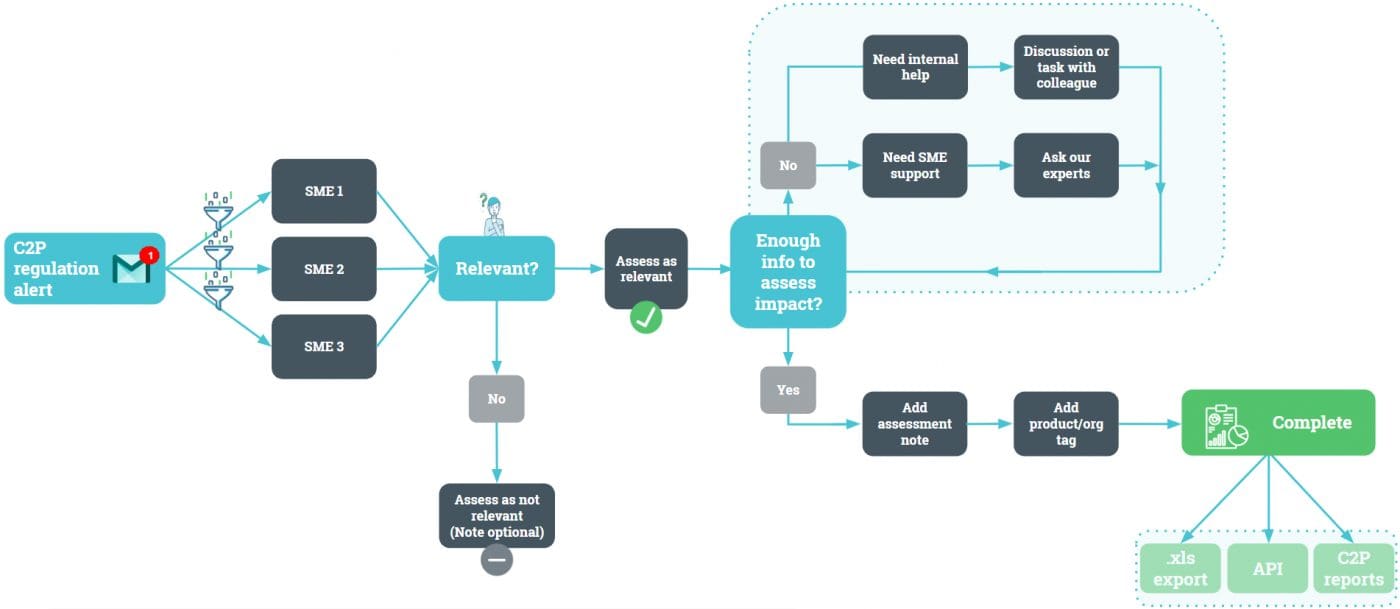 Successfully managing the impact of regulations on products is a fundamental challenge for all manufacturers. The consequences of non compliance or poor compliance process management can be dire for a company. Aside from the obvious issues it causes like fines and penalties, a poor compliance process also causes a number of other challenges. These range from tangible problems like stop ships and recalls, to more intangible but critical issues like reputational damage.
Assessment by responsibility
The best way to avoid non-compliance problems is to create and implement an effective compliance process and to assign specific staff to assess regulations through predetermined responsibilities. Our client success team work with clients to design custom workflows in C2P, our compliance knowledge management platform, to improve compliance processes. A sample of this type of workflow is highlighted in the diagram below. We also work with our clients to define which person in their organization is responsible for each group of regulations or geographies. This reduces the risks of gaps in coverage and minimizes duplication of effort.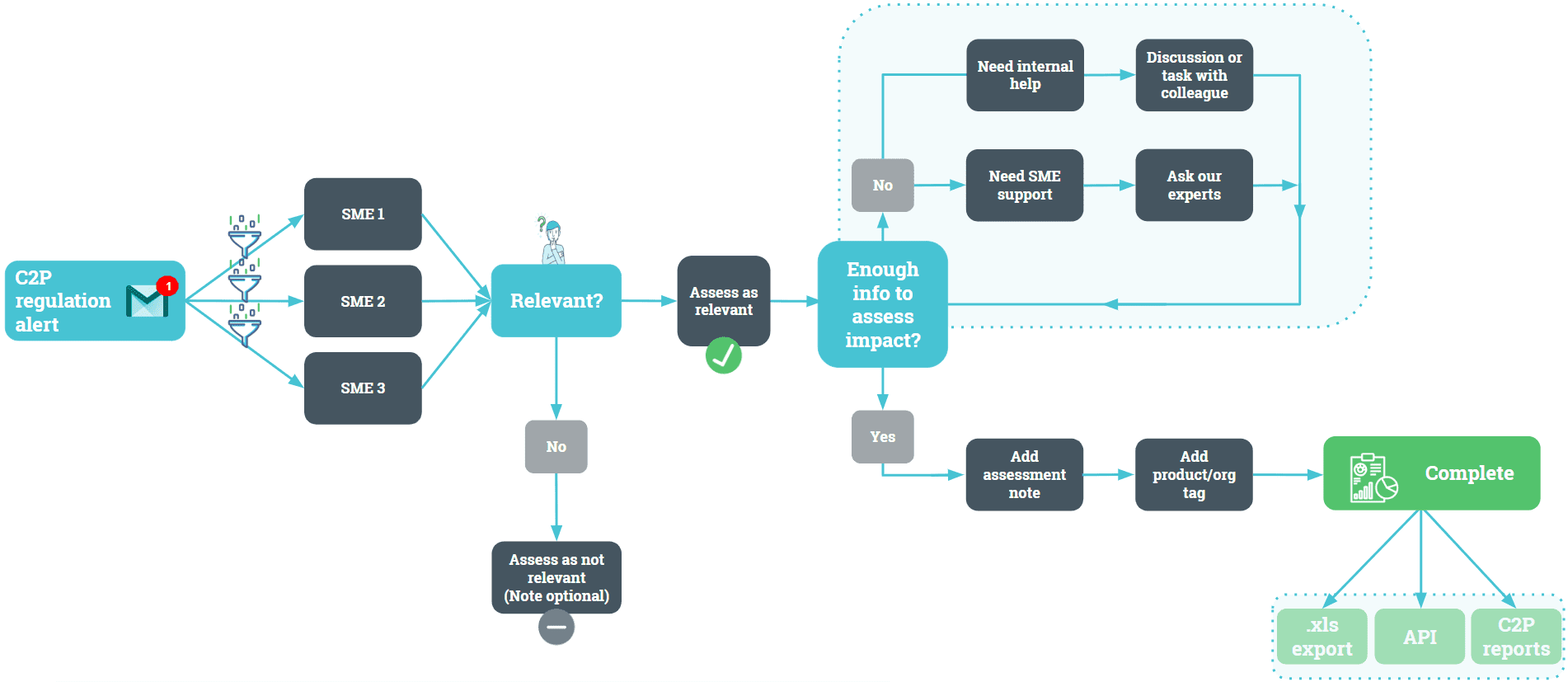 C2P, the compliance knowledge management platform: sample workflow
The workflow begins with the email notification of a new or changing regulation sent to the relevant 'responsible' person. The structure data in C2P allows users to assess quickly at a high level whether a regulation is relevant or not. Each regulation page contains an english language summary, as well as what is in or out of scope in terms of materials and substances, products, and requirement types. It also includes key dates, and details of implementations, amendments and related news and analysis.
If the regulation is deemed as not relevant, it is marked accordingly within C2P with the option to leave a note explaining the decision.
If the SME is unsure of its relevance, they can either ask for internal help by using the communications tools in C2P or request support from one of Compliance & Risks' SME's. This is easily done from the platform by clicking on the "Ask Our Experts" form. The question will be routed to the appropriate SME and they will respond within 24 hours.
Once the SME is confident to assess the regulation as relevant, they can mark it accordingly, and record the impact the change in regulation has on your product or organization. Bespoke tags can then be added to suit your product set and organizational structure. You can also add workflow tags, such as under review or high risk. Again these are customizable to best suit your workflow.
Outputs
The last part of the workflow is focused on what your outputs are; what do you need to get out of C2P from the work you have put in? Options include reporting to Excel, adding an API and creating custom reports in your Library.
If you would like to work with our client success team to find out how your company can better benefit from C2P, please email us or reach out to your account manager directly.