Insights from Brussels Conference on Product Substance Management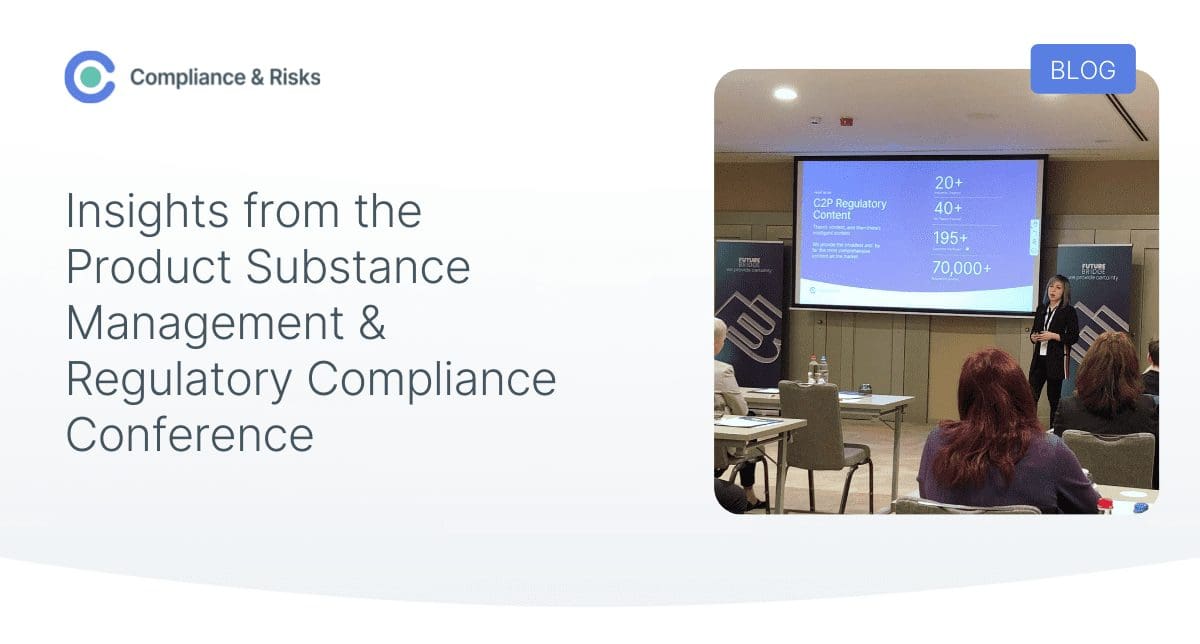 'The growth of regulations is only going one way'
Sean Murphy, Business Development Director at Compliance & Risks, hosted an expert panel discussion on Leveraging technology to manage the challenges of staying ahead of regulatory changes at the recent Future Bridge Product Substance Management & Regulatory Compliance conference in Brussels.
Joined by guest panelists Jan Daem, Barco, Dirk Van Goethem, ABB, and Tomas Novotny, Regartis, Sean opened the session by addressing the common challenges of all companies in staying on top of the growth in regulations, and shared industry statistics that showed this growth is only going one way.

The panel discussed the processing of data by compliance teams in doing their job and the exposure and risks associated with that.
They explored smarter solutions for monitoring regulatory changes, and posed the question, are companies prepared to engage in finding a technical solution to better manage compliance in a rapidly changing global environment?
The session concluded with an insightful discussion on the future of product compliance and expert opinions on the role technology will play in this transformation over the next 10 years.
Watch the full panel discussion here
'Heroes behind the scene'
That's how Amy Chen, Compliance & Risks Global Market Access Regulatory Consultant, described her colleagues in the C&R Global Regulatory Compliance Team [GRCT], ahead of her presentation on Sustainable Development in China – Encouraging Advanced Technologies, Equipment, and Materials, on day two of the conference.
Amy outlined the role of the GRCT in daily monitoring, analysing, and reporting of regulatory developments around the world to help clients understand, prioritise and manage requirements to keep them stay compliant in all markets.
Her presentation gave an overview of the fundamental policy in China, namely Industrial Structure Adjustment, which aims to promote sustainable development through phasing out outdated technologies, equipment, and materials that causes severe pollution… and encouraging advanced technologies, equipment, and materials.
She addressed multiple questions from delegates facing challenges in dealing with Chinese regulations, highlighted some common obstacles and complexities of the Chinese legal system, and clarified issues around national v regional restrictions and enforcement.
Watch Amy's presentation in full here
Compliance & Risks works with over 300 global brands helping to monitor the regulatory landscape, assess the impact on their business and prove their compliance with our enterprise platform, C2P.
We have the most comprehensive global database of regulatory content in the world covering 20+ industries and over 40+ topics and policy areas.
Market Insights straight to your inbox
Join 30,000+ product compliance & market access experts around the world