Medical Device Post-market Surveillance Regulations in China, Japan, and South Korea
Webinar Overview
The webinar aims to give attendees a high-level overview of the regulatory landscape of medical devices post-market surveillance in China, Japan, and South Korea. The webinar will mainly focus on China which has a very complicated system with a comparison of the systems in Japan and South Korea. It will also provide insights on practical issues regarding the implementation of the system and regulations.
This webinar will also present how C2P's Product Compliance Solution can help achieve uninterrupted market access. C2P is an enterprise SaaS platform providing everything you need to take control of regulatory compliance and ensure market access in over 195 countries worldwide. Identify relevant regulations worldwide, communicate requirements, & provide evidence that your product is ready to go to market. C2P helps you relieve your team of manual fact-finding tasks and enables them to focus on critical business initiatives.
Webinar Agenda
During this webinar, our experts will be discussing:
Regulatory landscape and recent developments on post-market surveillance in China, Japan and south Korea
Regulations on post-market surveillance in Japan and South Korea
Issues and some practical suggestions for China
Comparison of regulations across jurisdictions, China, Japan, and South Korea
C2P Product Compliance Solution
This webinar took place on Wednesday, 31st May and is now available on-demand.
Presenters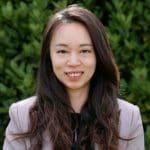 Amy Chen, MA Regulatory Consultant, Compliance & Risks
A market access & regulatory consultant with Compliance & Risks, Amy specializes in consumer products compliance, focusing on China, Japan, South Korea and other Asian countries.

She helps product manufacturers to identify and understand the regulations in place in the markets to which they sell by helping them to map their obligations with regard to product safety (chemicals, EMC, radio frequency), labeling, energy efficiency, waste and packaging.

Vish Karasani, Product Marketing Manager, Compliance & Risks
Vish has over 8 years of international experience working in highly competitive industries and at hyper-growth startups.

An avid storyteller – her product marketing philosophy begins with listening to Compliance & Risks' customers, understanding their pain points, solving for their problems and building for their future.