ICPHSO Product Safety Training Workshop Recap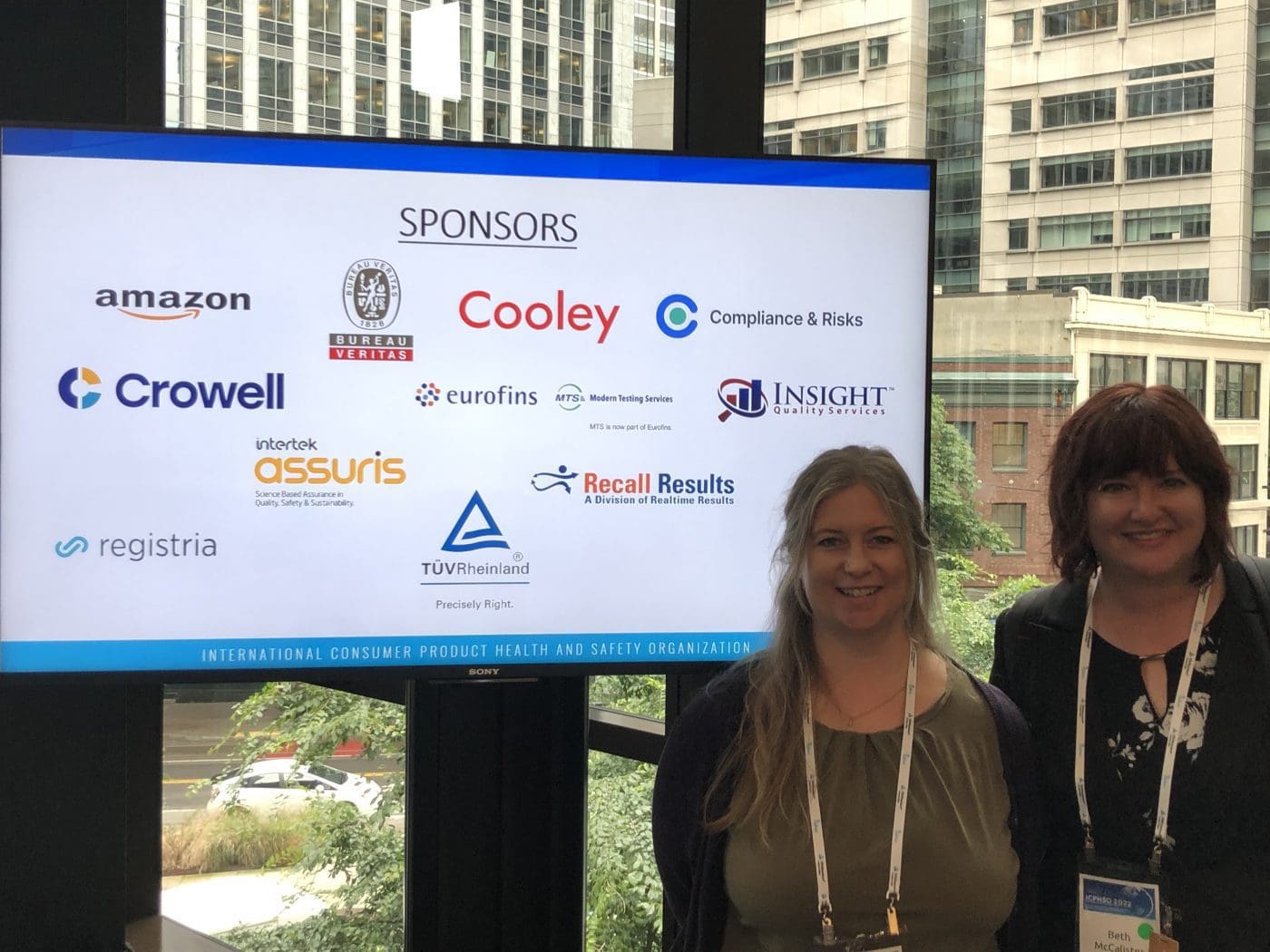 Pictured are Senior Regulatory Consultants Cassie pershyn and beth mccalister from Compliance & Risk's Market Access Team.
The ICPHSO 2022 North America Product Safety Training Workshop was held at the Amazon Meeting Center in Seattle, Washington, on 22 June 2022.
Our Senior Regulatory Consultants Maria Marecki, Beth McCalister and Cassie Pershyn from the Market Access team were in attendance where ICPHSO's topics of focus for the event included:
Recall Effectiveness;
Supply Chain;
Digital Technology;
Sustainability; and
State Chemical Requirements.
The workshop brought diverse and interesting aspects of the above-mentioned topics into the training, such as: AI in data analysis; insurance, engineering, and consumer perspectives in respect to recalls; perspectives on supply chain disruptions; methods on how to identify safer alternatives for hazardous substances; and a starting point for developing biodegradable plastics.
Key takeaways include:
Fueling the Product Safety Engine Using Data and AI
Transparency and communication – both internal and external – are key principles in data analysis and the development of safety standards;
AI in data analysis introduces opportunities, such as the ability to provide data before the consumer realizes there is a problem;
An organization should use multiple data points to inform decisions and have a clear picture of what is happening; and
Be proactive – use data to determine a process that works for the organization, document that process, collaborate (even with "competitors", as product safety should not be seen as a competition!), and use your data to influence future products, processes, communication, etc.
Recalling Your Recall
Insurance perspective:
Errors in product design are the riskiest errors, manufacturing errors are the most common – are you protected contractually against supplier/s?
Traceability and transparency should be priorities;
Engineering perspective:
Three factors combine to cause potential safety concerns: susceptible material/s, stresses, and chemical species; knowing this and being informed as to what can go wrong can reduce recalls;
Consumer perspective:
Again, transparency is key – consumer trust builds when they believe companies are honest;
Make identifiers of recalled products clear and make changes to the improved product to not confuse them with recalled products
For companies to increase their own product awareness, they can/ should:
Investigate one-star reviews of products
Investigate competitors and their similar products
Make product registration easier for consumer
Good for recalls and awareness
Good for branding/ consumer views of the company.
How to Build Supply Chain Resilience in an Era of Disruption and Decoupling
China tariffs, labor shortage, inability to meet demand, the strain on commodities and inputs, and shipping issues are all current supply chain disruptors;
Supply chain considerations: ethics and environmental issues, trust but verify, chemical safety compliance – be proactive in monitoring chemical regulatory developments (especially in the EU, California, US EPA);
US FDA looking into using AI to identify potential public health threats – piloting with seafood;
With the implementation of the Uyghur Forced Labor Prevention Act (UFLPA), organizations must be able to prove that no forced labor has been involved throughout their supply chains;
There is a need for a digital standard from which smaller businesses need to benefit as well, to allow for the electronic flow of data associated with the products and movement through the supply chain.
Safer Chemistry and Material Health for Consumer Products in a Circular Economy
Circular economy efforts make product chemistry decisions and transparency even more critical;
Using restricted substances lists (RSLs) is insufficient – one should also phase out the use of PFAS and ensure replacement chemicals are safe;
The benefits of being proactive outweigh costs (especially with recall considerations) concerning the use of safe chemicals (in regard to both human and environmental health);
Trends: increasing regulations, innovation bringing new materials, circular economy;
To identify safer chemical substitutes, one needs both hazard and exposure assessments.
Navigating Sustainability in a Dynamic Environment
Sustainability is about finding balance – companies most successful at developing sustainable products ask many questions to understand the product as well as the science behind it and find the balance;
Just because something is plastic does not mean it's bad;
Biochemistry lesson: carbon-carbon backbone is extremely strong, will break down into smaller and smaller pieces, but will not break down entirely; the suggestion is to utilize Ester backbone for plastics, which should "close the loop" and create biodegradable plastics;
Suggestion: materials that leak into soil/water, should not be persistent or bioaccumulative and companies should pay for testing to ensure this;
Consumer choice surveys tell us that 62% of consumers are more likely to shop brands contributing to the circular economy and more than 50% are willing to pay more for these products;
Companies – even competitors – should collaborate to find best options/ practices in regard to creating a more circular economy.
Overall, the Workshop offered updates on hot topics regarding consumer product safety, as well as advice for stakeholders on first steps to resolving critical issues that resonate with the average consumer. "Transparency", "being informed", and "collaboration" were common themes throughout the day.
Stay Updated On Regulations
For the latest news, tune into our Chemicals Quarterly webinar for Q2 2022, which will be presented by Maria Marecki, Senior Regulatory Consultant, on July 14, 2022. Register here
Free Market Insights Straight To Your Inbox
Join 30,000+ product compliance & market access experts around the world and stay up to date on hot topics with free regulatory resources