Celebrating Excellence: Compliance & Risks Wins Best Health & Wellbeing Strategy 2023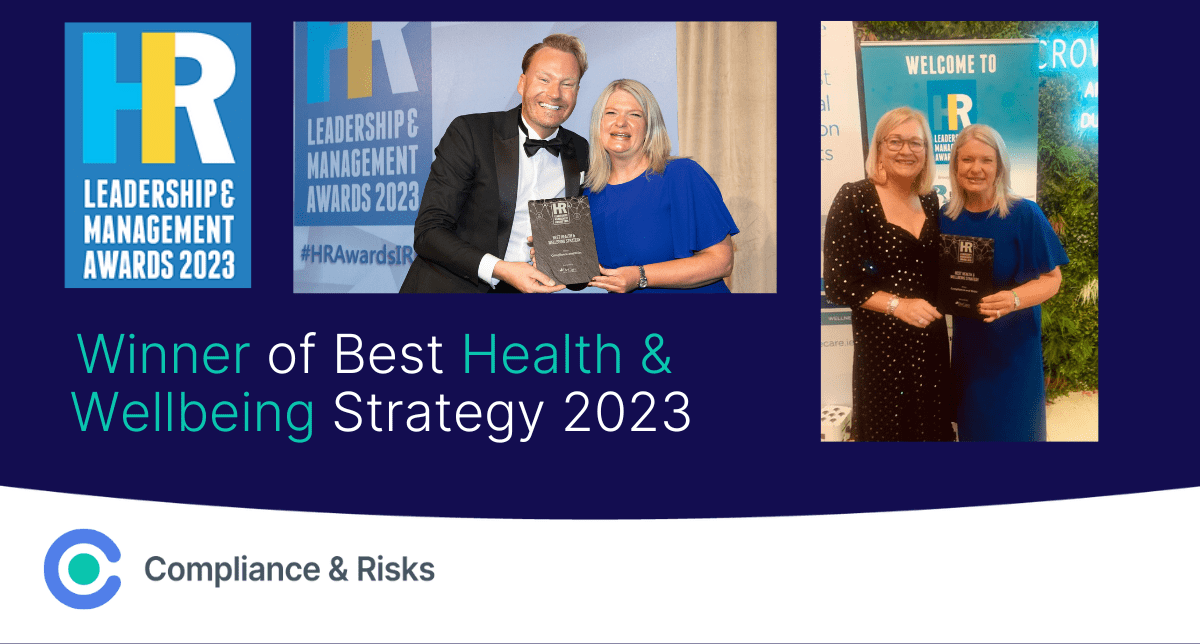 Awards ceremony took place on October 5th at the Crowne Plaza Hotel in Dublin.
We are thrilled to announce a significant milestone for our company – the prestigious Best Health & Wellbeing Strategy Award at the 2023 HR Leadership and Management Awards! Launched in 2015, the HR Leadership & Management Awards has established itself as the benchmark for those demonstrating excellence in HR Leadership & Management in Ireland.
This recognition is a testament to our commitment to fostering a workplace that truly cares about the health and wellbeing of our employees. At the heart of our success are two core pillars: Work/Life Balance and Connectivity. We believe that by prioritizing these aspects, we create an environment where our team members can thrive both personally and professionally. Here's a closer look at some of the key elements that helped us clinch this esteemed award:
Connected Workplace Policy
Right to Disconnect Policy
Remote Social Options
Annual Wellbeing Calendar
Flexible Working Options
The judges were particularly impressed by our expanded leave policies, including:
Fantastic Leave Options for New Parents
Generous Time Off Policies
This award is not just a testament to our commitment to health and wellbeing but also a recognition of our incredible team's dedication and hard work. We would like to extend our heartfelt gratitude to all our employees who make our workplace a vibrant and supportive community.
"Todays society is a very different one to that of a decade ago. Well-being policies  are now the second most important factor for employees when choosing and staying with employers. At C&R, we made a conscious decision to put employee health and well-being at the top of mind when devising policy. It's really great to be recognised as a leader in this area."
Sandra Coombes, Head of Human Resources, Compliance & Risks
As we celebrate this remarkable achievement, we remain steadfast in our commitment to fostering an environment where our employees can flourish both personally and professionally. Our journey toward promoting health, wellbeing, and connectivity continues, and we look forward to even greater successes in the future.