AAFA Product Safety and Compliance Seminar 2022 Recap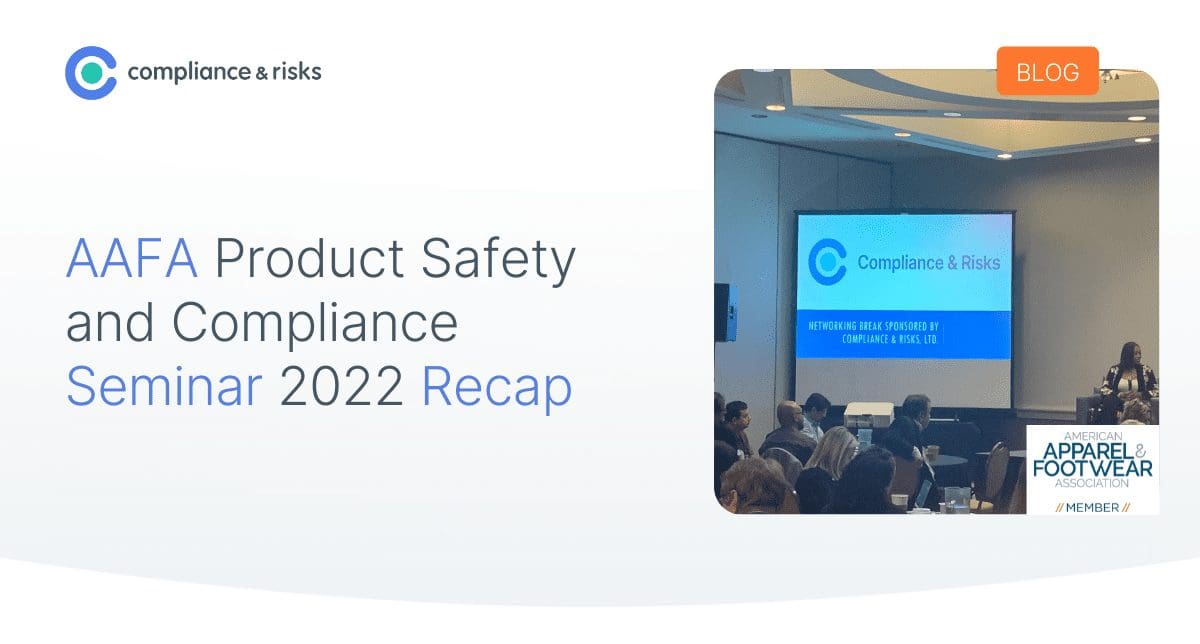 Compliance & Risks attended The American Apparel and Footwear Association's (AAFA) Product Safety and Compliance Seminar in Long Beach, CA. The seminar included presentations and panels addressing Global Regulatory Compliance, Product Safety, Sustainability and Chemical Testing.
Key Issues Discussed:
Without question, PFAS was the buzzword at the seminar. Almost every presentation either referenced PFAS or dedicated slides covering PFAS. For example:
McDonald's is facing a multi-state class action lawsuit due to PFAS in packaging migrating into food. Brands should anticipate more PFAS lawsuits in the future.
If companies move away from PFAS, will consumers embrace an inferior water/stain resistant solution even though it's for the greater good?
Currently, no one is aware of a comparable PFAS substitute. However, will a new substitute with alternative chemicals be safer than PFAS?
Along with PFAS, the following topics highlight some of the recent and future developments that presenters believe will impact organizations in the apparel industry.
Recycle vs. Sustainable. Brands need to establish a clear distinction between these terms. Brand Marketers are misrepresenting "sustainability", which could fall into false advertising and penalties. Brands feel sustainable regulations are constantly changing and anticipate more regulations around recycling and sustainability in the future.
Supply chains are facing increased pressure to provide sustainable and recycled materials. Brands need to build a strong chain of custody to ensure they have proper resources and avoid costly mistakes.
Proposition 65 notices are trending up, settlements are going-up and dollars per settlement are increasing. 
Consumers today are more educated and vocal. Misrepresenting a product may not bring a class action lawsuit, but could tarnish your brand on social media and negatively affect sales.
Reconvened for the first time in person in over two years, the AAFA seminar gave speakers and delegates alike a chance to network with peers, engage in discussions of key relevance to their businesses, and learn from experts across the industry.
Matthew Szerensce, Strategic Account Manager at Compliance & Risks comments, "My colleague Paul McGovern and I were thrilled to attend the event. There was a palpable air of collaboration and thirst for information throughout the venue, and it was obvious people where there to learn and share. We made and re-activated some amazing connections with progressive brands keen to simplify their compliance management process, and ensure uninterrupted market access for their products. It was a very worthwhile trip to Long Beach for the Compliance & Risks team, and we look forward to working with the AAFA on similar opportunities going forward."