Regulatory Trends In Apparel – A 12-18 Month Outlook
The regulatory landscape in the world of Apparel is complex and continually shifting.
Age-old concerns surrounding labelling, chemicals and safety are being added to with burgeoning regulation in areas concerning extended producer responsibility (EPR) and environmental, social and governance (ESG).
Unfolding restrictions on substances such as PFAS, PIP 3:1 and organohalogen flame retardants, in tandem with the advances in sustainable product regulations, a key priority for the EU, and measures to tackle counterfeit goods means that this is a dynamic area of regulatory growth, placing an unprecedented burden.
Figure 1 shows this growth has reached unprecedented levels with 56% increase in regulations for Apparel since 2015 with 3,758 Regulations in place.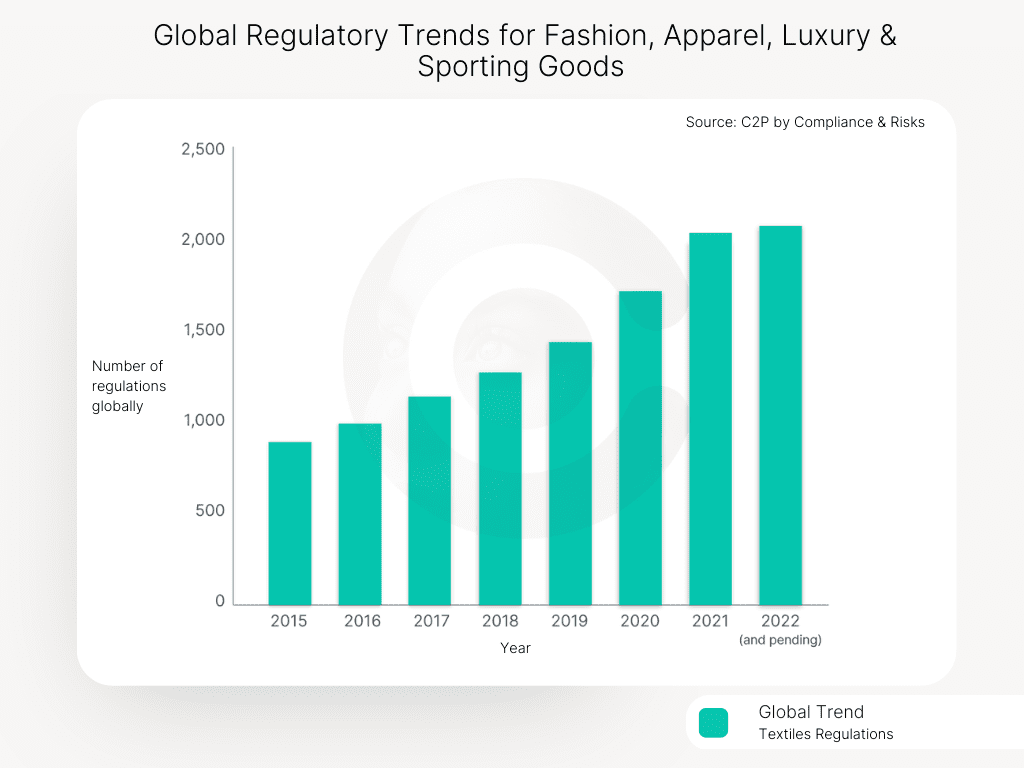 (Source: C2P by Compliance & Risks)
Hot Topics
Here's a bird's-eye view of key regulatory trends and issues you need to be aware of to get your product on the market and keep it there:
Sustainable Products In The Limelight
Never before has the need to protect our environment been more to the forefront of the world's consciousness.
Regulators are fast responding enacting measures focused on minimising the environmental impacts of products.
The net result is even more regulation to contend with.
As recently noted by the EU Commission "Products use up massive amounts of materials, energy and other resources and cause significant environmental impacts throughout their lifecycle, from the extraction of raw materials, to manufacture, transport, use and end of life. Half of global greenhouse gases and 90% of biodiversity loss are caused by extracting and processing primary raw materials."
Regulatory Density For Fashion, Apparel, Luxury & Sporting Goods Around The World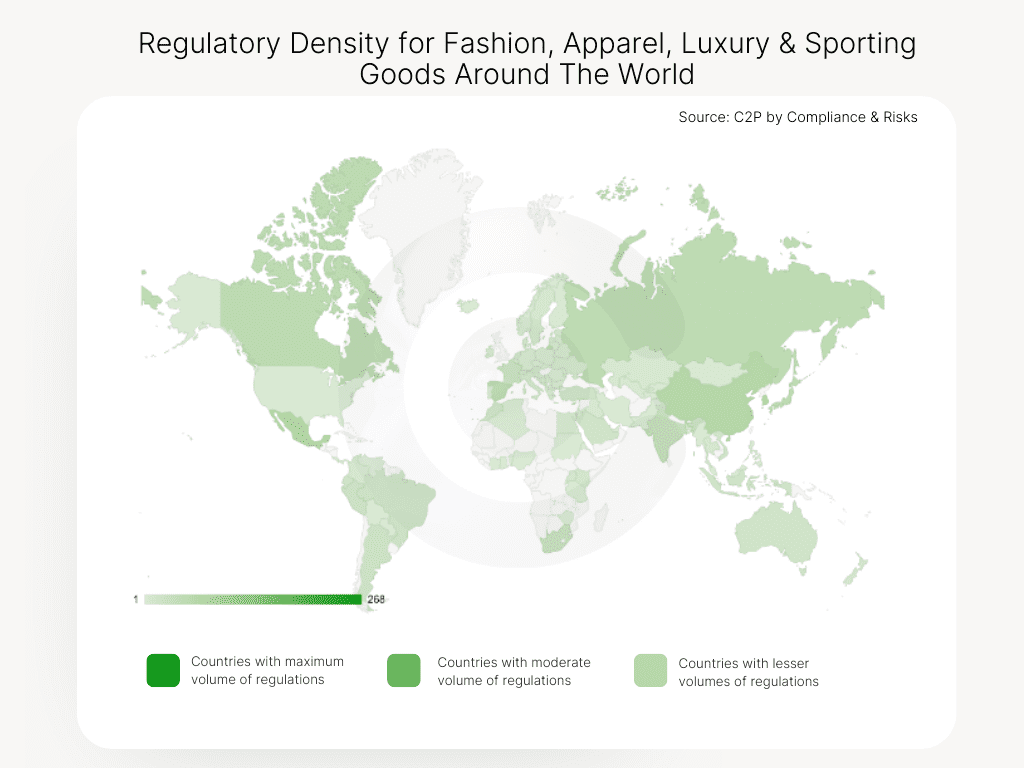 (Source: C2P by Compliance & Risks)
Top Trending Regulations
Listed below are the key regulations that will be impacting your business over the next 12-18 months:
EU: Strategy for Sustainable and Circular Textiles, Communication, March 2022
California (USA): Prohibition of Perfluoroalkyl and Polyfluoroalkyl substances (PFAS) in Textiles, Assembly Bill 1817, February 2022
France: Triman and Sorting Info for Clothing, Household Linens and Footwear, Guidance Document, February 2022
Rhode Island (USA): Comprehensive PFAS Ban, House Bill 7436, 2022
France: Adaptation of Various Provisions on Extended Producer Responsibility, Decree No. 2021-1904
Washington (USA): Processes for Regulation of Priority Chemicals in Consumer Products, House Bill 1694, 2022
RAL: Basic Criteria for Blue Angel Eco-label for Footwear and Insoles, Standard, DE-UZ 155, 2018
Thailand: Establishment of Industrial Standard TIS 3288 on Leather Footwear for Men, Announcement No. 6415, 2022
Saudi Arabia: Technical Regulation on Leather Products, Guidance Document, 2022
Macedonia: Management of Textiles, Tyres, Oils and Vehicles under Extended Producer Responsibility, Law, September 2021
Portugal: Leather Authenticity, Decree-Law No. 3/2022
EU: Microplastics from Textiles: towards a Circular Economy for Textiles in Europe, Briefing, February 2022
UK: Labelling of Textiles, Guidance Document, February 2021
EU: Registration, Evaluation, Authorisation and Restriction of Chemicals (REACH), Regulation (EC) 1907/2006
Brazil: Reverse Logistics System for Textile Wastes, Bill No. 270, 2022
China: Technical Safety Specifications for Children's Footwear, Draft Standard GB XXXX-XXXX, April 2021
New York (USA): Textile Act, Assembly Bill A9649, March 2022
Mexico: Commercial Information for Labelling of Textile Products, Garments and Household Linen, Standard NOM-004-SE-2021
Stay Up To Date With Global Regulatory Trends In Apparel
Catch up on our on-demand webinar covering Regulatory Trends In Product Compliance & What To Expect In 2023
Book Time With Our Team
Learn how C2P can help you stay ahead of global apparel regulatory changes and achieve uninterrupted market access.