Industrial Insights: Top Industrial Machinery Queries – June 2023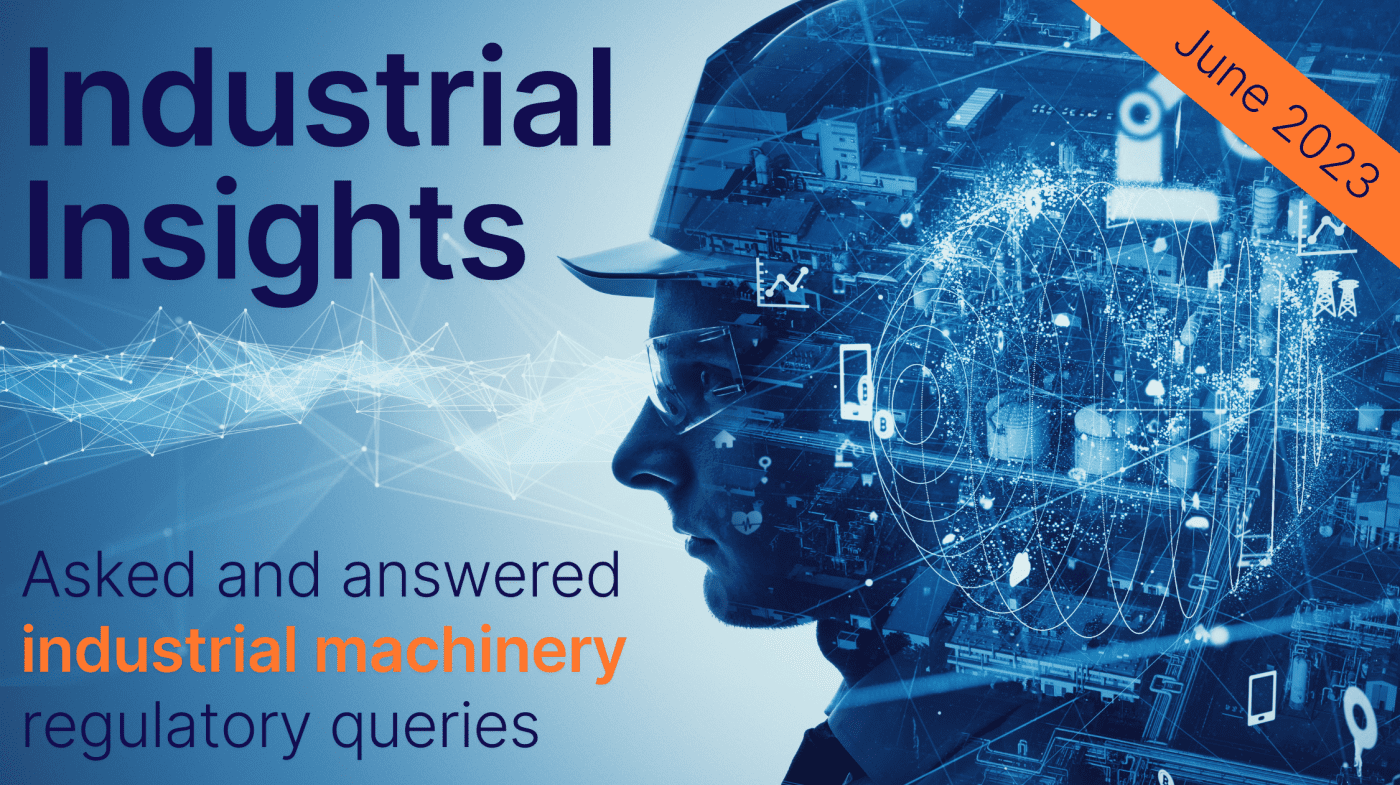 How do you stay ahead of regulatory changes in industrial machinery? To help you maintain continuous market access, our monthly feature Industrial Insights gathers some of the most interesting Industrial Machinery regulatory queries from Compliance & Risks customers.
For an in-depth overview of the new EU law, the proposed Machinery Products Regulation, download our whitepaper "EU Machinery Legislation: Current and Proposed Product Regulation".
June's Top Queries
Question 1:
Our company manufacturers life science products (such as industrial monitoring and control instruments). Could you please let us know whether Chapter 173-337 Washington Administrative Code [WAC], Safer Products Restrictions and Reporting is applicable for our products or not?
The very recently adopted Washington Safer Products Restrictions and Reporting regulation does not specifically identify, or has not yet identified, a Priority Product. That identification will be done by the Departments of Ecology and of Health, on a rule-by-rule and product-by-product basis.
The regulation defines the products subject to regulation as "Consumer product" – "any item, including any component parts and packaging, sold for residential or commercial use".
The rule as adopted does not offer a clear division between consumer and industrial products, but it was considered, and "commercial" could encompass 'industrial'. In the Commentary on the draft, Ecology implies that industrial products are not exempt and also not directly included:
See Comment 2.3.A.2 Commenters • Gann, Ben (American Chemistry Council and North American Flame Retardant Alliance) • Miller, Bob (Albemarle Corp.)
Summary of comments
Comment suggests the definition of "consumer product" not apply to products used in commercial and industrial settings.
Response (Ecology)
Thank you for your comment. RCW 70A.350.010(1)125 states "consumer product" means any item, including any component parts and packaging, sold for residential or commercial use. Chapter 173-337 WAC includes the law's definition of "consumer product," which includes any item sold for residential or commercial use. Because the requested change would be inconsistent with the statute, we were unable to make this change."
The Concise Explanatory Statement can be viewed here.
The rule does though specify what cannot be identified as a Priority Product, at RCW 70A.350.030 Section (5)(a):
which includes plastic shipping pallets, food and beverages, tobacco and drugs, and:
(v) Finished products certified or regulated by the federal aviation administration or the department of defense, or both, when used in a manner that was certified or regulated by such agencies, including parts, materials, and processes when used to manufacture or maintain such regulated or certified finished products;
(vi) Motorized vehicles, including on and off-highway vehicles, such as all-terrain vehicles, motorcycles, side-by-side vehicles, farm equipment, and personal assistive mobility devices; and
(vii) Chemical products used to produce an agricultural commodity, as defined in RCW 17.21.020.
The Department may however list as Priority Products the packaging used for the products listed above.
The rule specifically excludes regulations for certain components in electronics:
For an electronic product identified as a priority consumer product under this section, the Department may not apply a priority chemical restriction or reporting requirement to any inaccessible electronic component of that electronic priority consumer product.
Question 2:
Under the EU Proposal on Ecodesign for Sustainable Products Regulation (ESPR), is the product passport going to be mandatory also for products like paints, lubricants and detergents? Is there going to be a division between consumer products and professional products?
The scope of the EU Proposal on Ecodesign for Sustainable Products Regulation (ESPR) is extremely broad. It has the potential to apply to all products on the EU market subject to only limited exemptions.
Currently there is no division between consumer products and professional products other than the requirements relating to the destruction of unsold consumer goods. Chapter VI on destruction of unsold consumer goods currently only applies to consumer products. The rest of the text makes no distinction between consumer and professional products.
On 15 June 2023 the EU Parliament Committee on the Environment, Public Health and Food Safety (ENVI) adopted its' position on the draft. This report is scheduled to be adopted during the July 2023 plenary sitting and will constitute EU Parliament's negotiating position with EU governments on the proposal.
The ENVI position lists paints, lubricants and detergents as priority products that the EU Commission should consider in the first ESPR working plan. Based on the working plan, these products may be selected for ecodesign requirements such the digital product passport to be regulated in later adopted Delegated Acts under the ESPR.
Please see page 55 of the ENVI position.
Question 3:
Is there any guidance for the sorting instructions for the paper/manuals in France? I know there are guidelines for EEE products and for packaging but what about the rules related with the paper itself? Can the sorting instructions related to the paper be added on the packaging of the product? Also if the packaging is taken away by the installer? Certain EEE is not to be disposed by the consumer (e.g. heat pump) but by a professional. Is there any exemptions for such kinds of products?
The Triman logo and sorting information is based on Article L541-9-3 of the French Environmental Code.
Article L941-9-3 states that the triman and sorting information applies to products subject to EPR that are placed on the market for households.
See Article L941-9-3.
The implementation guide for EEE further elaborates on the question of professional products in the FAQ section. See Page 23
"Household or professional products? Are the products concerned by the obligation to display Consumer Information on Sorting Rules household or professional products? All products sold to households whether considered in the regulations as household or professional EEE, are concerned. In other words, any product sold through mainstream distribution channels is concerned."
Unfortunately, we have not seen any specific guidance document on rules for paper. Normally it is the specific eco-organizations in France that issue guidance documents to their own members. As regards your other questions, this level of information is not contained in the legislation but should be available from your eco-organization who work directly with the French government. For paper, the French eco-organization is Citeo.
Regulatory Trends in Industrial Machinery: a 12-18 Month Outlook
Safety of machinery is always of paramount importance to regulators, however with the rise in new technologies the concept of safety has been stretched and regulators find themselves having to be concerned with new concepts such as connectivity, artificial intelligence and data reliability & protection.
Continue reading our 12-18 month analysis of regulatory trends in industrial machinery, and deep-dive into our analysis of upcoming industrial machinery regulations for the coming 12-18 months.
Your Questions Answered
Many of the above questions were submitted and answers were conveyed to Compliance & Risks customers via the "Ask Our Experts" button in C2P.
Clients use AOE to ask about the latest proposed, enacted and amended regulations and mandatory standards applicable to their products and geographies of interest.
When AOE questions can be answered in 30 minutes or less, Compliance & Risks' subject matter experts answer them at no charge!
To learn more about C2P and how Compliance & Risks' SMEs can help you with your questions, contact us today.
Meet our Expert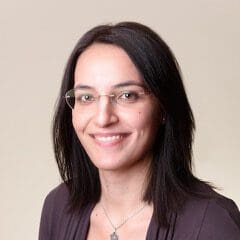 Emilia Assenza, Senior Regulatory Compliance Specialist, Compliance & Risks
Emilia Assenza is a Senior Compliance Specialist with over 5 years experience in the legal compliance sector.

She keeps clients up to date on global regulatory developments, with a particular focus on consumer protection.

She graduated cum laude with a Master's Degree in Law at University of Catania, Italy and holds a Postgraduate Diploma in Legal Professions.