Industrial Insights: Top Queries Around the Industrial Machinery Regulatory Landscape – March 2023
How do you stay ahead of regulatory changes in industrial machinery?
To help you maintain continuous market access, we have launched our monthly feature Industrial Insights, gathering some of the most interesting recent queries from Compliance & Risks customers on global industrial machinery regulatory issues.
Do you have any queries you would like featured in upcoming blogs? Ask our experts, and we'll do our best to answer!
March's Top Queries
Question 1:
Are products covered by the Machinery Directive and office-use electric shredders (subject to the Low Voltage Directive) accepted with CE Marking in Bosnia and Herzegovina?
CE marking is still not required within the member countries of the Central European Free Trade Agreement (CEFTA), although some of them (Republic of Macedonia, Croatia, Serbia, Montenegro) are official candidates for membership to the European Union, and so are already adopting many of its standards within their legislation.
To our understanding, neither the Federation nor the Republic of Srpska require CE marking on the products you mention, and still demand the national "C" conformity sign as a mark of compliance. The relevant regulations state that it is only after the accession of Bosnia and Herzegovina to the EU or the entry into force of the agreement on conformity assessment and acceptance of industrial products between the EU and Bosnia and Herzegovina, that the CE marking will be the appropriate conformity marking on products.
Although there is currently no MRA in place, the leaders of the EU did decide to grant EU candidate status to Bosnia and Herzegovina on 15 December 2022. This important move will mean increased adoption of EU product standards in the region, and some change in legislative requirements are therefore surely on the horizon.
Question 2:
Regarding NRCS (safety regulations in South Africa), we understand that information equipment is subjected to the LOA, but industrial machinery is not. Is it correct that industrial machinery is excluded from the LOA? If office-use electric shredders are subjected to the LOA, is the procedure the same as for printers?
Yes – information equipment is covered by VC 8055. There is currently no compulsory specification targeting industrial machinery and consequently no LOA, since this applies only to commodities that fall under the scope of a compulsory specification.
Office-use electric shredders do fall within the scope of VC 8055, and thus are subject to the LOA requirement. In the absence of any particularities for that product called out in the VC, we can conclude that the ordinary procedure applies.
Regulation: South Africa: Compulsory Specification for Electrical and Electronic Apparatus, Notice No. R. 89, 2009
Question 3:
In the description of the Chinese General Requirements for Safety of Rotating Electrical Machines (full regulation named below), it says this topic includes "rotating electric machines, including motors and generators". But in the section of products covered, only "Electric Motors" are mentioned. What does rotating electrical machinery mean? Are then all electrical power tools like drills, drivers or also vacuum cleaners etc. with rotating motors in scope?
This proposal applies to all rotating electrical machines (including motors and generators) per ICS code(s): 29.160.01 Rotating machinery in general, except electrical machines specified in other national standards (such as aerospace electrical machines, traction electrical machines, etc.). Other types of motors can use this document for reference.
So, it appears that it would apply to all rotating machines generally (no definition is supplied) unless the machine is already covered by another GB standard. The proposal does not offer any further guidance on scope beyond this.
Regulation: China: General Requirements for Safety of Rotating Electrical Machines, Draft Standard GB XXXX-20XX, July 2022
Question 4:
Is the CE mark now valid in Serbia?
If not, can we now base the 3A marking on the same documents on which we base the CE marking? If this is true, and we no longer need certification in Serbia for our small power tools that are governed by machinery, EMC, and low voltage directives, should we then remove the date code manufacturer code under the 3A mark, which we have previously had?
Whilst machinery is currently not within the scope of our coverage for Serbia, I have done some analysis of the regulation and status quo.
All things considered, the following is my conclusion on the status of the CE marking in Serbia:
CE marking is not (yet) compulsory in Serbia. However, products which have been lawfully produced or placed on the market of the European Union, Turkey or contracting State to the Agreement on the European Economic Area (and hence bear the CE marking) do benefit from a presumption of conformity in Serbia.
With regard to Serbia product technical requirements (low voltage, machinery, gas appliances etc.), from the date of entry into force of the ACAA Agreement or, if that agreement is not concluded, from the day of entry into force of the agreement on the accession of the Republic of Serbia to the European Union, products to which harmonized EU legislation applies must be affixed with the CE mark instead of the Serbian mark of conformity, if it is prescribed by a technical regulation.
An ACAA has not been concluded between the EU and Serbia, and neither have Serbia yet acceded to the Union. Therefore, the Serbian mark of conformity still applies and products do not need to be affixed with the CE marking.
I refer you to the contents of Article 5 of the consolidated Rulebook, which encompasses the rules for conformity assessment:
Before placing the machine on the market and/or in use, the manufacturer implements appropriate procedures for conformity assessment (in accordance with Article 8) and prepares and issues the Declaration of Conformity for the machine and ensures that this declaration accompanies the machine, and puts a mark of conformity on the machine, (in accordance with Article 12). It is considered that the machine on which the mark of conformity is affixed and which is accompanied by the Declaration of conformity of the machine is in conformity with the requirements of this rulebook.
So, declaration of conformity is the default process, if you like. However, per Article 8, if the machine is not listed in Appendix 4 the manufacturer must apply the internal production control procedure from Annex 8 for assessing the conformity of the machine.
Regulation: Serbia: Safety of Machinery, Ordinance, June 2016
Regulatory Trends in Industrial Machinery: a 12-18 Month Outlook
Safety of machinery is always of paramount importance to regulators, however with the rise in new technologies the concept of safety has been stretched and regulators find themselves having to be concerned with new concepts such as connectivity, artificial intelligence and data reliability & protection.
Continue reading our 12-18 month analysis of regulatory trends in industrial machinery, and deep-dive into our analysis of upcoming industrial machinery regulations for the coming 12-18 months.
Your Questions Answered
Many of the above questions were submitted and answers were conveyed to Compliance & Risks customers via the "Ask Our Experts" button in C2P.
Clients use AOE to ask about the latest proposed, enacted and amended regulations and mandatory standards applicable to their products and geographies of interest.
When AOE questions can be answered in 30 minutes or less, Compliance & Risks' subject matter experts answer them at no charge!
To learn more about C2P and how Compliance & Risks' SMEs can help you with your questions, contact us today.
Meet our Experts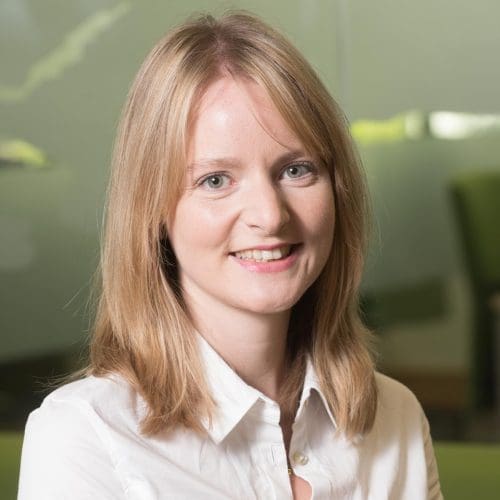 Joyce Costello, Senior Regulatory Compliance Specialist, Compliance & Risks
Joyce is a Senior Regulatory Compliance Specialist with Compliance & Risks with 9 years experience. 

With expertise in global RoHS legislative and product safety conformity assessment requirements, Joyce also works closely with customers to assist them in understanding the implications of evolving regulation on their products.

Joyce has a Master of Laws (LLM) and Postgraduate Higher Diploma in French from University College Cork.