The Weekly Pulse: 7th – 11th November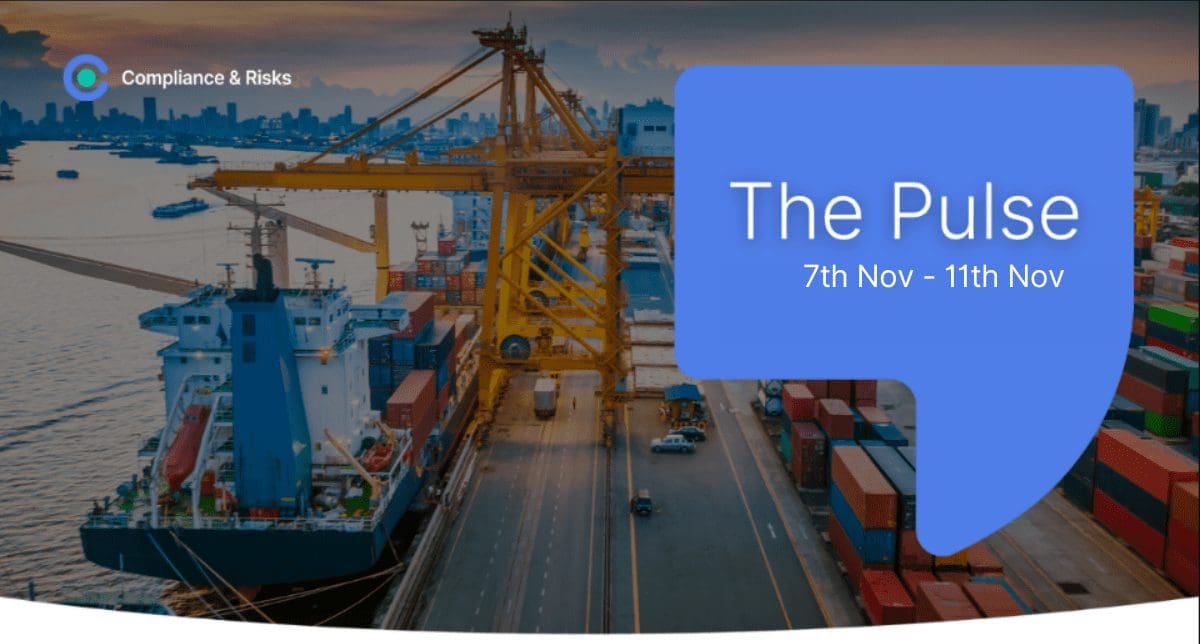 What's HOT in our Regulatory World at the moment?
What are our clients looking at?
This week's trending sources in C2P
India: E-Waste (Management) Rules, G.S.R. 801(E), 2022
Philippines: List of Products and Systems Under Mandatory Certification, Circular No. 22-18, 2022
Saudi Arabia: Adopting a List of Mandatory and Voluntary Standards, Decision No. 187, 2022
What is our Content Team talking about?
USA – Federal Supplier Climate Risks and Resilience Proposed Rule – Kelly Bugiera
On November 10, 2022, the Biden-Harris Administration took action to address greenhouse gas emissions and to protect the Federal Government's supply chains from climate-related financial risks.
In support of President Biden's Executive Orders on Climate-Related Financial Risk and Catalyzing Clean Energy Industries and Jobs Through Federal Sustainability, the Administration proposed the Federal Supplier Climate Risks and Resilience Rule.
This proposed Rule would require major Federal contractors to publicly disclose their greenhouse gas emissions, as well as their climate-related financial risks.
These Federal contractors would also be required to set science-based emissions reduction targets.
The US Federal Government is the world's single largest buyer of goods and services, purchasing over $630 billion in the last fiscal year alone.
As a result, the Federal Government faces significant financial risks from climate change. Supply chain disruptions over the past year have impacted all sectors, including the Federal Government along with its critical contractors and subcontractors.
The new Federal Supplier Climate Risks and Resilience Rule would strengthen the resilience of vulnerable Federal supply chains, which would result in greater efficiencies, as well as reduced climate risk.
Per the proposed Federal Supplier Climate Risks and Resilience Rule, "major" Federal contractors receiving more than $50 million in annual contracts would be required to publicly disclose Scope 1, Scope 2, and relevant categories of Scope 3 emissions. They also would be required to disclose climate-related financial risks, while setting science-based emissions reduction targets.
In addition, "significant" Federal contractors with more than $7.5 million in annual contracts, but less than $50 million, would be required to report Scope 1 and Scope 2 emissions.
Federal contractors with less than $7.5 million in annual contracts would be exempt from this proposed rule.
The 60-day public comment period for this proposed rule is scheduled to close on January 13th, 2023 (FAC/FAR Case/Docket No. 2021-015).
What are our Knowledge Partners talking about?
EU REACH – ECHA opens call for evidence on PVC and its additives – Rina
The European Chemicals Agency (ECHA) is seeking information on polyvinyl chloride (PVC) and its additives related to:
Uses;
EU volumes per use sector and end-use;
End-of-life information per use; and
Experimental/measured release and exposure information.
This is a formal call for evidence, which commenced on 2 November and will run until 6 January 2023 (23:59 Helsinki time).
Under specific consideration is a list of heat stabilisers, plasticisers, and flame retardants – some of which are already subject to EU chemical regulation.
For example, almost 30 phthalates are on the list. Among these are the four phthalates DEHP, DBP, DIBP and BBP which are restricted from use under the EU RoHS Directive and under the EU REACH Regulation although exemptions exist in specific cases.
They are also reportable as Substances of Very High Concern (SVHCs) under REACH where present in articles.
The call for evidence arises from the European Commission requesting ECHA to investigate whether the use of PVC and/or its additives pose environmental and/or human health risks, also whether regulatory measures at the European level would be necessary. The European Commission's mandate to ECHA specifies that socio-economic impacts and the transition to the circular economy are to feature in its work.
One of the objectives is to understand whether the potential issues encountered with PVC would be specific to PVC or also relevant for alternative materials. ECHA is tasked with reporting back to the Commission on its investigation by May 2023.
Through the call, ECHA wishes to obtain an understanding of the volumes used at the EU-level per sector, and for as many end-uses as possible. Company-specific information is also welcomed.
In order to facilitate data reporting, ECHA has compiled a list of end-uses and use sectors of PVC into a reporting format from assorted sources.
ECHA has also generated a separate reporting format for collecting use and volume information on the additives. Information submitted using the reporting format is encouraged, although ECHA has said that it will take information submitted in other forms.
The call for evidence is intended for interested parties such as private companies (manufacturers, suppliers, recyclers, downstream users, distributors, importers etc.), trade associations, scientific organisations, non-governmental organisations and other stakeholders or Member State Authorities holding relevant information.
Both EU/EEA and non-EU stakeholders are encouraged to participate. Information can be submitted confidentially and will be treated as such by ECHA.
For more information, please see here
Should readers have any queries these can also be directed to a specific ECHA mailbox, which is: pvcadditives@echa.europa.eu
What are our Clients asking about?
"Can you please provide information regarding whether the Italian government will allow recycling information/logo's to be conveyed via electronic means?" – Answer by Freida Wueschner Gubbins
This is a highly topical question, which was recently put to the Italian Authorities by the EU Commission, you can find more information on this in C2P in our news & analysis titled "Update on Italy's Environmental Label for Packaging".

At present the phrasing of the Draft Guidelines, as well as Article 219(5) of the Legislative Decree is unclear as to whether a physical label is required or whether website links and QR codes would be sufficient to comply with the labelling requirement. At this point in time we can only wait for the release of the finalised Guidelines to see which interpretation will prevail.
Stay Updated On Global Regulations With The Weekly Pulse
This information is based on the most viewed regulations on C2P this month.
Sign up to get the latest compliance news delivered to your inbox weekly, for free!
The Pulse – Weekly Newsletter
Get the latest compliance news delivered straight to your inbox