Compliance & Risks Presenting At RINA Products in Compliance Conference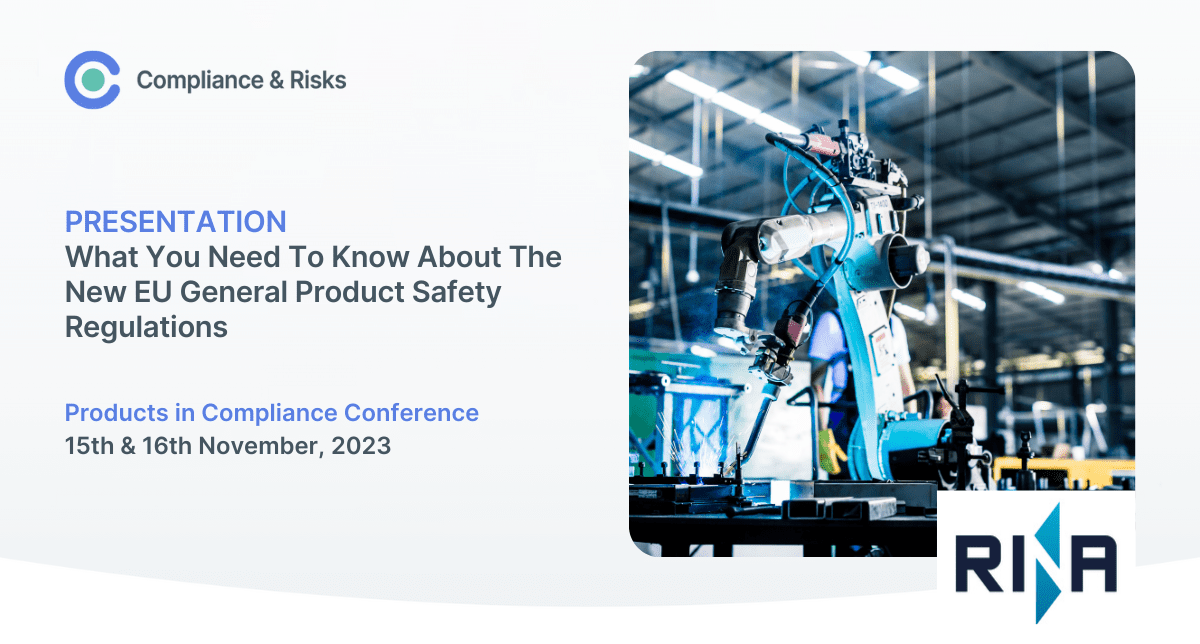 We're delighted to announce that Compliance & Risks will present at this years RINA Products in Compliance Conference, taking place in the Radisson Blu Edwardian Heathrow, UK on the 15th & 16th November 2023.
RINA's renowned annual regulatory conference relaunches in its 22nd year under a new name and with a broader scope, following a 3 year hiatus due to the pandemic. The focus of this years event is explaining the technical and environmental regulation affecting electrical and electro-mechanical equipment
Kelly Bugiera, Senior Regulatory Compliance Specialist, Compliance and Risks, comments "The RINA Products in Compliance Conference provides a great opportunity for delegates to network, share learnings, and gain insights from industry experts on how to achieve and maintain market access. I'm excited to meet up with clients, and new contacts, to dscuss recent developments in product safety regulations".
What you need to know about the new EU General Product Safety Regulations
Presenter: Kelly Bugiera
When: Wednesday 15th November 2023
Time: 14.50
For full event & registration details click here
We hope to see you there.
About Compliance & Risks
Compliance & Risks helps companies unlock market access by simplifying the world of product compliance. Our software, regulatory content and team of subject matter experts provide the most comprehensive market access solutions in the world.
About RINA
With a global network of over 5,300 talented professionals, RINA are committed to simplifying complexities with a focus on energy transition, ESG and digitalisation. RINA specialise in testing, inspection, certification, and engineering solutions across a wide range of markets, including Marine, Energy and Mobility, Real Estate and Infrastructure, Space and Defense, and Industry 4.0.