C2P Product Spotlight – Q2 2023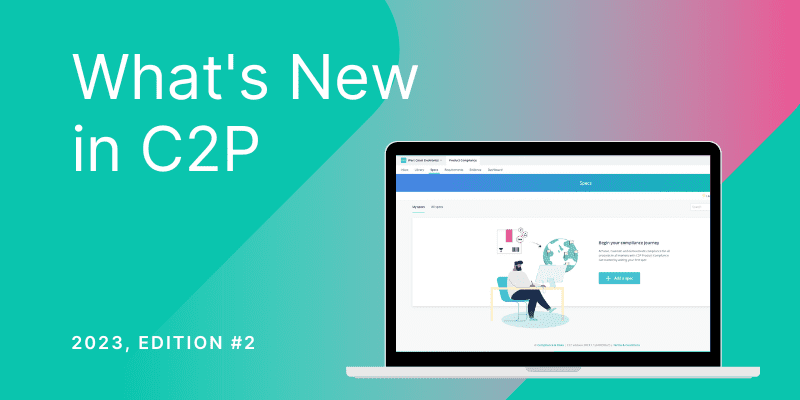 Compliance & Risks has announced new updates for its C2P product in Q2 2023, designed to enhance the user experience and streamline compliance processes.
Enhance Your Compliance Strategy with Our Revolutionary Assessment Tool!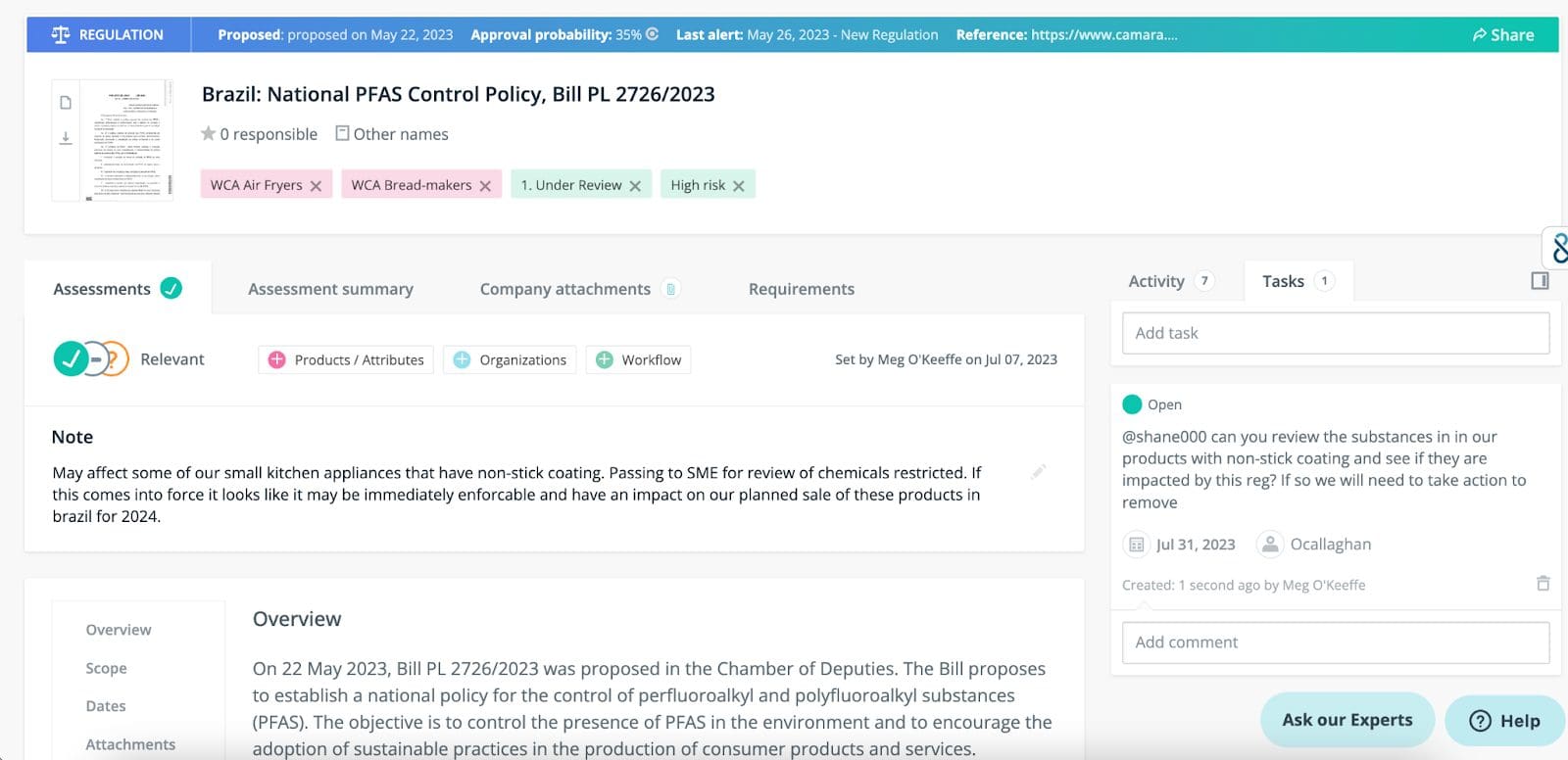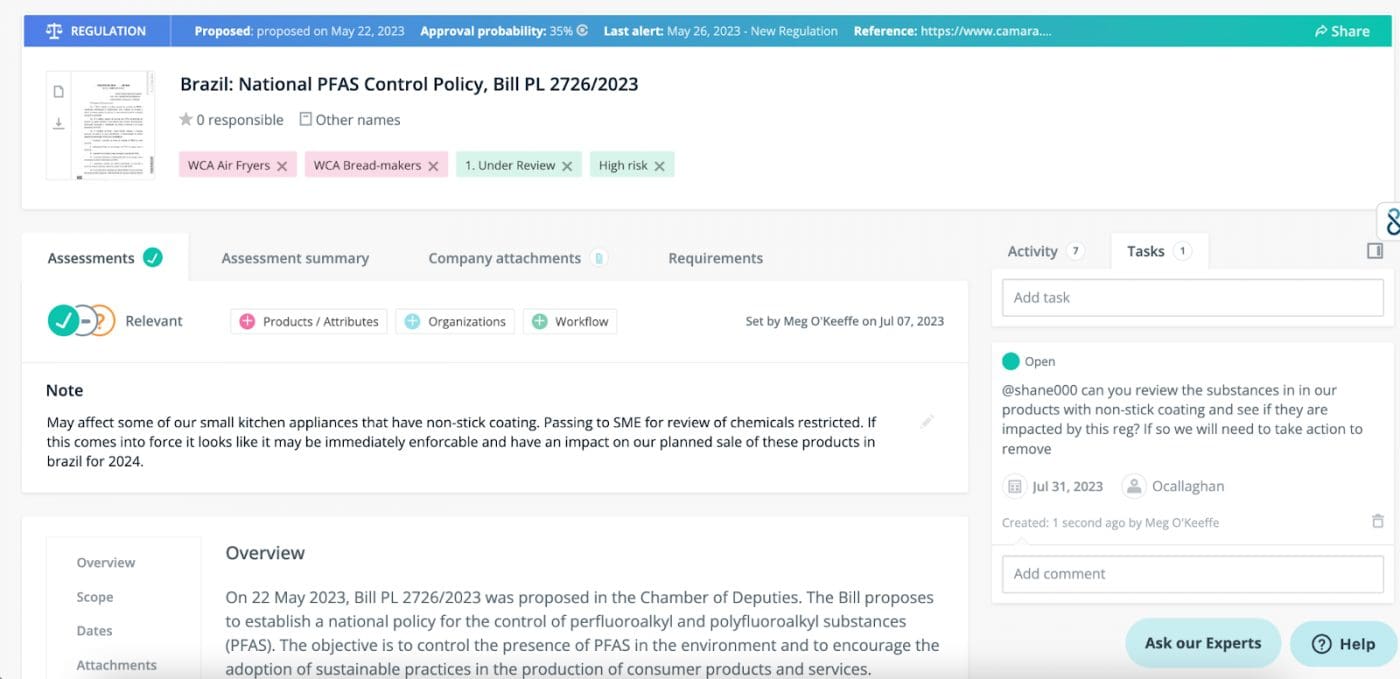 As a leading provider of cutting-edge compliance solutions, we are excited to feature our latest game-changing product that will revolutionize the way you handle compliance and regulatory matters – "Assessments"!
Preserving Corporate Memory – Effortlessly capture & record the rationale behind your impact assessments
Improved Efficiency – Save time & effort by streamlining the assessment process, enabling your teams to focus on what truly matters – driving your business forward!
Enhanced Collaboration – Stay seamlessly updated with real-time changes to regulations, ensuring that your business remains compliant at all times without any costly misses.
Strategic Risk Management – With Assessments, you can identify potential risks through the recorded relevance of regulations. Armed with this information, you'll be able to take swift and proactive measures to mitigate risks effectively, enhancing overall risk management and the performance of your compliance team.
Stay Ahead with Inbox Amendments – Streamlining Your Compliance Workflow!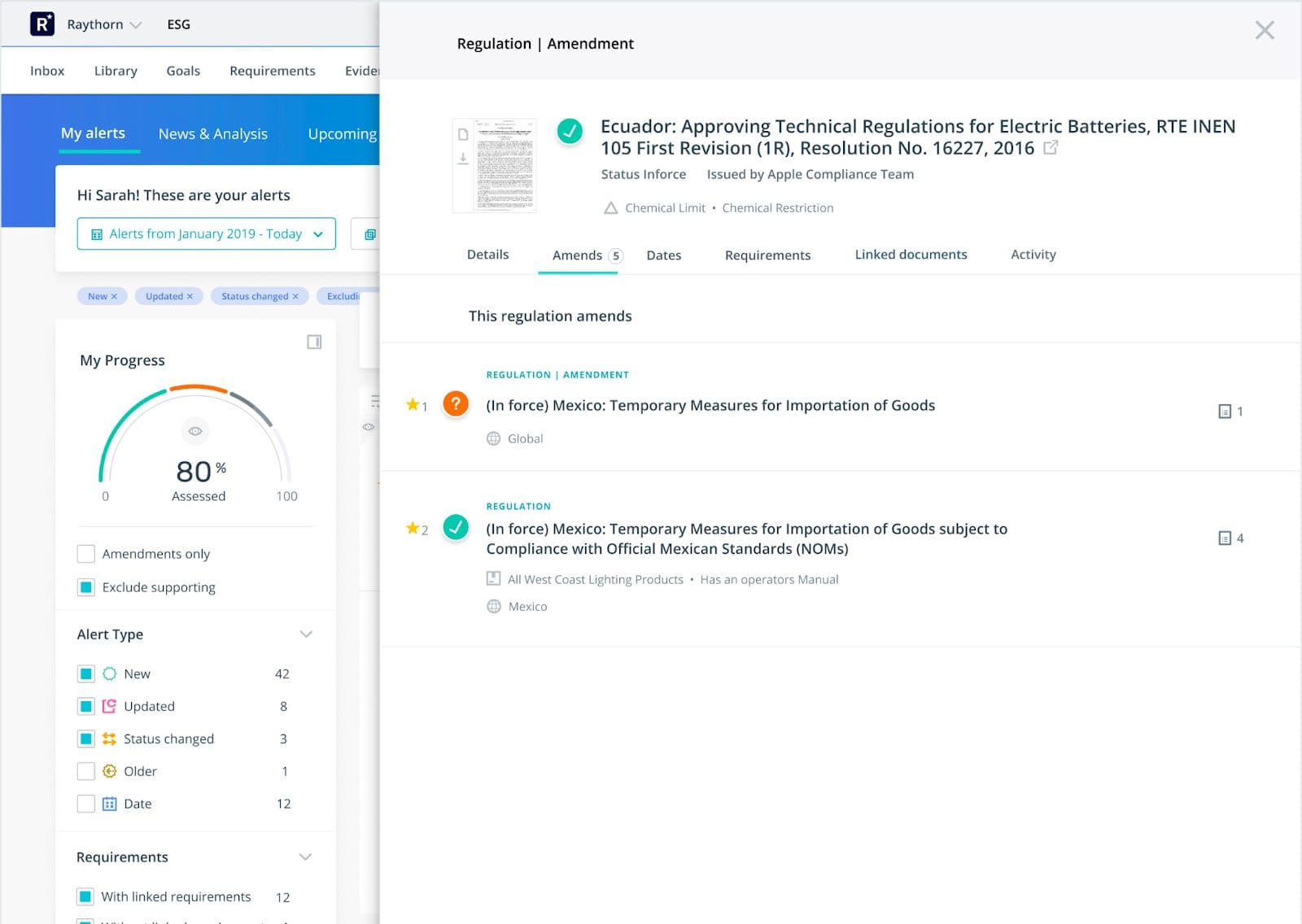 Today, we are thrilled to feature our latest groundbreaking feature – "Inbox Amendments" – designed to revolutionize the way you handle regulatory changes!
Quick Identification of the Impact of Amendments: Gain a competitive edge by swiftly identifying the impact of amendments on your existing regulations
Improved Workflow for Effortless Compliance: Instantly see which of your requirements are impacted by a specific amendment – make well-informed decisions with ease, saving valuable time & resources.
Clear Hierarchy of Amended Regulations: Navigate through amendments with ease! Ensure you are always in control and well aware of the latest changes affecting your business.
Don't let regulatory changes catch you off guard. Embrace the power of Inbox Amendments and enjoy a smoother, more effective compliance journey.
Turbocharge Your Compliance Journey with Bulk Requirement Import!
Time is of the essence in today's fast-paced world. Our Bulk Requirement Import feature empowers you to transfer a large volume of existing requirements into our cutting-edge C2P Platform quickly and efficiently. No more tedious manual entry of each requirement individually! With just a few clicks, you'll save significant time, allowing you to focus on what truly matters – driving your business forward.
Data Integrity Ensured – By importing your existing requirements in bulk, you minimize the risk of errors, ensuring that your migration to C2P Platform is seamless and error-free.
Streamlined Onboarding Made Easy: Transitioning to a new compliance platform can be overwhelming, but we're here to make it a breeze! Our Bulk Requirement Import feature streamlines the onboarding process, eliminating the need for you to recreate all your requirements from scratch.
Consistency & Standardisation – The Key to Success: With Bulk Requirement Import, you can effortlessly import predefined templates or standardized formats, ensuring uniformity in how requirements are documented and managed.
Achieve compliance excellence with ease!
Unlock the Power of Proactive Compliance Management with Product Portfolio View!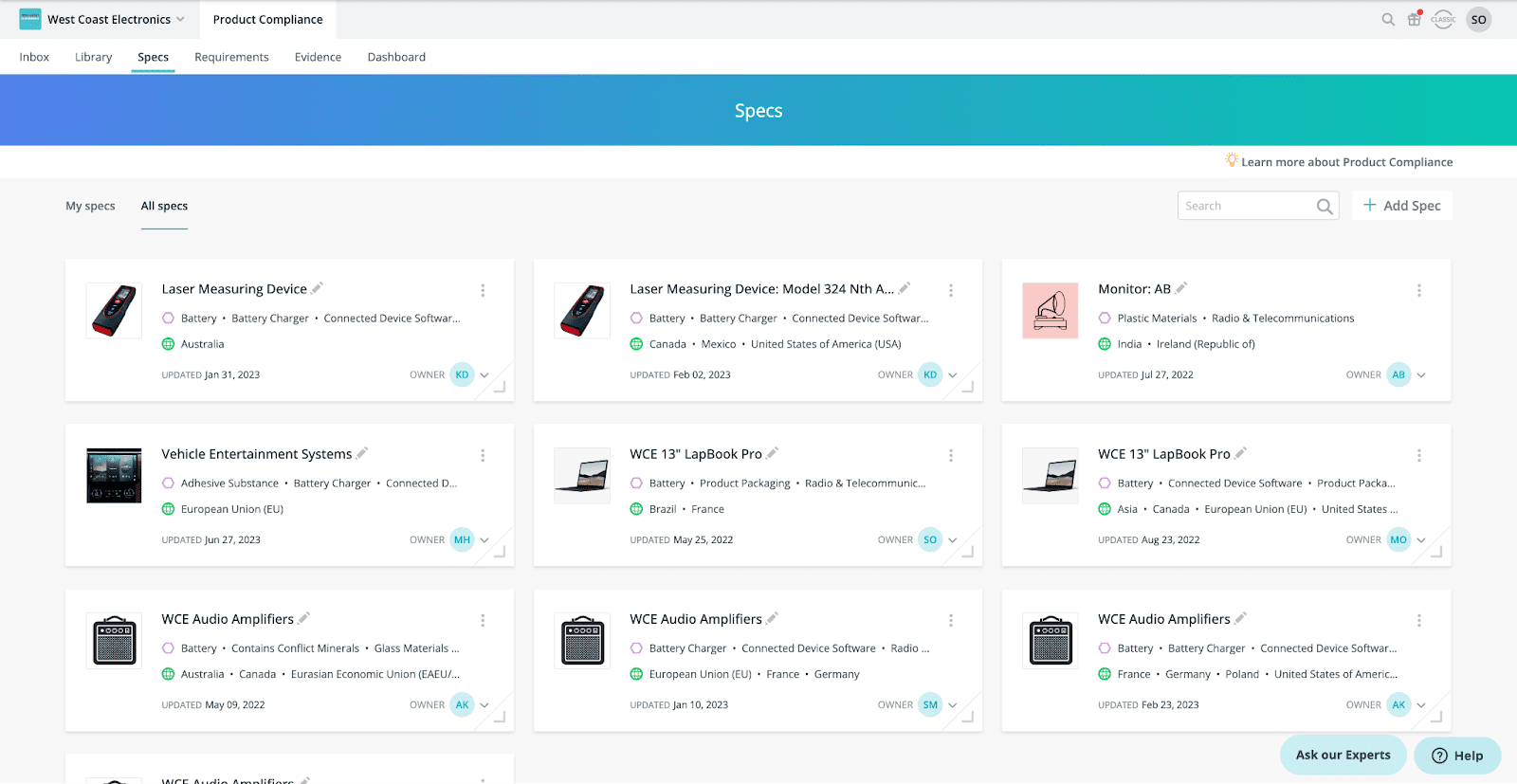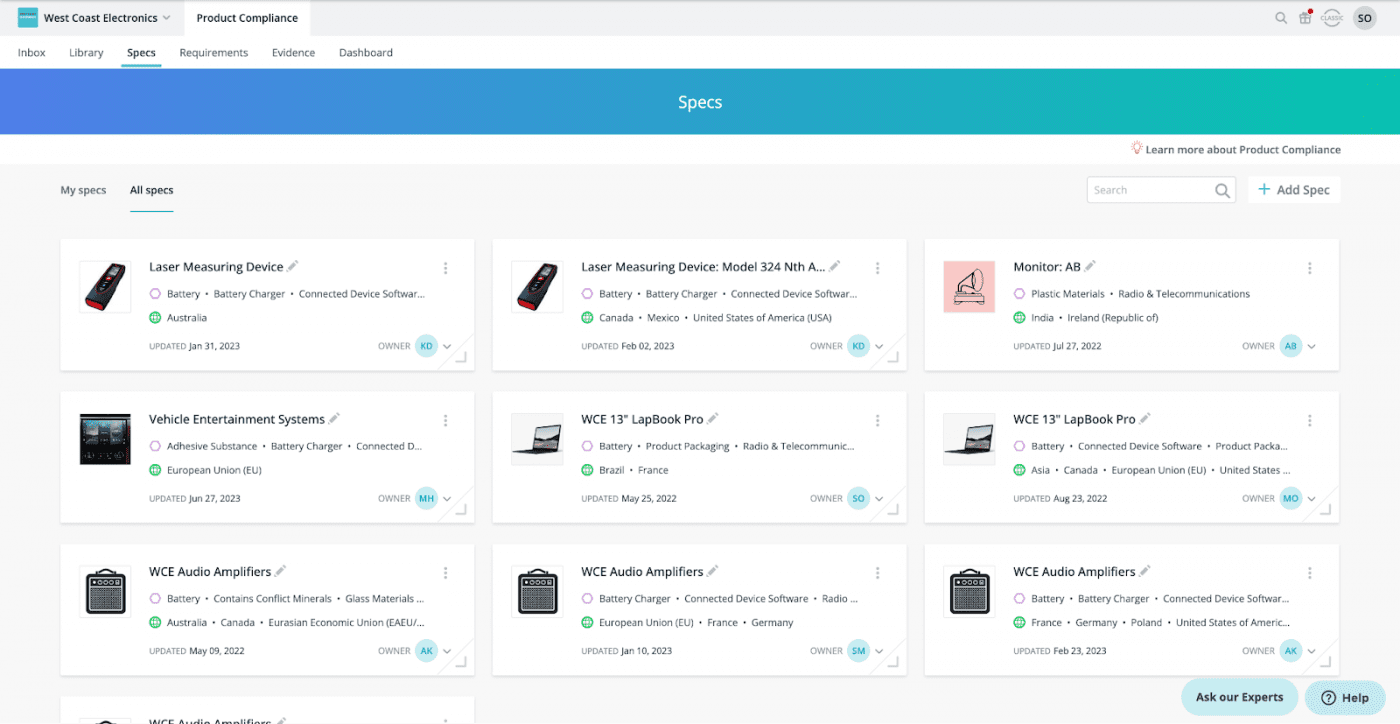 At Compliance & Risks, we are dedicated to providing you with game-changing solutions that elevate your compliance journey to new heights. Today, we are excited to feature – Product Portfolio.
Unleash the Power of Holistic Compliance Management: Your product portfolio is the heart of your business – Imagine having all compliance obligations at your fingertips, allowing you to assess the overall compliance status and spot common trends or patterns across products effortlessly.
Proactive Planning for Unprecedented Success: Our Product Portfolio View empowers you to see compliance obligations for your entire product portfolio, along with various attributes for each product. Plan proactively, ensuring all compliance requirements are documented well in advance. Align your compliance roadmap with your business goals, minimizing the risk of compliance gaps or last-minute scrambles.
Mitigate Compliance Risks with Confidence: Our Product Portfolio View helps you assess compliance risks at a broader level, empowering you to identify potential areas of non-compliance & track performance across products. You can implement corrective actions or mitigation strategies with confidence, reducing the risk of penalties or reputational damage.
Efficient Product Development – Your Secret Weapon: By incorporating compliance considerations and requirements early on, you'll reduce the need for costly redesigns or modifications later. Embrace more efficient and timely product launches that wow your customers and elevate your brand reputation.
Ready to Experience Proactive Compliance Excellence? Talk to your Account Manager today.
Stay Ahead of Compliance with Timely Alerts – Avoid Lapses & Boost Efficiency!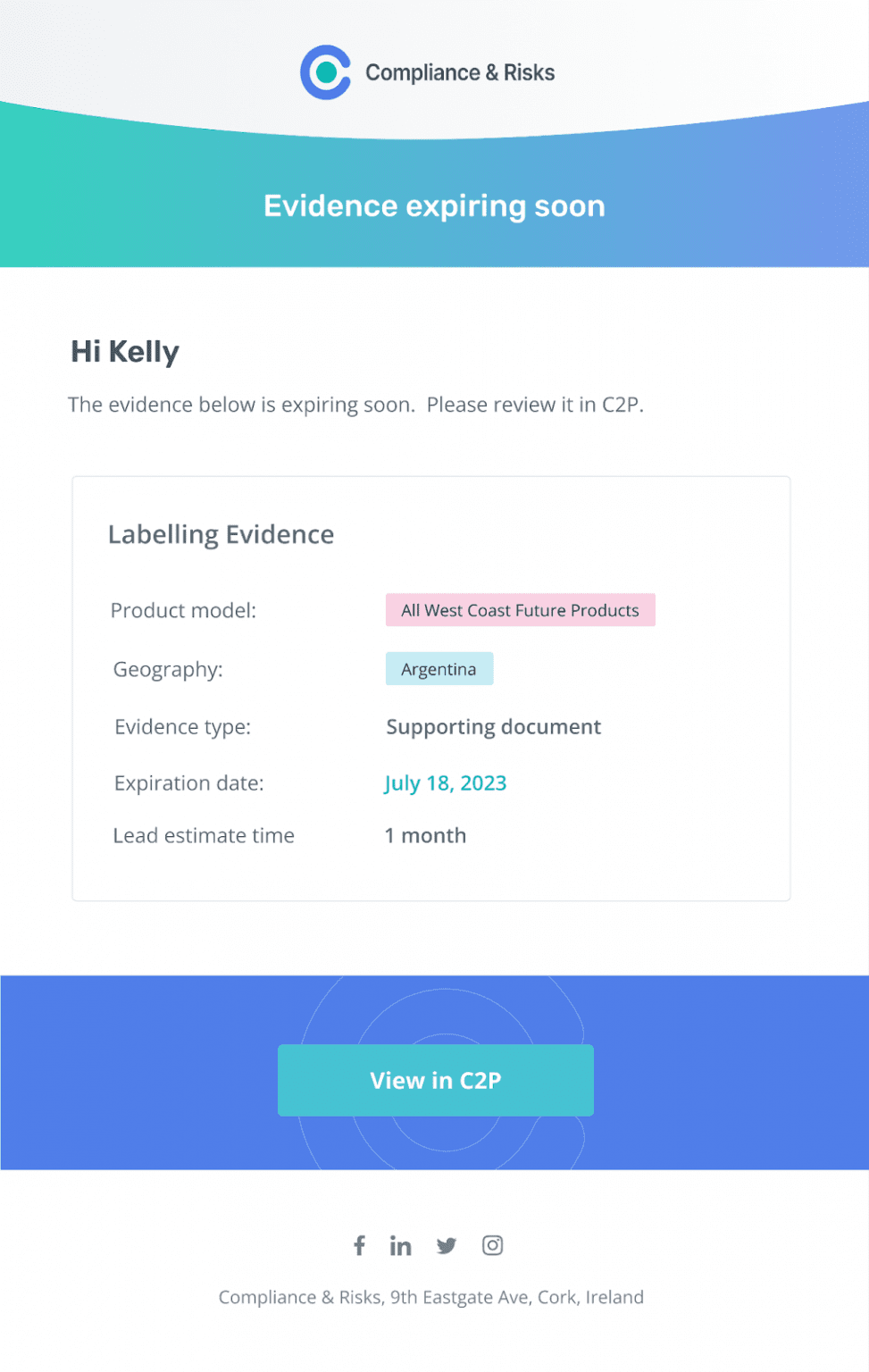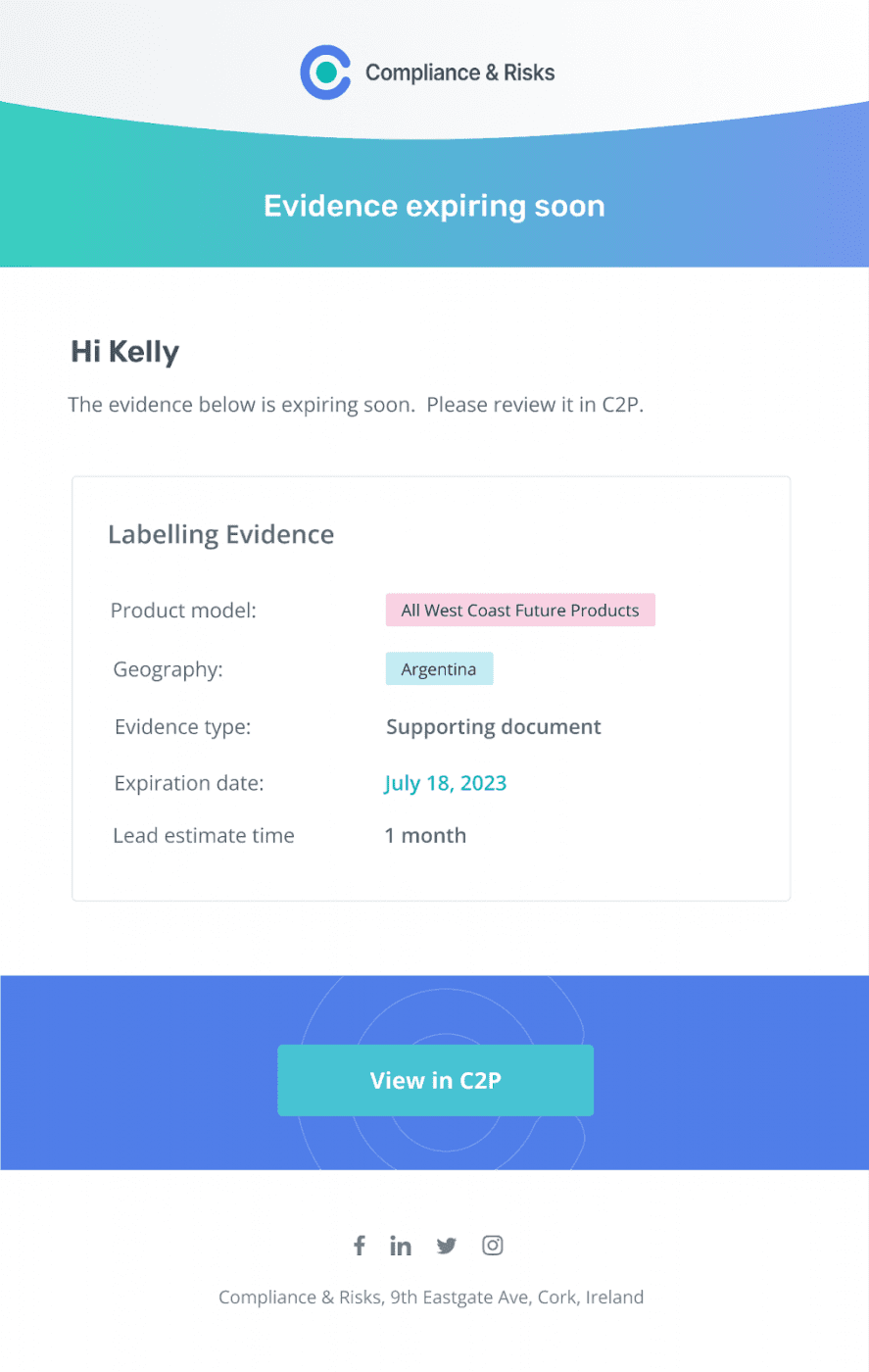 Today, we are thrilled to introduce you to a game-changing feature that will revolutionize the way you handle compliance – "Evidence Expiry Alerts"!
Avoid Compliance Lapses & Unlock Cost Savings: Say goodbye to compliance lapses once and for all! Receive timely alerts well in advance before your compliance evidence expires. Take prompt action, renewing or updating your evidence to ensure continuous compliance.
Proactive Management for Unparalleled Efficiency: Our notifications serve as friendly reminders, enabling you to efficiently manage your compliance obligations proactively. Stay on top of your compliance game by initiating necessary processes or activities well in advance.
Ample Time for Issue Resolution: Our notifications provide you with valuable time to address any concerns promptly. It empowers you to overcome obstacles and ensure continuous compliance without any unnecessary stress or last-minute panic. Stay in control and keep your compliance on track!
Introducing our new Training Packages
We are excited to announce that we have leveraged our 20-year experience training users in order to create a new set of courses we are convinced will help accelerate your time-to-value.
We now have a new set of training sessions documented with specific outcomes that you can align with your goals. We have structured our training options so that they are well understood and start forming a learning path.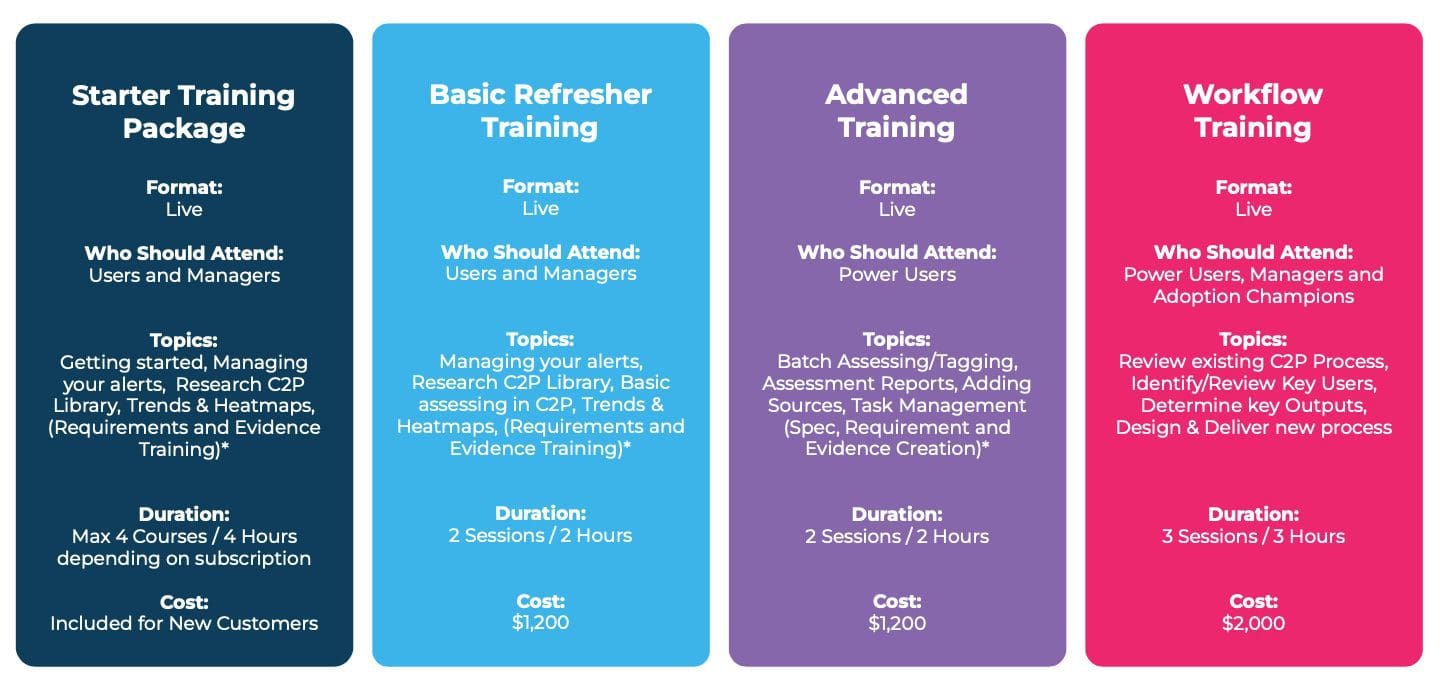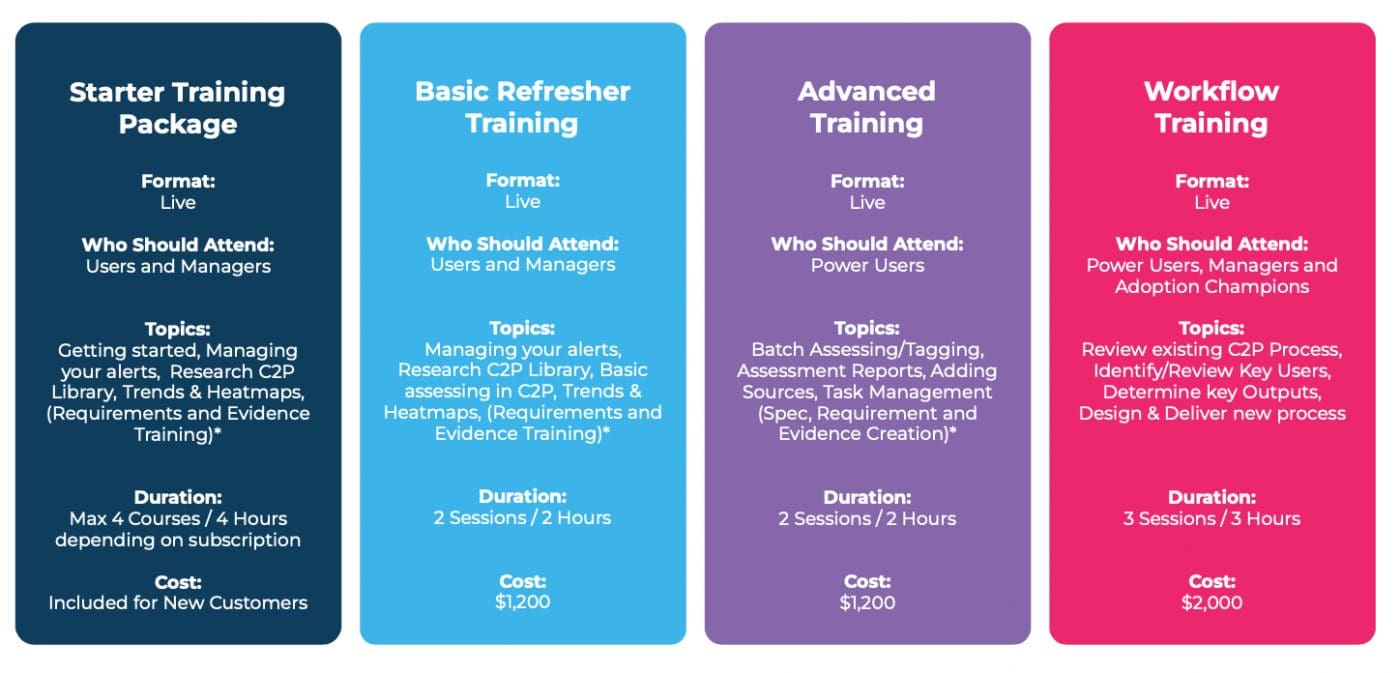 Discover other recent updates.
In recent C2P Product Spotlights, we introduced New Navigation and Improved Alerts and a New Regulatory Trends Display plus much more.
As always if you need support or have feedback you can contact our client success team via Help in C2P or at support@complianceandrisks.com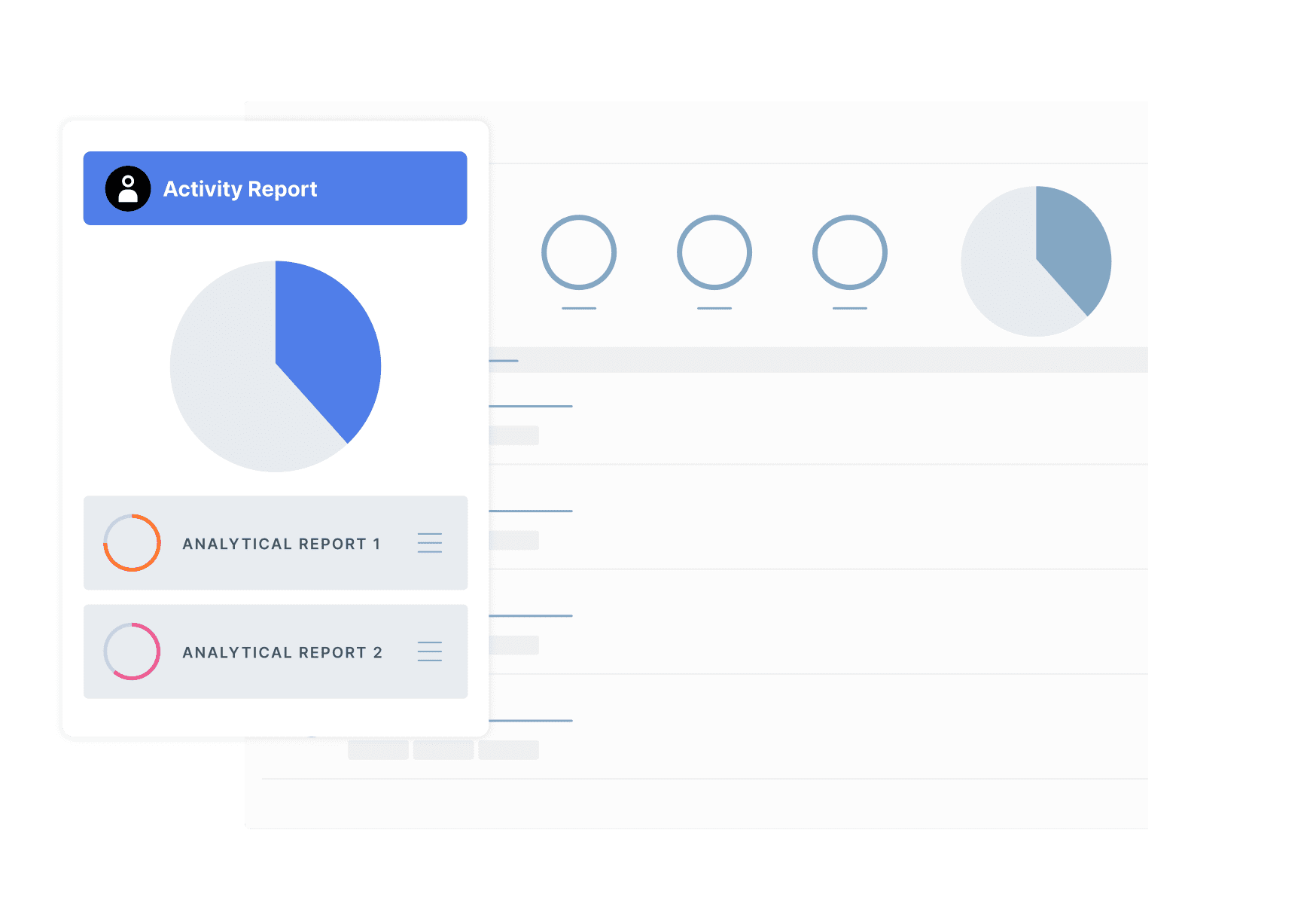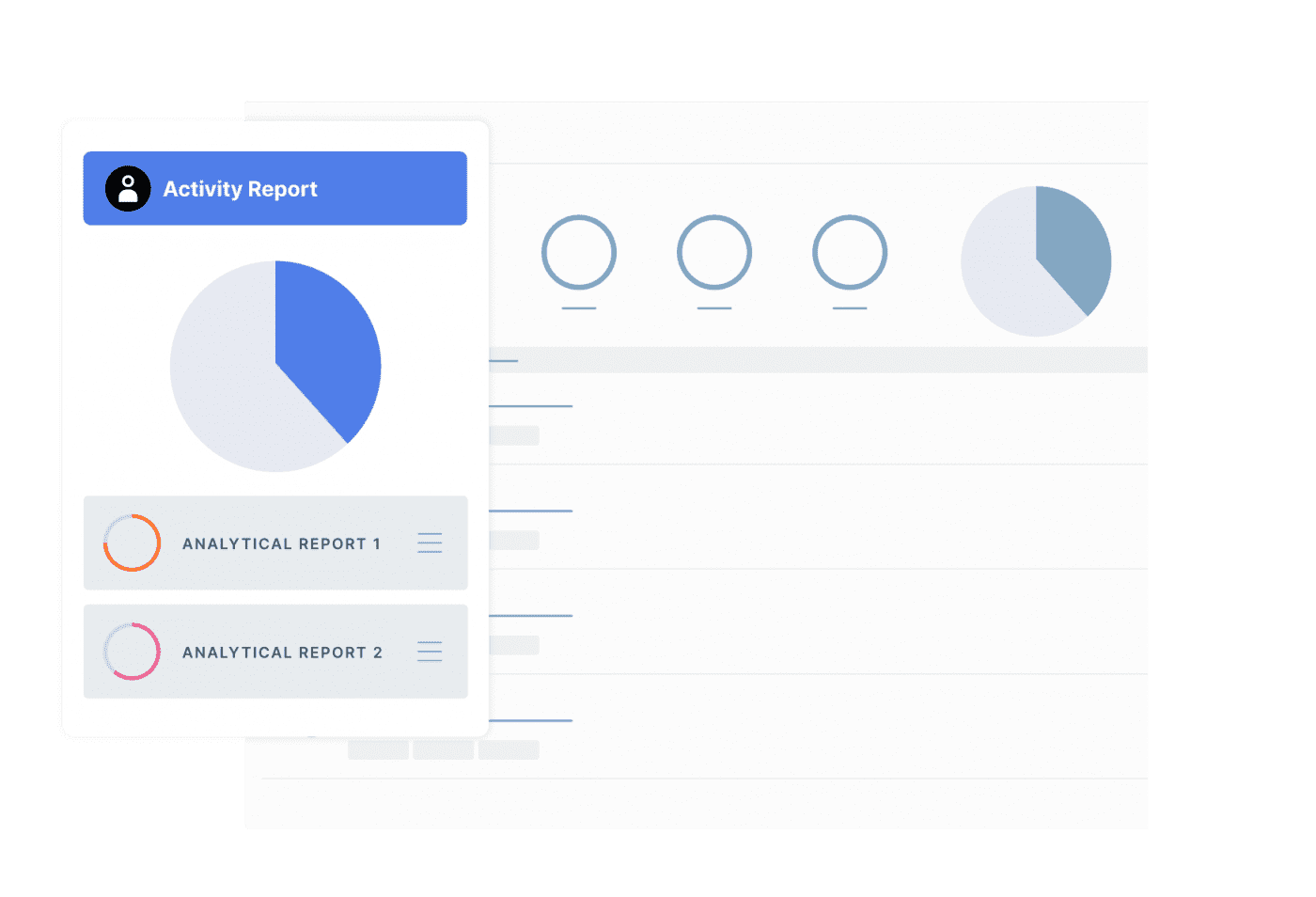 See C2P In Action
Join us for a bite-sized high-level product compliance solution demo to witness the true power behind the C2P.