Regulatory Trends In Textiles – A 12-18 Month Outlook
The textiles regulatory environment is ever-changing, especially considering chemical, labeling, and extended producer responsibility (EPR) issues that the industry faces today.
Per- and polyfluoroalkyl substances (PFAS) – chemicals used in apparel, footwear, accessories, and domestic textiles to make them water- and stain-resistant – continue to be primary concerns of governments and, therefore, manufacturers.
Labeling is also on the forefront in the EU, which is currently considering revisions to Regulation (EU) 1007/2011, which may include, among other issues:
Updates to fiber identification requirements;
Digital labeling;
Language independent symbols or codes; and
A sustainability and circularity label.
Another key topic is EPR for textiles. The EU and Member States, such as France and the Netherlands, are leading the way in making the textiles industry more sustainable. Regulations already in place set goals to move away from a linear economy and toward a circular one.
Figure 1 illustrates global growth in textiles regulations from 2016 until the present as greater than 56%, with an increase of almost 26% since 2020.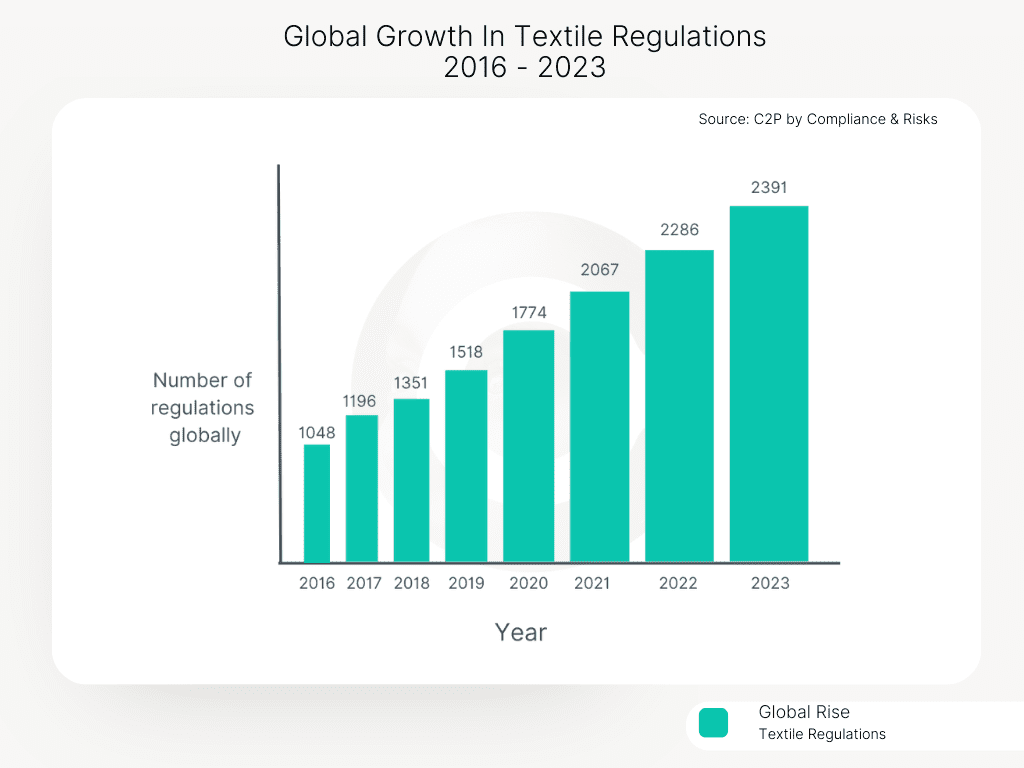 (Source: C2P by Compliance & Risks)
Hot Topics
Shown below are several crucial topics and policy areas of which to be aware in order to bring your product to market and/ or have it remain there:
Sustainable Products In The Limelight
One of the most rapidly increasing areas of interest for the consumer products industry is sustainability. Consumers, lawmakers, industry groups, and producers alike, are recognizing the need to minimize negative environmental impacts on the planet.
For instance, France's Anti-Waste for a Circular Economy (AGEC) requires textiles – including apparel, household linens and footwear – marketed in France to bear the Triman logo and sorting information, in order to ensure consumers' ability to recycle these products at the end of their useful life.
Other geographies, such as the Netherlands and the US state of California, are following suit.
As the textiles industry is responsible for some of the worst effects on the environment and climate change, increases in environmental and EPR legislation and regulations for the same are necessary.
Regulatory Density For Textiles Around The World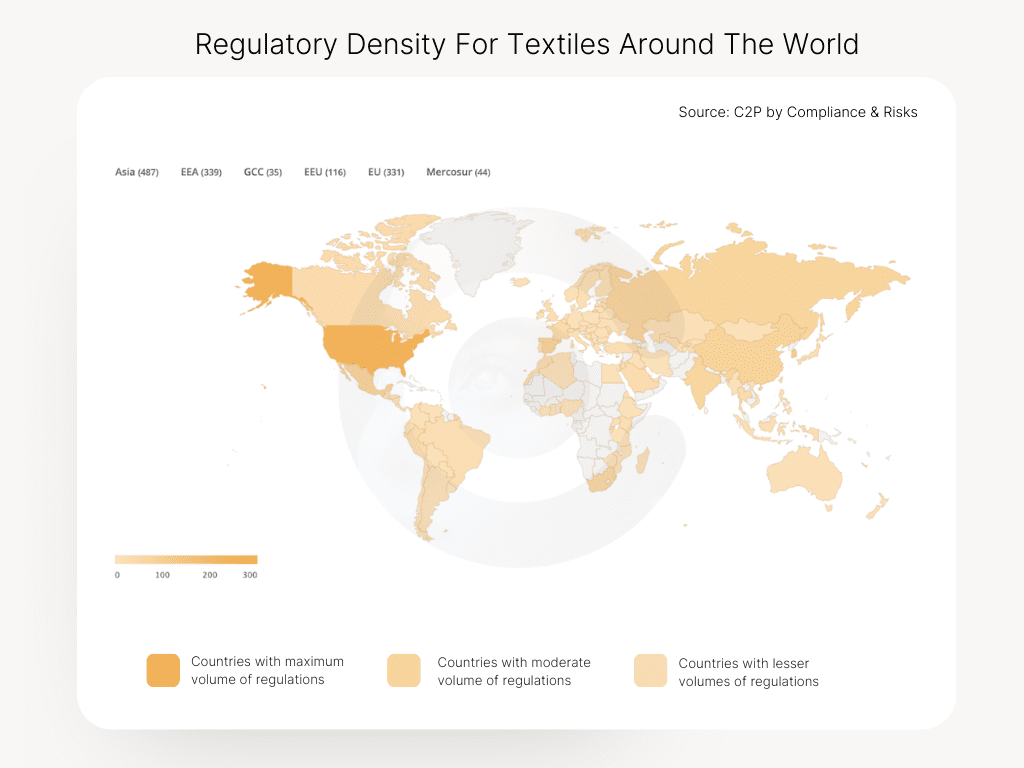 (Source: C2P by Compliance & Risks)
Top Trending Regulations
Listed below are the key regulations that will be impacting your business over the next 12-18 months:
EU: Review of Regulation (EU) 1007/2011
EU: Waste Directive, 2008/98/EC – Proposed Amendment – (on extended producer responsibility scheme for textiles) Draft Directive, July 2023
EU: Strategy for Sustainable and Circular Textiles, Communication, March 2022
California (USA): Prohibition of Perfluoroalkyl and Polyfluoroalkyl substances (PFAS) in Textiles, Assembly Bill 1817, February 2022
France: Triman and Sorting Info for Clothing, Household Linens and Footwear, Guidance Document, February 2022
Rhode Island (USA): Comprehensive PFAS Ban, House Bill 7436, 2022
France: Adaptation of Various Provisions on Extended Producer Responsibility, Decree No. 2021-1904
Washington (USA): Processes for Regulation of Priority Chemicals in Consumer Products, House Bill 1694, 2022
Australia: Greenwashing by Businesses – Internet Sweep of Environmental Claims, March 2023
Saudi Arabia: Technical Regulation on Leather Products, Guidance Document, 2022
Portugal: Leather Authenticity, Decree-Law No. 3/2022
EU: Microplastics from Textiles: towards a Circular Economy for Textiles in Europe, Briefing, February 2022
UK: Labelling of Textiles, Guidance Document, February 2021
EU: Registration, Evaluation, Authorisation and Restriction of Chemicals (REACH), Regulation (EC) 1907/2006
China: Technical Safety Specifications for Children's Footwear, Draft Standard GB XXXX-XXXX, April 2021
New York (USA): Textile Act, Assembly Bill A9649, March 2022
Mexico: Commercial Information for Labelling of Textile Products, Garments and Household Linen, Standard NOM-004-SE-2021
Stay Up To Date With Global Regulatory Trends
Accelerate your ability to achieve, maintain & expand market access for all products in global markets with C2P – Your key to unlocking market access, trusted by more than 300 of the world's leading brands.
C2P is an enterprise SaaS platform providing everything you need in one place to achieve your business objectives by proving compliance in over 195 countries.
Accelerate time-to-market for products
Reduce non-compliance risks that impact your ability to meet business goals and cause reputational damage
Enable business continuity by digitizing your compliance process and building corporate memory
Improve efficiency and enable your team to focus on business critical initiatives rather than manual tasks
Save time with access to Compliance & Risks' extensive Knowledge Partner network
Never Miss A Regulatory Update
Join 50,000 compliance professionals for monthly updates on hot compliance issues, free regulatory webinars and whitepapers and market insights on the latest trends