What is C2P Platform by Compliance & Risks?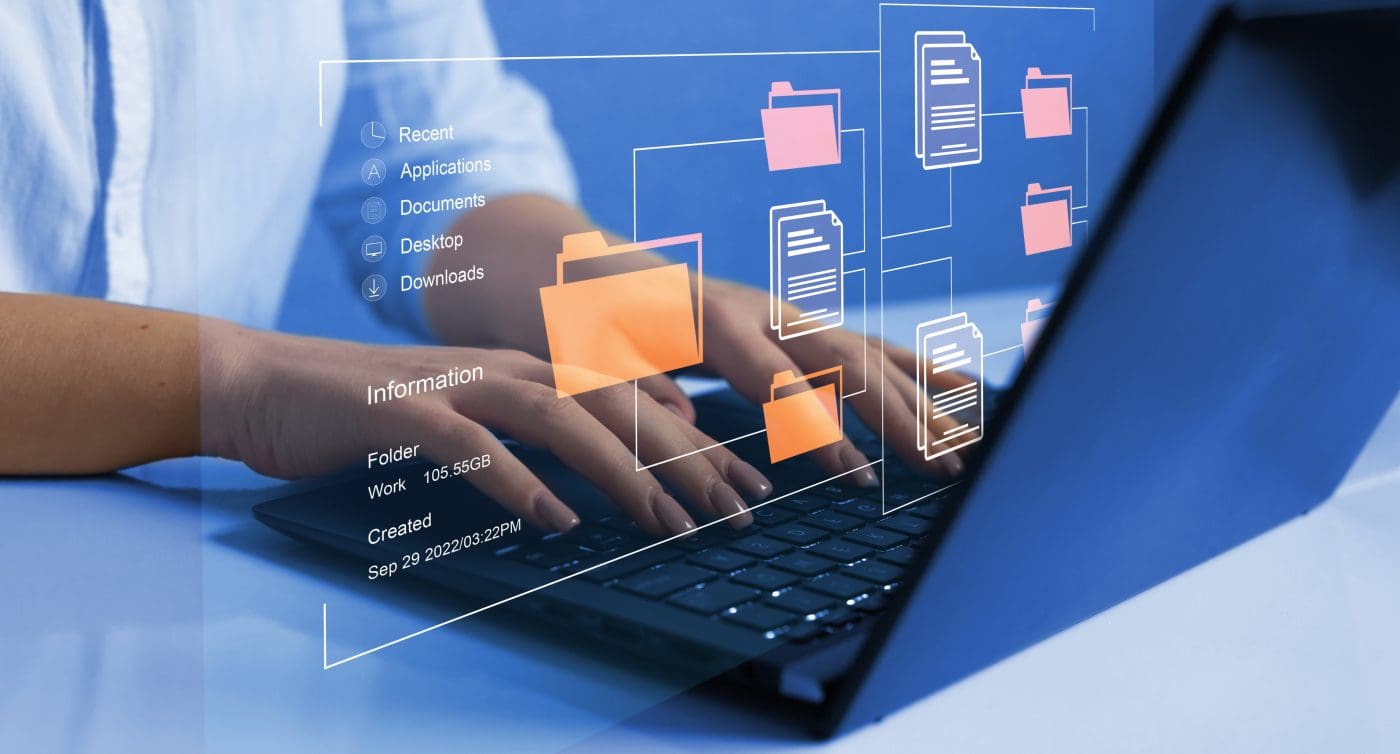 What is C2P?
In a single line – C2P is a corporate compliance platform, built by Compliance & Risks.
In this article, we'll delve into the world of C2P, exploring the platform, solutions, benefits, and how C2P can help transform compliance efforts for product manufacturers globally.
Built for modern compliance teams, C2P, short for "Compliance-to-Product", is a cloud-based enterprise-ready corporate compliance platform. A complete market access solution, acting as a single source of compliance truth, C2P Platform is built to enable Product Compliance teams to unlock global market access – adapting to a world increasingly focused on environmental responsibility.
A strategic enabler empowering compliance teams to plan for the future, C2P Platform is purpose-built with comprehensive live-linking capabilities that keep up with the dynamic world of regulations – to revolutionize the management of global and local regulations, standards, compliance requirements & evidence.
C2P Platform: How does it help product manufacturers?
C2P Platform hosts a suite of Product Compliance & ESG Solutions. One can seamlessly research, collaborate on product compliance initiatives & align with stakeholders, witness ESG goals and targets materialize while effortlessly showcasing compliance with evolving regulatory demands and stakeholder mandates.
But that's not all – elevate your journey with C2P's customizable add-on packages. These offer specific insights into ESG and Product Compliance, with unparalleled access to global regulatory content, a dedicated team of subject matter experts, and an array of professional services meticulously designed to expedite your market access.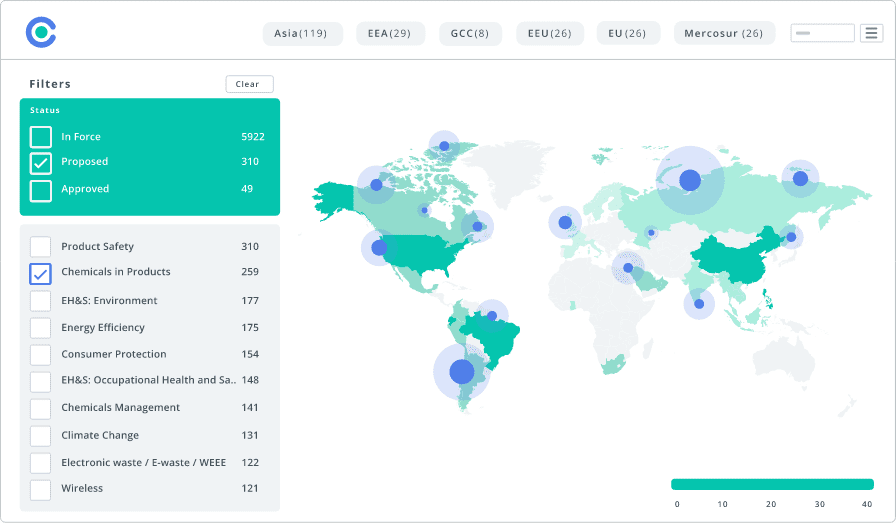 Product Compliance Solution: powered by C2P Platform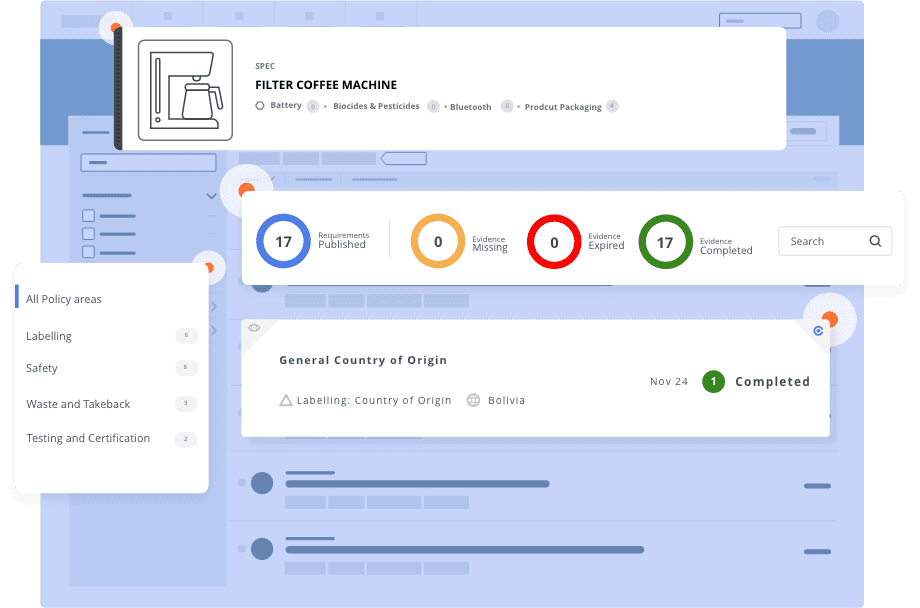 Our Product Compliance Solution, powered by the C2P Platform, empowers product compliance teams to accelerate the ability to unlock market access for all their products in international markets.
With our Product Compliance Solution, you can identify regulations, interpret and collaborate on compliance requirements for new and existing products with confidence. Ensure your compliance evidence is up to date with evidence expiry alerts live- linked back to regulations, standards, and requirements.
With access to the most comprehensive global database of regulatory insights for your entire product portfolio, have peace of mind that regulations are monitored by our team of subject matter experts so that you can be proactive about unlocking global market access for your products.
Trusted by 300+ industry leaders & with a track record of propelling compliance teams with a 'Zero Surprise' Compliance program, we help you shift gears & accelerate global product launches. Slash non-compliance risks & safeguard your brand's reputation.
Benefits 
Accelerate Product Launches: With a product portfolio view of your compliance efforts, effectively strategize and speed up time-to-market for your products.
Reduce Non-Compliance Risks: Ensure 'Zero Surprises' with regular regulatory & compliance evidence expiry alerts, shielding business goals & brand reputation.
Modernize your compliance efforts by digitizing compliance processes.
Proactive Vs. Reactive Compliance: Shift gears on your compliance efficiency – say goodbye to last-minute firefighting to focus on strategic initiatives.
Save time with access to Compliance & Risks' extensive Knowledge Partner network
Quickly align teams and stakeholders around shared objectives.
Enable business continuity by digitizing your compliance process & building corporate memory
Continually monitor regulatory changes & keep ahead of proposed changes before they happen.
To learn more – Watch a Demo of our Product Compliance Solution.
ESG Solution: powered by C2P Platform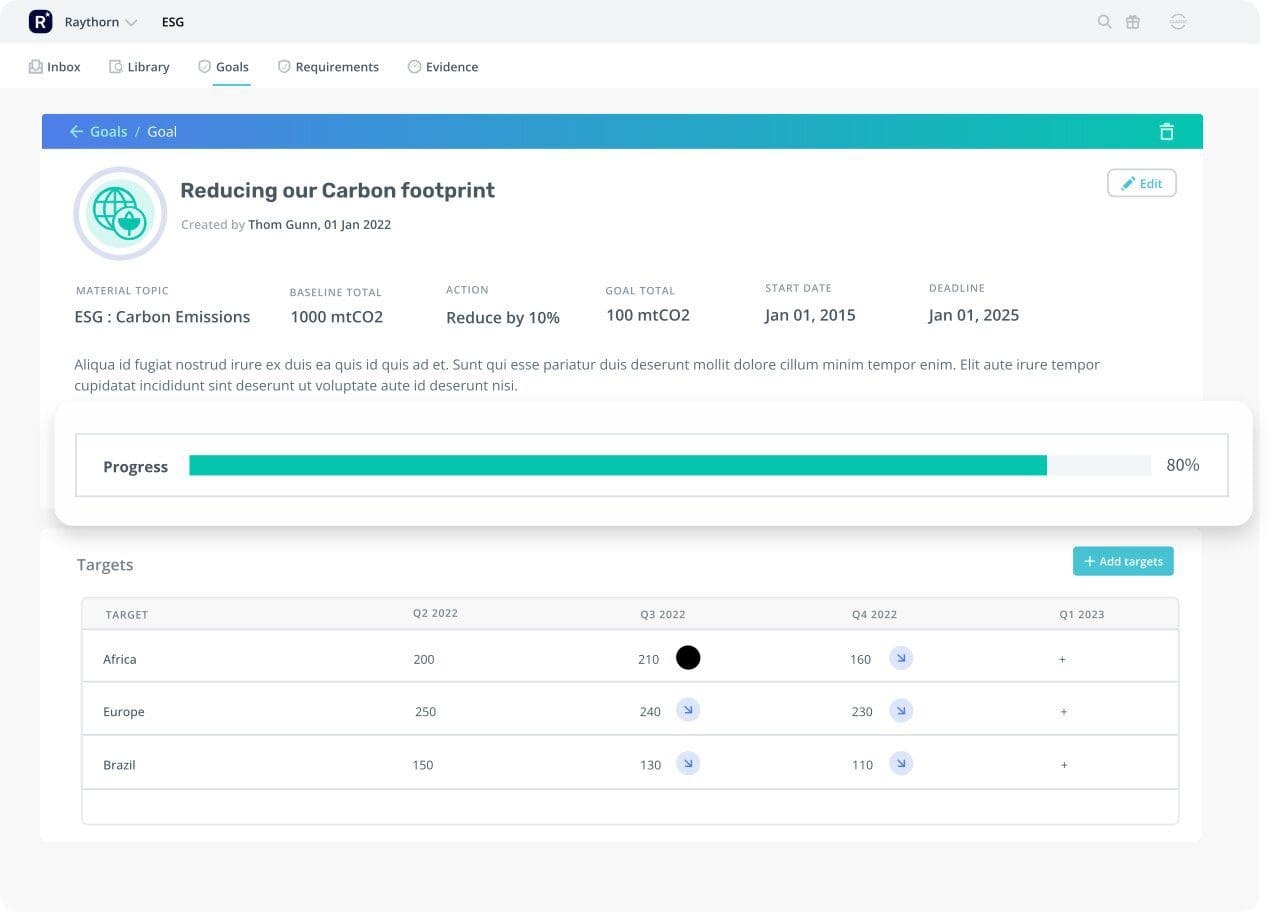 Our ESG Solution, powered by the C2P Platform is a smarter way for organizations to achieve their ESG obligations, providing the capabilities required to manage the impact of changing regulations on your ESG program, business processes, and related work to achieve your ESG goals.
As we stride into the future, our ESG Solution, powered by the C2P Platform, redefines how organizations approach their ESG journey. Beyond meeting immediate requirements, it equips you with the tools to holistically manage your ESG program, streamline business processes, and drive efforts that align seamlessly with your ESG aspirations.
C2P enables you to research, collaborate, and align with stakeholders, track progress toward your ESG Goals and targets, & demonstrate compliance with evolving regulatory requirements & other stakeholder requirements.
Benefits
Know where to start – accelerate progress with mandatory reporting
Quickly align teams & stakeholders with common goals and targets
Clear communication about the impact of your ESG strategy
Ensure transparency and trust with accurate reporting
Continually monitor regulatory changes & keep ahead of proposed changes before they happen
Integrate with other internal systems to enable streamlined business processes

Learn more – Watch a Demo of our ESG Compliance Solution, or visit our ESG solution pages.
Regulatory Content
Complementing our Product Compliance & ESG Solutions, C2P Platform enables customers access to the most comprehensive global regulatory coverage in the world covering over 45 regulatory and policy areas of interest.
C2P Platform: Success Stories
The world's leading brands trust Compliance & Risks to unlock market access, reduce time to market and enable international growth. Read more success stories from our customers establishing and accelerating compliance with C2P.
Learn how,
Is your compliance process optimized for success? We can help you.